It seems we were premature when we wrote here a week ago that the Mother of All Bear Rallies had perhaps breathed its last.  Just that, with stocks and gold diverging sharply at the time, it seemed for one brief moment that something like fear, or a vestigial remnant of it, had re-emerged on Wall Street. How silly of us to think anything less than the sight of a mushroom cloud billowing over Saudi Arabia's oilfields would rattle NYSE speculators.  And yet, here was the caliphate, ablaze with protests, the prospect of radical political change in the air. A week later, that prospect remains not only possible but likely.  Alas, how were we to know that, within the week, America's stance toward Egypt would be, "Like, hey, we're cool with whatever you guys want to do."   And thus, there was this remarkable headline in the Jerusalem Post yesterday:  "[Hillary]  Clinton Tentatively Welcomes Muslim Brotherhood Involvement".  Although we can understand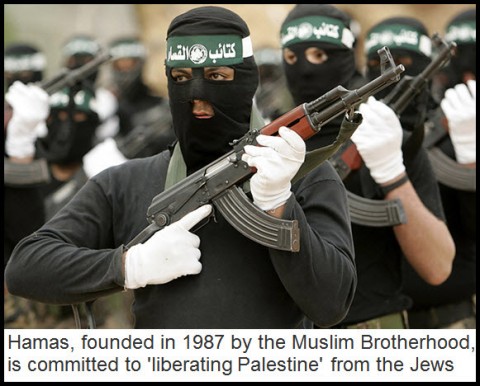 why Mrs. Clinton would want to try and put a big, smiley face on the mounting geopolitical disaster that is Egypt, we would have preferred she'd said nothing at all. Instead, she continued in the Obama-esque tradition of speaking softly while carrying no stick at all: "We're going to wait and see how this develops, but we've been very clear about what we expect," the Secretary of State said while attending the Munich Security Conference.
In Their Own Words
You have to seriously wonder what "we" actually do "expect". After all, the very name "Muslim Brotherhood" does not exactly conjure up images of benign leadership, religious tolerance, a free press and neighborliness.  Not that Wall Street could care about such things, nor about the implications they may hold for the uneasy truce between Arabs and Israel that arguably has been postponing Armageddon. In any event, even if Mrs. Clinton is cool with the Muslim Brotherhood, we should remind readers that they are not exactly cool with us.  Consider their motto:  "Allah is our objective. The Prophet is our leader. The Qur'an is our law. Jihad is our way. Dying in the way of Allah is our highest hope. Allahu akbar!"  Or their goal, which is to turn the world into an Islamist empire: "It is in the nature of Islam to dominate, not to be dominated, to impose its law on all nations and to extend its power to the entire planet." And their deepest wish for America:  "The Brotherhood wants America to fall. It tells followers to be 'patient' because America 'is heading towards its demise.' The U.S. is an infidel that 'does not champion moral and human values and cannot lead humanity.' "
We should keep these Islamist sentiments in mind in the weeks ahead as America comes to grips with deeply troubling changes in the Middle East that we can barely influence, let alone control. When an army takeover of Egypt is the best hope we've got for the region to continue muddling along, the outlook is grave indeed.
(If you'd like to have Rick's Picks commentary delivered free each day to your e-mail box, click here.)