We have our doubts that bullion prices are about to embark on a major rally, since yesterday's admittedly encouraging upthrust was tied to a stock-market rampage that, having occurred for all of the wrong reasons, is doomed to fail.  It was in fact a quite nasty bear squeeze that sent stocks soaring overnight. The short-covering panic was triggered by rumors — later denied – that Italy was about to receive an $800 billion bailout.  There were also some news stories over the weekend suggesting that Americans had done their patriotic best to kick off the holiday shopping season with a bang. These two news items, even without confirmation of Italy's rescue, caused index futures to leap wildly higher Sunday night, all but guaranteeing that the Dow Industrials would open up at least 200 points on Monday morning. This they did, achieving an intraday peak 330 points above Friday's settlement. Would-be stock traders found themselves choking on dust Monday morning, however, since the gap-up opening left no opportunity to get onboard.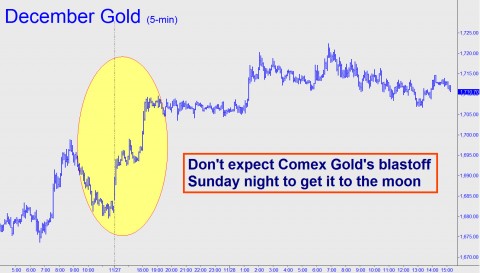 Even so, via actionable advice disseminated Sunday night, Rick's Picks subscribers could have caught a profitable ride in Comex December Gold. Here's the trading "tout" exactly as it went out at around 8:30 p.m.:
Europe's latest bailout, this time for Italy, has goosed the futures into a steep climb. Use 1712.50 as a minimum upside target for now, keeping in mind that anything above that would suggest that plenty of buying power remains to be spent.  For camouflage purposes, you can try getting long if, on the 15-minute charts, the futures create an A-B impulse leg by exceeding the 1708.90 peak from last Wednesday without taking out the more obvious one at 1710.80.  This was occurring as we went to press.
'Camouflage' Trading
Ultimately, we exited the trade with a theoretical profit of about $2,200 after recording some paper gains earlier in the day on a portion of the initial four-contract position. For the uninitiated, "camouflage trading" is the proprietary technique we use to initiate trades with relatively tiny stop-losses. For example, we rarely recommend risking more than $62 theoretical per contract in the E-Mini S&P, even when we are trying to establish a long-term position. If you'd like more information about this technique, simply click here.  And if you think you could benefit from timely alerts like the one above, as well as from access to all of our services, including a 24/7 chat room that draws veteran traders from around the world,  click here for a free seven-day trial to Rick's Picks.  Finally, if you already subscribe and would like to receive e-mail notification of updates when they are posted, click here and check the box that says "Send me each item as it is posted to the site."
Incidentally, although we were looking for the broad averages to head lower when Monday's forecasts went out over the weekend, Sunday night's bullish action led us to revise the E-Mini S&P forecast with an ambitious rally target at 1198.00. At the time, around 8:30 p.m. EST, the futures were already up about 25 points, trading around 1179.00.  As it happened, Monday's actual high was 1196.25 — less than two points from the peak we'd projected.
***
(If you'd like to have Rick's Picks commentary delivered free each day to your e-mail box, click here.)