[I'm running this commentary for a second day because of the high-minded discussion it has elicited.  Please be aware that an announcement next week concerning the latest bailout for Greece would probably generate a short-squeeze rally on Wall Street, much as it has a dozen times before.  Be that as it may, a potentially important target at 1353.00 that I'd flagged here for the E-Mini S&Ps has held thus far, the futures having spiked in the opening hour yesterday to…1352.75.  In other trading notes, a rally target for Bank of America shares was bullishly exceeded, although two more important ones remain: 13085 for the Dow — a longstanding objective of ours;  and 119.91 for Goldman Sachs. Taken together, the prospect of simultaneous tops in so many bellwethers suggests that an important trend change could be imminent.  Click here for a free trial subscription to Rick's Picks if you'd like to keep abreast of further developments in real time. RA]
The financial world is on pins and needles as "investors" await Europe's latest, quasi-momentous decision on the fate of Greece. The Greeks themselves, no fools, were a step ahead of the politicians and bankers, rioting in the streets.  Many of them have probably imbibed enough austerity to last a lifetime. Keep tightening one's belt a notch at a time and eventually you're left with two bloody torso halves. Not that the bankers would mind the mess as long as they get paid. So what, actually is at stake in this latest chapter of the eurobailoutpalooza? The rescue package under discussion amounts to a piddling €130 billion, and we can't see how it's going to make much of a difference. Even if it's only intended to buy a little time, a sum as meager as that may not see the Eurocrisis through the weekend, much less through 2012.  For perspective, Flint, Michigan's unfunded retirement and health benefits total about three times as much. Is Flint in worse shape than Greece? Hard to say, although the close proximity of such charming resorts as Corfu and Rhodos, as opposed to beautiful downtown Detroit, would seem to tip the quality-of-life numbers in favor of the Greeks, even the down-and-out day-trippers.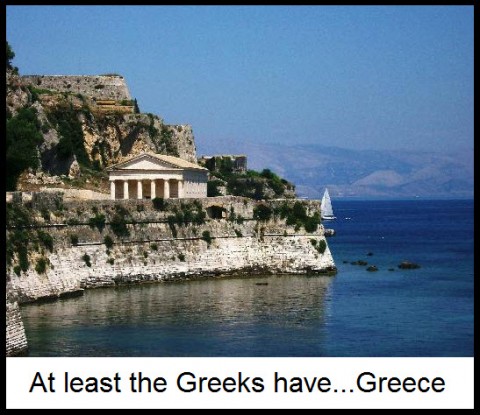 As we went to press, Europe's workout team, consisting of the ECB, the IMF and Greece's leadership, was supposedly  €300 shy of a deal. Their goal is a €3 billion package of spending cuts that would ostensibly keep this year's budget on-track. Again, a comparison to Flint is instructive, since the bombed-out Michigan city's annual budget shortfall is about $14 million.That might not sound like much in comparison to a long-term structural problem that tallies into the hundreds of billions of dollars, just as Greece's adds up to trillions, but isn't ignoring reality the point of these round-the-clock talks?  As long as they continue to focus on 2012's operating deficit, the long-term disaster that surely looms is out of sight, though perhaps not wholly out of mind.
And on Wall Street…
Meanwhile, U.S. stocks dithered on Wednesday whilst eurozone officials hashed out the final details. With any luck an agreement will be announced just before Thursday's opening bell on Wall Street. Will it send stocks into a short-squeeze spasm that demolishes some major rally targets we alluded to here yesterday?  It's impossible to say, although we'll be ready for Them no matter how They come at us.  Perhaps Greece's success in postponing a day of reckoning will inspire the denizens of Flint to focus on small details, lest the big ones overwhelm all hope of muddling along…forever.
***
(If you'd like to have these commentaries delivered free each day to your e-mail box, click here.)