We wrote here recently that as Apple shares go, so goes the U.S. stock market. How has the stock fared?  Last week there was quite a bit of excitement when the broad-tossers who manipulate the stock for a living short-squeezed the bejeezus out of it after the close, leveraging a strong earnings report that could have surprised only Wall Street's clueless analysts. Moments after the news hit the tape, AAPL gapped up 9% in a blink, recouping two-thirds of the losses it had suffered the previous two weeks, when it plummeted $90 from an all-time high at $644.  From a technical standpoint, what was interesting about the  decline is that it reversed from within 29 cents of a "Hidden Pivot" correction target we'd disseminated to subscribers a few days earlier. For if the stock had exceeded that number by more than a couple of dollars, it would have held bearish implications for the short-to-intermediate-term. However, because the pivot survived, there was no way to judge the mettle of bulls until Apple rallied out of the hole.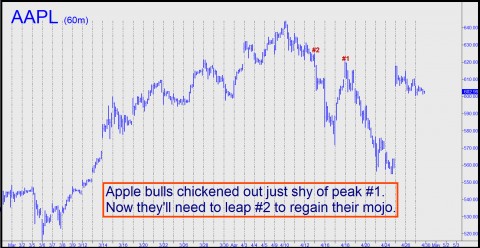 This it did, in spectacular fashion, with last week's gargantuan short squeeze. The goosing instantly added $50 of value to each share of the world's most valuable company. Nothing like a little volatility to keep the crowds coming back for more, right?  Putting aside the comical spectacle of a $600 billion whale flopping around wildly in NASDAQ's bathtub, the rally put Apple shares in play once again as a bull-market bellwether. That said, we have our doubts that new all-time highs will be achieved any time soon. Notice in the chart how last week's gap-up rally, powerful as it was, narrowly failed to surpass peak #1.  If buyers had more guts, shouldn't they have taken on that last, niggling resistance before settling back triumphantly? That's the way we look at it, and although the logic may seem somewhat subjective, it becomes less so in the context of tens of thousands of similar patterns we have observed over the years. To put it simply, stocks that are about to come roaring back – and in Apple's case, leap to new highs – do not hesitate in this way.
What to Look For
Not that we see the AAPL falling apart. Far from it. It's still a great company with spectacular margins and business that is growing around the world. But it would be no surprise to us if the bullish trajectory flattens, leaving Apple's price little changed six months from now. Meanwhile, we'll be watching closely for signs that the world-beating manufacturer hasn't lost its mojo after all. What would it take to put shorts on the run again?  Most immediately, a pop this week above the "external" peak #2 labeled in the chart.  In the parlance of Hidden Pivot Analysis, this would "refresh the bullish impulsiveness" of the hourly chart.  If, on the other hand, the stock is unable to muster the required push, look for it to meander the summer away. Although that would reduce the odds of a stock-market crash before the election, it would also restrain the Dow Average from wafting toward all-time highs near 14,000 recorded in 2007.
***
Win a Subscription Worth $106!
If you aren't already receiving these commentaries by e-mail, sign up now and you'll be automatically entered in a weekly drawing to win a three-month Rick's Picks subscription worth $106.  Click here to register. What do paying subscribers get that lurkers don't?  Plenty, including detailed daily trading "touts" and access to a 24/7 chat room that draws traders from around the world.