Index futures remained hard-wired to vibrations from Capitol Hill Sunday night, nervously discounting each mood shift perhaps 30 to 40 minutes ahead of whatever web-based reports were to follow.  Shortly after 7 p.m. EST, the E-Mini S&Ps were up the equivalent of about 50 Dow points, suggesting DaBoyz were willing to go way out on a limb based on the flimsiest reasons for optimism.  For index-futures traders who make their living at night in the thinnest of markets, this amounted to a game of chicken, since any hint of a new impasse threatened to reverse the current rally, turning it instantaneously into a 100-point decline.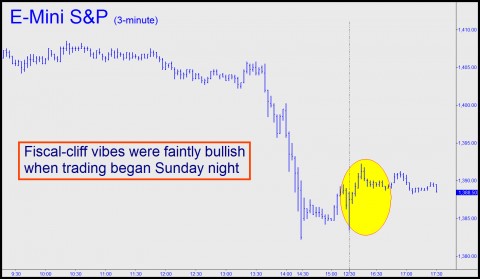 At last glance, news reports had Republicans giving ground on a measure that would have changed the way inflation is calculated to determine Social Security and other benefit payments. It's hard to believe a formula exists that would lower the marquee inflation rate beneath where it already is. Be that as it may, as we went to press there were evidently gaping differences on some other key issues, including the Alternative Minimum Tax (AMT). [Late-breaking news: Talks adjourned Sunday night with no agreement in place.]
Think You're Safe?
Whatever fiscal package emerges, it would appear that Joe Taxpayer confidently believes it's going to be someone else's ox that gets gored. A headline in the local paper revealed the public's not-exactly-shocking ignorance about what's going on in Washington: Shoppers Not Fearing Plunge Off 'Cliff' was how the Boulder Daily Camera presented the story-of-the-hour.  Oh really?  It's a tragedy for America that people like those quoted in the article are allowed to vote, since they in fact have much to fear, even if they are not among Obama's "filthy-rich" earners of $200,000 or more.  For starters, a steep upward skew in the Alternative Minimum Tax that is set to take effect on January 1 will hit households down to the level of $75k.  Even worse, it will be retroactive to 2012, taxing income that most people didn't expect to pay taxes on. Click here for the extremely scary details.
***
[Click here for a free trial subscription to Rick's Picks that includes access to a 24/7 chat room and timely trading touts.]