Fasten your seat belts, since yesterday's rally may have been the last gasp of the bull cycle begun last spring.  In the E-Mini S&P, using our proprietary technical method, we've been expecting a stall or perhaps something worse at exactly 1482.00. Yesterday the futures got as high as 1480.50, and although that fell an inch shy of getting us short on our offer, it was close enough to satisfy the target.  Rick's Picks subscribers had been instructed not only to get short at these levels with a tight stop-loss, but to exit a long position they'd held from, effectively, 1433.50 after partial-profit taking. (Could you have done this trade and managed it yourself based on our detailed instructions?  Click here and judge for yourself.)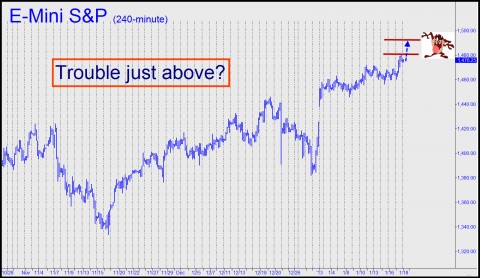 So what happens now if the futures simply blow past our target?  That's always a possibility, and it would have undeniably bullish implications going forward.  But even then, we wouldn't expect the E-Mini S&P to much exceed 1548.25, a longer-term "Hidden Pivot" 5% above these levels that looks well capable of cold-cocking the bull market begun in March of 2009. We'd short even more aggressively there than at current levels, albeit with the usual tight stop-loss.
In the meantime, there is one more number that seems likely to show very precise stopping power.  It lies between 1482.00 and 1500.00, and we've told subscribers to re-short there with a micro-tight stop-loss or via a "camouflage" trading technique designed to hold risk to a bare minimum.  If you're interested in the details, click here for a no-risk trial subscription to Rick's Picks. You'll get access not only to our detailed daily trading "touts" and archives, but to a 24/7 chat room that draws experienced traders from around the world.