[We've heard back from our friend James Tolard now that he's had a chance to digest your responses to his very bullish forecast for stocks and gold.  In the note below, he says that although it's one thing for James the commentator to offer opinions about the market, James the trader would rather simply do the trade and not have to justify it to anyone.  Those of us who have had the experience of trading with other people's money know the feeling well.   RA]
Interesting responses. You may not remember this about my histoire, but from 1975 through 1998 I had a very good biz as a consultant, primarily in oilseeds, but also as a technical consultant, as the old guard did not take easily or kindly to technical trading. Tech trading was, however, becoming necessary, as the volatility in futures markets was such that even "serene" sideways markets required some money management. Anyway, over time, and as I began to push into my 40's, I realized that no one takes a trading recommendation, particularly if you try to defend, rationalize, or otherwise advance it. Rather, I merely stated strongly and firmly that I think this is true, and that this and that would happen, etc. When I was right, they remembered; when I was wrong, they didn't.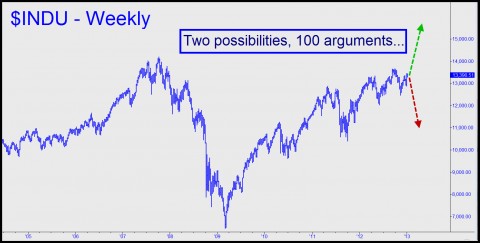 BUT, when I gave reasons,  they gave arguments — usually persuasive ones, too! — against my arguments, and the result was that I was always wrong. So, going back to a dictum which I think is famous, but if not, it should be:  When you make a decision, always give your decision; never give your reasons. The decision might be right, but the reason are always wrong! Clever.
Most Contrarians Are Bears
In my bullish forecast, I gave my reasons, including some decorative ones.  But few of the responses to my commentary dealt with the possibility of a higher market.  Nearly everyone weighed in on this or that bit of evidence. However, the main thing was the decision. The markets are ripe for a real contrarian — in this case, a bull (most contrarians are bears). And now, if you wake up one morning and the Dow is trading at 17500, everyone will be "surprised," but worst of all, they will have missed a big move! What is speculation? It is an educated guess on the value of the market, its direction, the appropriateness of its price or all three.
Anyway, the responses have given me a shock. Maybe there will be some real strong reactions later. You can count on that. Nothing like the Euroview.
***
[Click here for a free trial subscription to Rick's Picks that includes access to a 24/7 chat room and timely trading touts.]