[With the scandal that has erupted over Beyonce's still-unconfessed lip-synching of the Star Spangled Banner, some are questioning whether anything that comes to us by way of television or the internet is indeed real. In the guest essay below, our friend and occasional contributor James Tolard suggests that although the digital enhancements that bring us spectacular photographs of distant galaxies and such is nothing short of miraculous, technology may be weaning humans from the visceral pleasures of experiencing reality itself. RA]
One little parlor game that amuses my friends begins with a question:  Those beautiful photos that NASA releases daily – with the right equipment, do you think you could equal them? Well, some might answer that they could if they had a telescope like the Hubble. Or access to the Mauna Loa volcano in Hawaii. And so on. Just a matter of a large telescope and a specialist camera. And, that is a kind of answer. But there is more. All these big astronomical bureaus employ "data visualizers" – i.e., men and women who turn data into images. What?  Yes, to repeat: Data visualizers assemble zeros and ones from these telescopes, form some kind of image, colorize it; and then, with the blessings of the director of data or some other official, and of course, a stamp of approval from the director of public relations (someone has to pay those NASA salaries and the costs of launching Rover, Discovery, Hubble, etc.), the images are released onto the web and to select newspapers,  where they bring understandable delight to fans everywhere, myself included.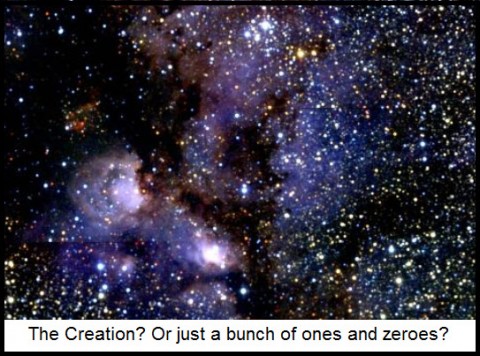 My friends are usually surprised to learn that producing these photos entails simply looking out into the cosmos, snapping an iPhone image, and sharing it with the world. The process of accumulating data can be so complex and time-consuming that one wonders how it happens at all. Rather than explore those issues, at the risk of sounding like Discover magazine, astounded and naive at the wonders of nature, I prefer wondering how we reached a state of existence where almost all our operative images are intellectual constructs.
Sun Does Not 'Rise'
Take the simple rising and setting of the sun, which does neither. We can see it rise. We can measure its arc. We can predict its locations millennia ahead of its actual position. Yet, it does not rise or set. The earth turns, and the earth revolves, and the solar system revolves, and the galaxy revolves, and the various assemblages of galaxies do something or other, What is it, then, that we experience? A direct experience of the cosmos? No an image of it, constructed from data and from well-accepted hypotheses. Now, we have this going on around us. We live more and more in a world of not experiencing things which we experience. For example, we "like" this actor, we love that actress. We think this is a great song. We "travel" but do not use our legs. What kind of life is that?
In my little neck of the woods, I am aware that, running under the limestone hills are caves and caverns, some of which are said to house images of men. Who painted them 40,000 years ago?  They created these images with their hands, using their eyes, and some kinds of pigments — mostly charcoal and dies (pigments, more correctly) from plants. Those bison were actually within eyeshot, dangerously close. The wild cats roared in the twilight, with no super-fit cameraman and his $25k night-vision, super digital camera to record them.  And now, I can sit here in my den, with the computer screen in front of me, "experiencing" images — that is, I can live in my imagination while the whole world passes by, under and above me! How did we get to that state of affairs?  Did we perhaps always live that way? Is not a man an oddity in nature, unable to live by instinct, needing knowledge, marking patterns? Who would have imagined, in those deep caves in Lascaux, that one day men with broad hats, leather boots, and horses would stand by bison, saving them from extinction!
Click here for a no-risk trial subscription to Rick's Picks that will give you access to our analysis in real time, as well as to a 24/7 chat room that draws experienced traders from around the world.