Price-rigging and deceptive advertising are so prevalent among broadband carriers that getting a good deal can pose quite a challenge — not only for the unschooled customer, but for the kind of shoppers who read Consumer Reports each month from cover to cover.  I know this because I recently compared carrier deals when my monthly Comcast bill threatened to hit $300. This exorbitant sum is in addition to the $400 I pay Verizon for family wireless service, and another $400 for real-time stock-market data. My Comcast package includes nothing fancy – just two phone lines, 30mb speeds and a modest package of TV shows, movies and HBO.  I'm not a big TV-watcher, to put it mildly, and if I could pay what the service is actually worth to me, I'd send them a check every month for $14.95. Try explaining that to the kids.  For another hundred bucks, you get 800 channels, but after you've gone through the movie inventory once, you'll be in a re-run hell so repetitious that even The Godfather, Parts I and II start to seem stale.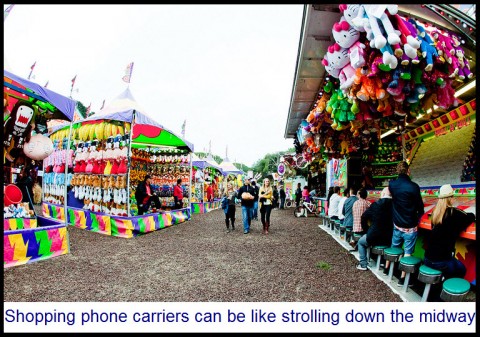 My goal of cutting the $290 bill in half seemed do-able because Comcast itself was promoting a $90 package geared to home-based businesses.  The salesman I spoke with said that with a modest downgrade of my TV fare, the new package would cost me around $140.  Great, I thought.   How wrong I was. For starters, I was about to commit the capital crime of eliminating channels that my wife watches. Even worse, after I'd done so, she learned about it when she switched on the TV and got a test pattern.  I argued that I was saving nearly $160 a month, but her expert witnesses worked up a set of numbers that proved, with taxes and fees included, I'd been suckered into paying about $240 for a package more basic than the one we'd had originally.  I told her to switch everything back the way she wanted it — which she did, pronto — and now we'll be paying $150 for more or less the same services that just a week ago had cost us $290.  She drove a hard bargain — and so should you, since the rates are obviously very negotiable, especially for long-time customers.
Key to Negotiating
As for the salesman, although I kept him in the loop while my buyer's remorse was gestating,  I've yet to hear back from him.  Although he turns out to have been working for a marketing firm rather than Comcast, it seems odd that Comcast would allow subcontractors to sell its services as though they were working a carnival midway.  If you get one of them on the line and he promises to show you how to get the best possible deal, ask to talk to a Comcast company salesman first.  As far as I can tell, the key to striking a good deal is to sound like you mean it when you tell them you're going to switch your business to another carrier.