Yesterday's forecast in Comex Silver caught the high of the day within a single penny, in theory allowing Rick's Picks subscribers to short the December contract moments ahead of a 28-cent plunge. Here's the analysis and advice exactly as it went out Sunday night:  "We've been focused on an important target at 22.505.  That's a Hidden Pivot, and I have suggested using it as a minimum upside target. However, there is another significant Hidden Pivot at 21.635 with potential stopping power, and so I'm going to suggest extreme caution if and when the futures get there. The provenance of  this target is shown in the accompanying chart, and you don't need to be a Pivoteer to understand why it deserves to be closely watched.  Scalpers can attempt shorting with a stop-loss as tight as 10 cents."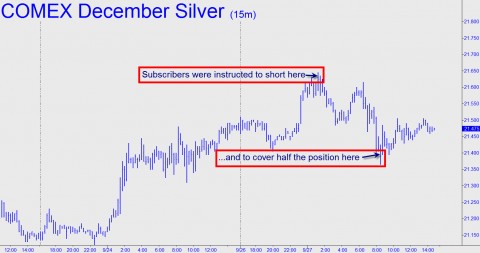 Subsequently, when the futures did indeed fall from an intraday high of $21.645, we advised covering half the position at a price that turned out to be pennies from the intraday low. Here's the update exactly as it was appended to the original trading "tout" at 10:23 a.m. EDT:   "Having topped this morning a penny above the 21.635 target, the futures have since fallen 25 cents. Cover half of any short position now and use a fixed stop-loss at 21.515 for the rest. That's where the 3-minute chart would turn bullish again. My minimum downside target for the very near term is 21.310, but at that point you should check back for further instructions, since we may want to implement a stop-loss based on the creation of an impulse leg on the lesser charts."
As things turned out, the futures traded no lower than 21.365 intraday, meaning that we ended the day hypothetically still short a single contract, based on an initial two-contract trade.  On paper, the position profit thus far would be about $2,000, based on a settlement price of 21.471 — 15 cents below where subscribers were instructed to short it that morning.
Dive No Surprise
Ordinarily we advise using a stop-loss of just a few pennies or less, but in this case the Hidden Pivot target we were looking to short seemed capable of sending the futures into a nasty corrective dive. This did in fact occur, although we expected – still expect – more than the 28-cent sell-off that has taken place so far. However, if the futures should instead come roaring back today or tomorrow, we would take that not as a sign that an important Hidden Pivot target had failed to work, but that it had been able to contain the rally only briefly.  That would imply renewed strength in the days ahead, turning our focus toward the 22.505 target for December Silver mentioned above. We first disseminated that target weeks ago when the futures were trading below $20 an ounce.
Finally, we should note, with respect to our predictions, that past performance should not be construed as an indicator of future results, and that futures trading can be extremely risky. If you'd like a free trial to the service, including access to all trading touts, updates, a 24/7 chat room that attracts traders from around the world, and other services offered by Rick's Picks, click here.
(If you'd like to have Rick's Picks commentary delivered free each day to your e-mail box, click here.)