Talk of economic recovery is surfacing even in the Rick's Picks forum, and so it's probably a good time to consider why the very notion of a sustained recovery is factually unsupportable. It's not hard to fathom why sightings of supposed economic green shoots have returned like kudzu in recent weeks.  For one, Europe's slow-motion collapse has been put on hold by an all-out effort by the central banks to suppress sovereign borrowing rates. This is being accomplished through "swaps" that allow the European Central Bank to exchange unlimited quantities of euros for Fed dollars for a nominal charge of 50 basis points.  In effect, U.S.- style monetization is being surreptitiously applied to paper over Europe's debt problem. For two, with the Fed artificially holding mortgage rates near all-time lows, home sales – although, significantly, not home prices – are staging a dead-cat bounce.  And for three, the endless election campaign has provided comic distraction for a nation terminally fatigued by real news. The news media are undoubtedly relieved to be able to report the meaningless details of an endless campaign because it frees reporters and editors from having to tackle more challenging subjects. (Full disclosure: Your editor was a newspaper editor and reporter for seven years.)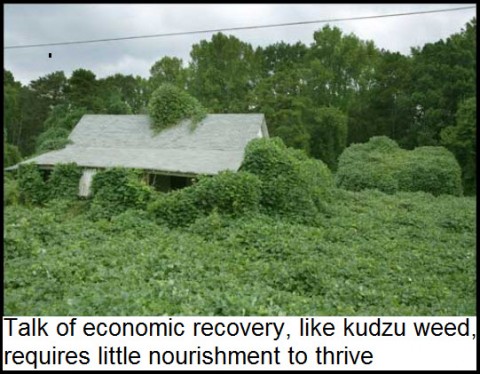 Contrary to the brazen, hopey-changey lies being served up by the bankers, politicians and a news media too lazy, ignorant and conventional in its thinking to report that the emperor is wearing no clothes, here are some reasons why the U.S. economy is not only not recovering, but why it cannot  recover without a wrenching shakeout at least equal in severity to the Great Depression:
Europe cannot possibly grow its way out of the hole. Only bankruptcy or hyperinflation can extinguish debts that have grown beyond servicing, let alone repayment.
The same goes for the U.S., whose banks in any case are fatally tied to Europe's.
U.S. home prices are not even halfway to a bottom. He who says otherwise would contrive to overlook the fact that millions more foreclosures are being prevented from hitting the market because it's an election year.
Baby Boomers will be scaling back their retirement dreams far more than any of them could have imagined just five years ago. Who will spend to compensate for their forced austerity? Answer: No one.
Governments at all levels face drastic cutbacks in spending, and their retired workers are likely to see their health care benefits and even pensions reduced significantly.
Fiscal Asphyxiation
With government spending experiencing asphyxiation, only two of the three hitherto unstoppable engines of inflation remain: health care and education. But prices cannot continue to rise in these areas simply because, in the case of health care, "government" cannot afford to "give" us things that we can no longer afford for ourselves; and, in the case of higher education, the schools' extortion racket is about to collapse because parents and students can see that degrees outside of science and engineering have become nearly valueless, never mind worth going into six-figure debt to pay for.
Although we're liable to be reading about economic green shoots for yet a while longer, and to see stocks move higher to make us doubt or even abandon our common sense, few Americans are as stupid or delusional as those who would bring us this supposedly good news. The bankers, politicians and their media lackeys would have us believe that a surge in new mortgages and retail spending is the path back to economic health. This is the boldest and most destructive lie ruling our economic lives; for in fact, the only true road to recovery is via a sustained boost to savings and investment, not to debt and consumption.  To believe otherwise is to deny elemental truth.
***
(If you'd like to have these commentaries delivered free each day to your e-mail box, click here.)