Here's what subscribers look at before they trade
Rick's work has been featured in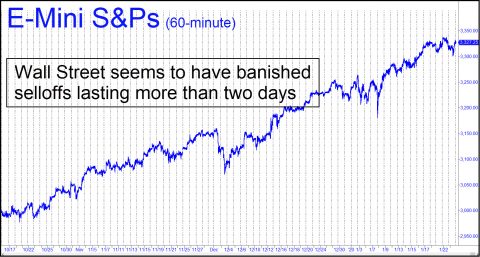 The buy-the-dips mentality has become so entrenched over the last few months that it's hard to imagine what could possibly derail the bull market. Wall Street feigned mild concern for a few hours over the spread of a deadly virus in China, but absent news that Americans are keeling over dead from it in their back yards, we can expect the broad averages to forge higher.  The uptrend has been so relentless that it has come to practically guarantee a quick return for any investor who jumps aboard on a given day. In no instance during the last three months has any bull  suffered a third straight day of losses.  A strategy as simple as buying the S&Ps whenever they are trading lower for a second consecutive day has been a spectacular winner.
Contrarian Bloodfest
This has only increased the number of contrarians eager to bet against a trend that has come to seem nearly as predictable as tomorrow's sunrise.  The more contrarians who get slaughtered, the more enticing the seduction of trying to pick The Mother of All Tops. We prefer to use AAPL as a  benchmark — not to pick THE top, but to nail lesser peaks that can reward short-term bets on the 'Don't Pass' line. But even hitting the swings perfectly has not been paying off lately. The stock is currently in its tenth day trying to get past a 319.92 Hidden Pivot target we'd identified earlier, but there has been only one pullback from this number deep enough to nudge put options slightly into-the-black. Now, if the stock closes above 319.92 for two consecutive days , look for a run-up to at least 336.35. The broad averages cannot but follow suit, entranced by the seeming invincibility of the world's most popular stock. The contagion of exuberance may not be fatal like coronavirus, but its long-term consequences could prove more significant.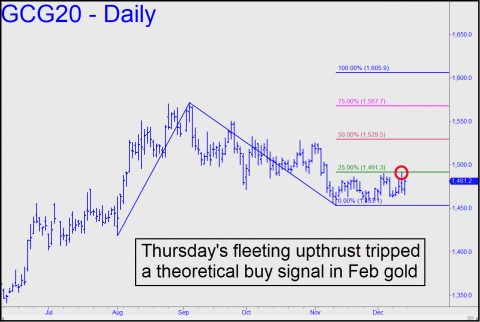 Thursday's fleeting upthrust tripped a theoretical buy signal at the green line. Ordinarily it would be easy to overlook or ignore it, since buy signals since late August have come to naught. However, gold's price action has been so tedious and frustrating in the interim that we should take extra care to avoid missing the turn when it comes, especially since the impulsive thrust that occurred last summer was so powerful and promising. Most immediately, we'll use p=1529.50 as a minimum upside objective and trade it aggressively. In practice, this will mean looking for rABC and  'mechanical' setups in charts
Read More »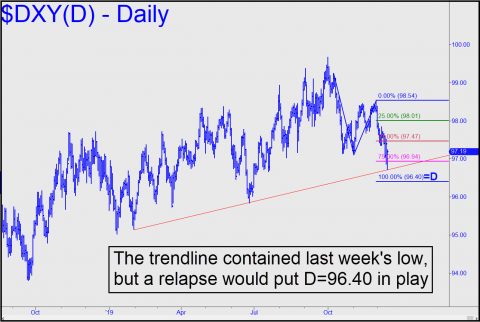 I've been steadfastly bullish on the dollar for years, in part because a strong dollar is congruent with the deflationary endgame that seems likely when the stock-market bubble bursts. Even so, it's conceivable we could see an inflationary blip along the way, especially under a president who seems determined to weaken the dollar to help U.S. manufacturers.  The intermediate-term chart (inset) therefore bears watching, since it could provide us with evidence that the dollar weakness since early October is about to intensify.  Despite Friday's robust bounce from the trendline, I expect a relapse to reach the target. If it breaches
Read More »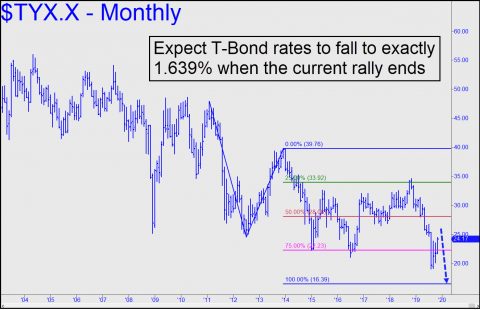 Although some notable long-term bond bulls are close to throwing in the towel as U.S. Treasury yields continue to climb, the chart suggests the bull market begun nearly 40 years ago still has farther to go.  Yields on the long bond settled Friday at 2.41%, up from 1.90% in August, while T-Notes have gone from 1.43% to 1.93% over the same time. The rallies have been impressive if not to say scary, since they have subjected hundreds of trillions of dollars of borrowings to a deflationary turn of the screw. The burden of debt promises to lighten before it becomes
Read More »
All in all, HP is the best method I have found so far, after spending so much $$$ on systems, courses. I wish you were my first "encounter" and I would be spared of the numerous past frustrations ! All in all, HP is the best method I have found so far, after spending so much $$$ on systems, courses. I wish you were my first "encounter" and I would be spared of the numerous past frustrations !
Rick, in over 30 years of trading, investing, equities, futures, options, etc., as a pro in the business, I have never seen anyone taking such responsibility and interest in their clients.
You have found the best site available to traders, I have been trading for 15 years and have never come across any site even close to Rick's.
If you're a trader, you can't find a better place on the planet than Rick's. Once you learn from him how to read a chart, you can trade anything. Speaking as an old student, it's the best money spent ever! PLUS you get to entertain and learn in this forum.
Rick's Picks Subscription
If you are looking for trade recommendations and forecasts that are precise, detailed and easy to follow, look no further
$59
$
33
A month if paid Annually
'Uncannily accurate' daily trading forecasts

Timely commentary on the predictions of other top gurus

Timely links to the world's top financial analysts and advisors

Detailed coverage of stocks, cryptos, bullion,
index futures and ETFs

A 24/7 chat room where veteran traders from around the world share opportunities and actionable ideas in real time
The Hidden Pivot Course
Learn to trade and reduce risk and stress to a minimum with Rick's simple, proprietary system.
Learn the basics in a few hours in a live class

Hone your skills with weekly tutorials in real time

Review all material using our recorded library

Train your eye with 7000 opportune chart patterns

Perfect your knowledge with a full year's
access to Rick's Picks