A run on a major U.S. bank?  Who could have been spreading such scurrilous rumors? They surfaced yesterday in the Rick's Picks chat room, and elsewhere, not long after we'd done some personal banking ourselves in an online account at the very same bank. We experienced no delays or problems with the transaction, notwithstanding reports of a "default situation" and "elevated" buying of put options on the shares of the bank.  We were able to confirm that there had indeed been a flurry of put-buying, but the action was not so frenetic as to suggest that the bank was in any serious trouble.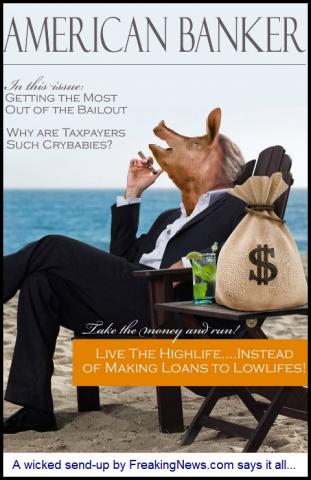 To the contrary, banks are operating under such loosey-goosey rules right now that they shouldn't have a care in the world. Imagine having a notarized letter from your local police chief authorizing you to loot and plunder any store in the neighborhood without fear of arrest. That's how the banks are doing business these days – which is to say, however they want.  And if a deal should turn sour it's no problem, since the U.S. government has assured banks that it will pay 100 cents on the dollar for any securities that ultimately fail to clear the market.
Smoldering Ruins
Tuesday's rumors of a big bank on the ropes evidently were prompted by general weakness in banking shares. The selling had been attributed to nervousness over the prospect of more losses to come in the banking sector. A few analysts added to the stresses of the day by speaking cautiously about bank shares.  Has the spectacular rally begun last November finally run out of steam, they asked? We seriously doubt it. More likely is that those who have been accumulating bank shares hand-over-fist simply backed off their bids for a day, allowing the stocks to fall to more appealing levels.
Bloomberg, CNBC, the Wall Street Journal and all the rest bought into this ruse with a deluge of commentary concerning how financial stocks supposedly have gotten too far ahead of "fundamentals". Fundamentals!?  If the day ever comes when fundamental analysis is applied rigorously to securities markets, the financial system will be reduced to a smoldering ruin in mere days. For the time being, though, the bankers are enjoying a holiday from scrutiny that makes all things possible. Under the circumstances, with Tammany Hall sensibilities determining the course of the financial system, we should not be looking for a top in banking shares, only an occasional pause in their upward spiral.
(If you'd like to have Rick's Picks commentary delivered free each day to your e-mail box, click here.)