Here's what subscribers look at before they trade
Click the button below to get started today with your 14-Day Trial of Rick's Picks
Rick's work has been featured in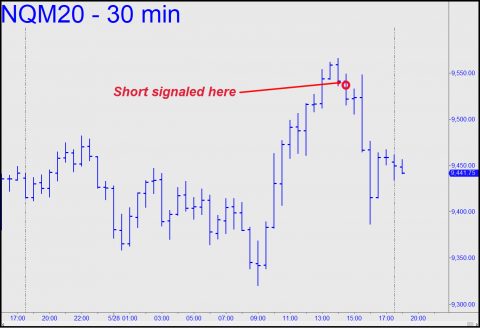 Bears eager to get short near the top of the stock market's inexplicable rampage could have just one chance left before shares blast off for infinity and beyond. This is the clear implication of the chart included with my latest forecast for the Nasdaq 100 (see below). On Tuesday the E-Mini Nasdaq futures peaked almost precisely at a long-term Hidden Pivot resistance located in a place that has been known to show magical stopping power. The futures sold off more than 4o0 points after touching it, but they recouped more than half of it Wednesday, showing no sign of fatigue at the bell. The 9604 high could conceivably mark the end of the vertical rally since March 23. However, if the June contract closes above the 9585  pivot for two consecutive bars on the weekly chart, that would make a run-up to 10,571 an odds-on bet. That is a little more than 9% above the all-time high at  9763 recorded in February, and it would make this spring's sensational running of the bulls even more inexplicable and frightening. Although health officials are cautiously optimistic about a vaccine, Wall Street is quite obviously wildly optimistic. ______ UPDATE (May 28, 6:37 p.m. EDT): Subscribers in the Trading Room around mid-day could have jumped on a short I detailed explicitly in the E-Mini Nasdaq futures (see chart above). Check out my posts on this beginning at 12:26 p.m. if you want to determine whether you could have pulled the trigger. It occurred 21 points off the intraday high, just ahead of a 147-point plunge worth as much as $588 per contract. By the close, 75% of the initial position had been covered, with one contract remaining for a  swing at the fences. That was the purpose of this gambit, as the headline stated.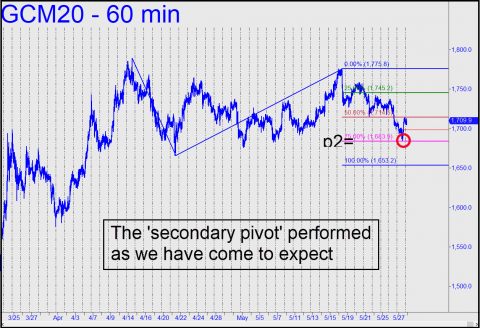 June Gold trampolined off a 1683.10 Hidden Pivot Wednesday, enabling subscribers to get long in their favorite bullion vehicles at or very near the intraday low. I'd posted a heads-up in the Trading Room as the futures began their turn, noting that the 1683.10 'secondary pivot' of a pattern that has been in progress for six weeks was a 'logical' place for a bounce.  The futures rallied $30 from an actual low at 1684.20, and although they are not yet out of the woods, the bounce has turned the hourly chart bullish and breathed new life into targets as high
Read More »
All in all, HP is the best method I have found so far, after spending so much $$$ on systems, courses. I wish you were my first "encounter" and I would be spared of the numerous past frustrations ! All in all, HP is the best method I have found so far, after spending so much $$$ on systems, courses. I wish you were my first "encounter" and I would be spared of the numerous past frustrations !
Rick, in over 30 years of trading, investing, equities, futures, options, etc., as a pro in the business, I have never seen anyone taking such responsibility and interest in their clients.
You have found the best site available to traders, I have been trading for 15 years and have never come across any site even close to Rick's.
If you're a trader, you can't find a better place on the planet than Rick's. Once you learn from him how to read a chart, you can trade anything. Speaking as an old student, it's the best money spent ever! PLUS you get to entertain and learn in this forum.
Rick's Picks Subscription
If you are looking for trade recommendations and forecasts that are precise, detailed and easy to follow, look no further
$59
$
33
A month if paid Annually
'Uncannily accurate' daily trading forecasts

Timely commentary on the predictions of other top gurus

Timely links to the world's top financial analysts and advisors

Detailed coverage of stocks, cryptos, bullion,
index futures and ETFs

A 24/7 chat room where veteran traders from around the world share opportunities and actionable ideas in real time
The Hidden Pivot Course
Learn to trade and reduce risk and stress to a minimum with Rick's simple, proprietary system.
Learn the basics in a few hours in a live class

Hone your skills with weekly tutorials in real time

Review all material using our recorded library

Train your eye with 7000 opportune chart patterns

Perfect your knowledge with a full year's
access to Rick's Picks