Here's what subscribers look at before they trade
Rick's work has been featured in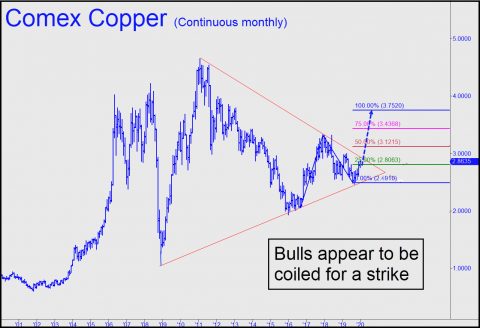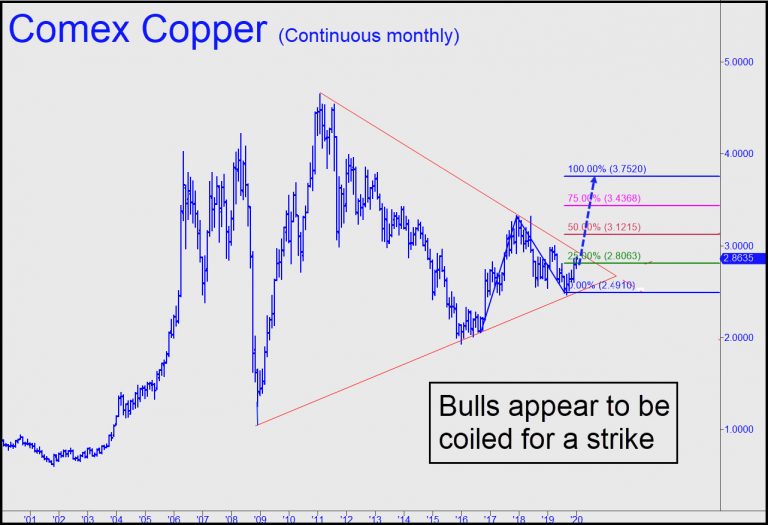 I've been a hardcore deflationist for so long that it took a wake-up call from the always astute Jesse Felder to jolt me out of my complacency. His latest report is headlined Dr. Copper Could Soon Deliver a Diagnosis of Inflation, and it's an eye-opener. The chart accompanying Felder's think-piece suggests that copper futures have been developing thrust for the last several years that could launch a steep rally. He uses a pennant formation to show this, and the breakout point on his chart would come at around $2.95 per pound if it occurs this month. I have illustrated his pennant in the chart above with red lines.
My perspective is somewhat different and uses the Hidden Pivot Method to extrapolate a breakout at exactly $3.12 per pound. Any higher, especially if the futures can close for two consecutive months above that price, would be very bullish. But even someone with no knowledge of technical analysis can see that all signs point higher, with many uptrends of varying degree in play simultaneously. My technical runes say that a strong breakout to the upside would have the potential to push the price of a pound of copper as high as $5.33. If so, the corresponding inflation we might expect to see in the price of goods and services would be severe and a jolt to the global economy, especially since inflation has lain dormant for nearly 40 years.
'The Doctor' Is Usually Right
Concerning copper's ability to predict inflation, I'll let Felder explain:  Traders call copper 'Dr. Copper' because he has a Ph.D in economics. In fact, most of the time, Dr. Copper forecasts recessions and recoveries, inflation and deflation, far more accurately than his colleagues in the 'dismal science,' so it pays to pay attention to his macroeconomic messages.  Just so.  And although I continue to believe that a deflationary endgame for the global financial bubble is unavoidable, if copper were to bolt sharply higher I would have to concede that the deflationary bust I've been anticipating for so long may lie further down the road. Regardless, the potential for a catastrophic outcome, presumably but not necessarily deflationary, would remain. That's because steep inflation would push interest rates high enough to implode the global debt bubble, a quadrillion dollar credit edifice that is fatally addicted to low rates and which could not adjust to a sudden, 100-basis-point upthrust, let alone entrenched rates of 5% or more.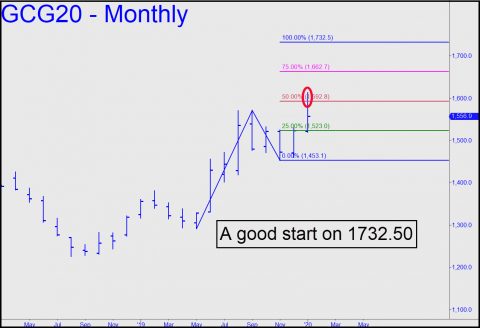 The futures recovered somewhat after getting knocked down midweek, but not before they'd impaled a 1592.80 midpoint resistance tied to a bull-market target at 1732.50. Odds of reaching so optimistic a benchmark would shorten if the monthly bar finishes above the 1592.80 midpoint pivot. There's little value in speculating about this now, but if the futures pull back to the green line at 1523.00, that would trip a moderately appealing 'mechanical' buy signal we can leverage in several ways. For detailed guidance in real time, tune to the chat room if weakness brings the February contract down another $30 or
Read More »
All in all, HP is the best method I have found so far, after spending so much $$$ on systems, courses. I wish you were my first "encounter" and I would be spared of the numerous past frustrations ! All in all, HP is the best method I have found so far, after spending so much $$$ on systems, courses. I wish you were my first "encounter" and I would be spared of the numerous past frustrations !
Rick, in over 30 years of trading, investing, equities, futures, options, etc., as a pro in the business, I have never seen anyone taking such responsibility and interest in their clients.
You have found the best site available to traders, I have been trading for 15 years and have never come across any site even close to Rick's.
If you're a trader, you can't find a better place on the planet than Rick's. Once you learn from him how to read a chart, you can trade anything. Speaking as an old student, it's the best money spent ever! PLUS you get to entertain and learn in this forum.
Rick's Picks Subscription
If you are looking for trade recommendations and forecasts that are precise, detailed and easy to follow, look no further
$59
$
33
A month if paid Annually
'Uncannily accurate' daily trading forecasts

Timely commentary on the predictions of other top gurus

Timely links to the world's top financial analysts and advisors

Detailed coverage of stocks, cryptos, bullion,
index futures and ETFs

A 24/7 chat room where veteran traders from around the world share opportunities and actionable ideas in real time
The Hidden Pivot Course
Learn to trade and reduce risk and stress to a minimum with Rick's simple, proprietary system.
Learn the basics in a few hours in a live class

Hone your skills with weekly tutorials in real time

Review all material using our recorded library

Train your eye with 7000 opportune chart patterns

Perfect your knowledge with a full year's
access to Rick's Picks