Here's what subscribers look at before they trade
Rick's work has been featured in
The usual experts were predicting a wild week on Wall Street, but a few more days like Monday and traders could fall into a trance. The Dow was off a measly 104 points, although it seemed more boring than that because the loss developed an inch at a time.  Everyone supposedly is waiting to see whether Trump will impose another layer of tariffs on Chinese goods next week. We'd bet heavily against it, but that doesn't necessarily mean the President won't feint one way and then the other a half-dozen times before he announces the good news. AAPL, the #1 bellwether for the bull market, looked leaden and probably held back buyers of other stocks in the lunatic sector. Only GOOG and TSLA were up on the day, presumably because bears were still dizzy from a nasty bout of short-covering on Friday.  AAPL remains the stock to watch, and it looks like it will need to go a bit lower to attract some bottom-fishing. Bears had better be ready to leap aside, however, when DaBoyz make a run for the $283 Hidden Pivot target we've been using since before Halloween.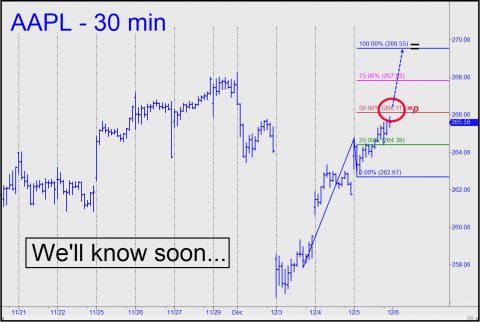 AAPL remains an excellent proxy for the bull market, so perhaps it's a good time to look at its intraday charts, the better to judge whether December's shaky start portends more trouble. My gut feeling is that the weakness will pass, if it hasn't already, and that both the stock and the broad averages will soon be banging out new record highs. This scenario will become more likely if AAPL blows past the 266.11 midpoint Hidden Pivot shown in the chart to end the week. That would put it on track for a shot at D=269.55 next week, and, presumably,
Read More »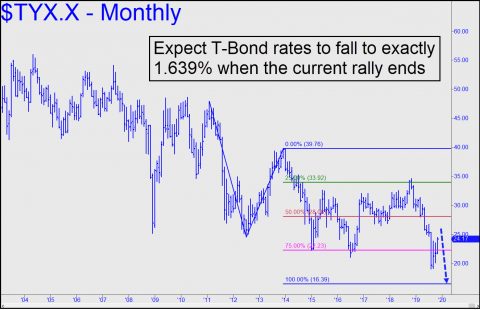 Although some notable long-term bond bulls are close to throwing in the towel as U.S. Treasury yields continue to climb, the chart suggests the bull market begun nearly 40 years ago still has farther to go.  Yields on the long bond settled Friday at 2.41%, up from 1.90% in August, while T-Notes have gone from 1.43% to 1.93% over the same time. The rallies have been impressive if not to say scary, since they have subjected hundreds of trillions of dollars of borrowings to a deflationary turn of the screw. The burden of debt promises to lighten before it becomes
Read More »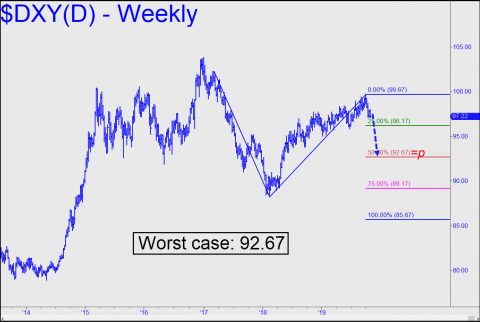 I rarely update my dollar forecast because 1) my very-long-term outlook is unshakably bullish, and 2) subscribers do not trade it. Nevertheless, the dollar sold off hard last month, raising mild concerns about whether the long-tern trend has changed. A glance at the weekly chart, however, reveals little technical damage. Regardless, I'll need to start treating the chart as I would some trading vehicle I don't care about. Strictly speaking, a further decline touching the green line would put p=92.67 in play as a downside target. I refer to it as my worst-case scenario in the chart, but in fact
Read More »
All in all, HP is the best method I have found so far, after spending so much $$$ on systems, courses. I wish you were my first "encounter" and I would be spared of the numerous past frustrations ! All in all, HP is the best method I have found so far, after spending so much $$$ on systems, courses. I wish you were my first "encounter" and I would be spared of the numerous past frustrations !
Rick, in over 30 years of trading, investing, equities, futures, options, etc., as a pro in the business, I have never seen anyone taking such responsibility and interest in their clients.
You have found the best site available to traders, I have been trading for 15 years and have never come across any site even close to Rick's.
If you're a trader, you can't find a better place on the planet than Rick's. Once you learn from him how to read a chart, you can trade anything. Speaking as an old student, it's the best money spent ever! PLUS you get to entertain and learn in this forum.
Rick's Picks Subscription
If you are looking for trade recommendations and forecasts that are precise, detailed and easy to follow, look no further
$59
$
33
A month if paid Annually
'Uncannily accurate' daily trading forecasts

Timely commentary on the predictions of other top gurus

Timely links to the world's top financial analysts and advisors

Detailed coverage of stocks, cryptos, bullion,
index futures and ETFs

A 24/7 chat room where veteran traders from around the world share opportunities and actionable ideas in real time
The Hidden Pivot Course
Learn to trade and reduce risk and stress to a minimum with Rick's simple, proprietary system.
Learn the basics in a few hours in a live class

Hone your skills with weekly tutorials in real time

Review all material using our recorded library

Train your eye with 7000 opportune chart patterns

Perfect your knowledge with a full year's
access to Rick's Picks