Over One Thousand Paid Subscribers Won't Make A Trade Without Looking At Rick's Picks First…
Rick's work has been featured in
Unlock member content with a free trial subscription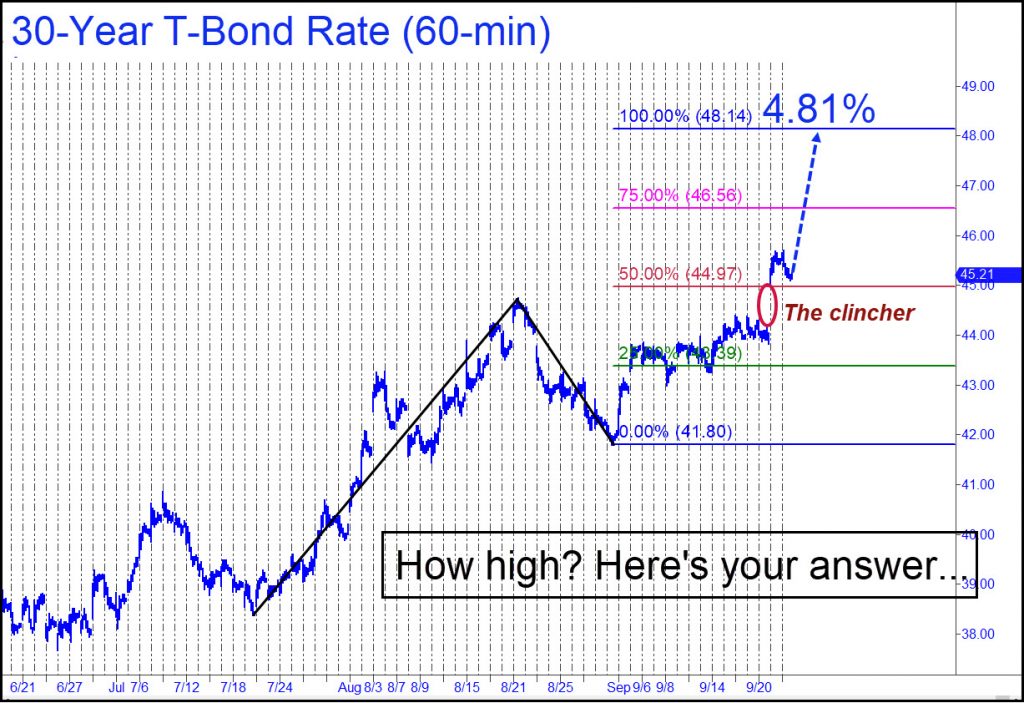 The bullish gap on the chart holds ominous implications for the global economy, since it removes almost all doubt that interest rates on U.S. Treasury Bonds are headed significantly higher. The rally looks nearly certain to reach 4.81%, the target of the pattern shown.  The red line through which the gap occurred last Thursday is a 'Hidden Pivot midpoint resistance,' and it is where we look to get a firm handle on trend strength. When it is penetrated as easily and decisively as it was last week, this almost invariably results in a continuation of the trend to the target, in this case a 48.14 level that corresponds to a 4.81% rate. A tradeable corollary is that a swoon to the green line would be merely corrective, and that bond bears, far from being scared out of their positions, could double down on their bets with confidence.  The equivalent rate for the Ten-Year Note would be 4.68%.
Historical Downturn
You should jot those numbers down, since they will allow you to tune out the din of pundits and economists arguing about how high rates are likely to go. With the economies of China and Europe already sinking into recession, and the U.S. about to do so when the inevitable bear market in stocks gets rolling, another turn of the interest-rate screw threatens a downturn that will be one for the history books.  It will feature above all a strengthening dollar that will not only catch economist and policymakers by surprise, but also crush everyone who owes dollars. A ruinous debt deflation is coming, and it will make us nostalgic for the pesky consumer inflation that has ruled our economic lives since the wildly reckless credit-stimulus of the Covid years.
What our customers are saying about us...
I have found Rick's technical analysis to be extremely reliable. His dedication to subscribers is unsurpassed by any other charting service. Furthermore, he writes in a concise, unwavering manner that cannot be misconstrued. His commentary is a must for any macro investor.
Good morning Rick and thank you for your services. I have been rewarded handsomely over the past six months with just trading your gold/silver share recommendations and using your archives to educate myself on your Hidden Pivot points.
Your recommendations and technical guidance through many years has proven to enhance my overall trading technique allowing for improved timing and profitability. Your service is one I truly count on to produce superior results!
Forecasts Delivered Before
The Morning Trading Bell Rings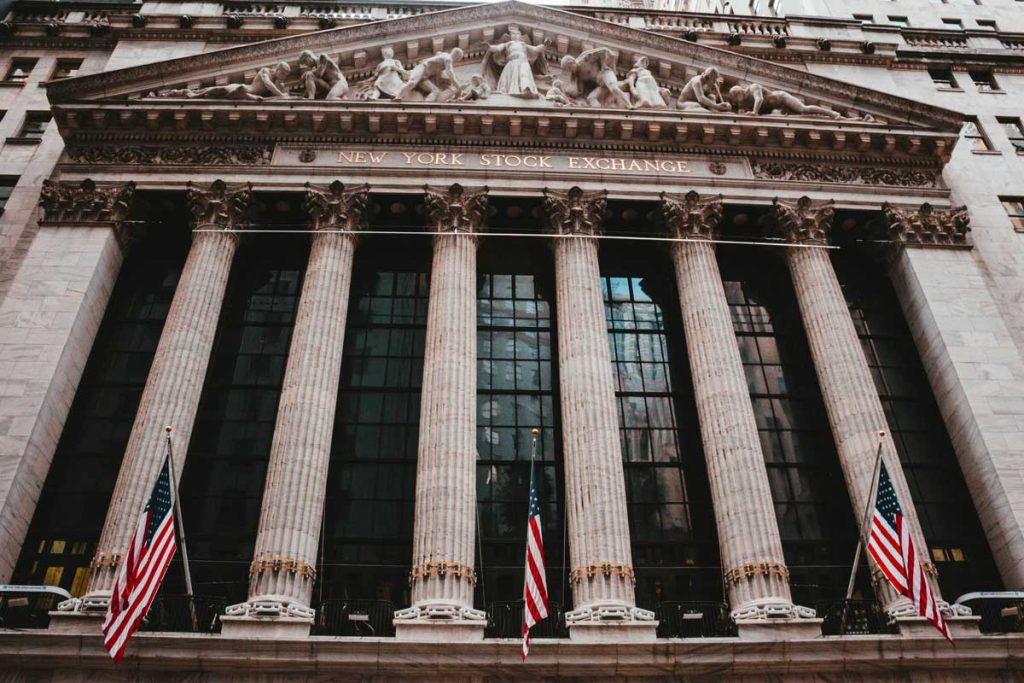 As a Rick's Picks subscriber, you will be getting this information the moment it's posted on the membership site, usually shortly after midnight Eastern Standard Time… more than enough time to capitalize on Rick's suggestions.
Then, throughout the day as Rick updates his forecasts with additional guidance based on market conditions, you'll be instantly informed via email alerts… allowing you to take full advantage of breaking trends and market fluctuations.
These picks include a rotating basket of stocks, futures, indexes, and other hot issues, with a daily focus on precious metals. Rick's Picks subscribers have their favorites, so Rick regularly covers Comex Gold & Silver, the NASDAQ, the Euro, and the E-Mini S&P in addition to the hot issues he believes will offer significant profit-taking opportunities for his subscribers.
Each specific pick is hand-selected by Rick, and includes actionable trading advice, specific price targets, and annotated Hidden Pivot charts with supporting data.
Your Free Subscription Includes: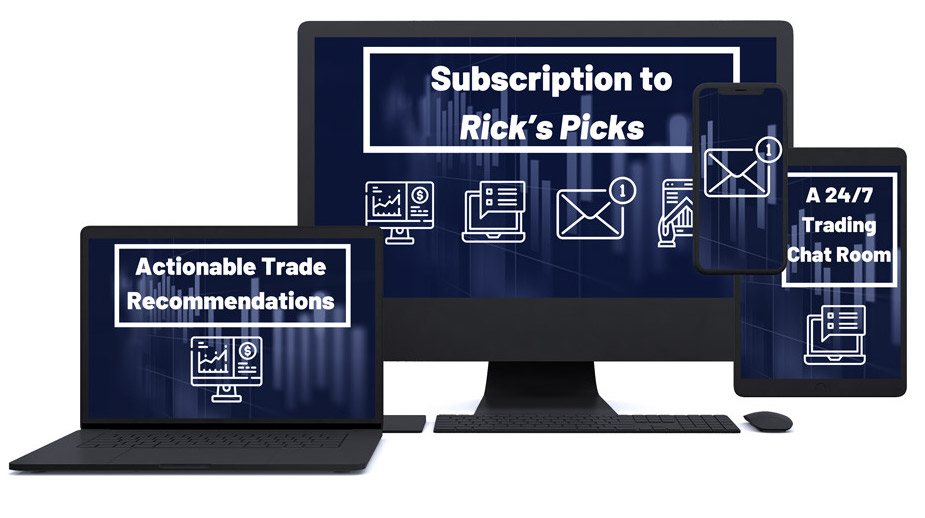 Your Satisfaction is Guaranteed
Once you see how powerfully accurate Rick's forecasts truly are, we're sure you'll stay on as a full member. But if for any reason you're not convinced, simply cancel before the two week's end and you won't owe us a single dime. Fair enough
Rick's Picks Subscription
If you are looking for trading recommendations and forecasts that are precise, detailed and easy to follow, look no further.
'Uncannily accurate' daily trading forecasts

Timely commentary on the predictions of other top gurus

Timely links to the world's top financial analysts and advisors

Detailed coverage of stocks, cryptos, bullion,
index futures and ETFs

A 24/7 chat room where veteran traders from around the world share opportunities and actionable ideas in real time
Mechanical Trade Course
A very simple set-up that will have you trading profitably quickly even if you have never pulled the trigger before, and even with a small account.
Leverage violent price action for exceptional gains without stress

Select trading vehicles matched to your bank account and appetite for risk

Reap fast, easy profits by exploiting the 'discomfort zone' where most traders fear to go

Enter all trades using limit orders that avoid slippage, even in $2000 stocks

Learn how to read the markets so that you no longer have to rely on the judgment of others