Here's what subscribers look at before they trade
Click the button below to get started today with your 14-Day Trial of Rick's Picks
Rick's work has been featured in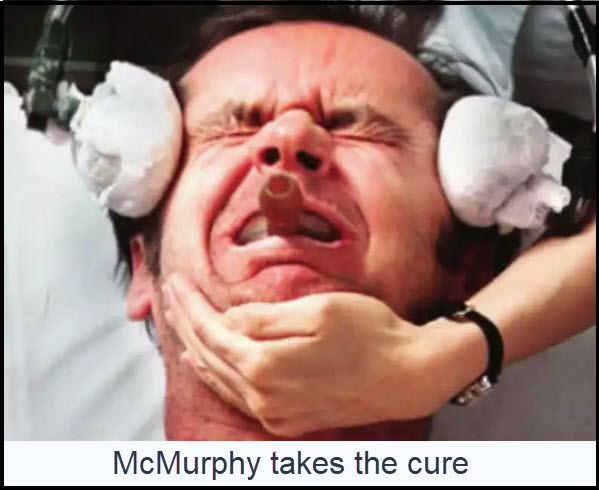 They don't ring a bell at the top of bull markets, as the saying goes, but perhaps this time it will be different.  Indeed, every sentient guru and talking head who is not shilling for Wall Street is properly bearish, and even the chimpanzees who make their living rotating Other People's Money into flavor-of-the-month investment themes were beginning to doubt the stock market's sanity. If a much-needed 10,000-point drop in the Dow is coming, consider it electroshock therapy.  Unfortunately, it'll probably take a lot more than that to purge the markets of mental illness as serious as we've seen in recent years.
Speaking as a trader and a chartist, I'm looking forward to the violent price swings that likely lie ahead. The Hidden Pivot Method turns out to work best when things get really crazy, as occurred during the dot-com mania and the Great Financial Collapse of 2007-08.  It will be interesting to see whether the Reddit kids have scared off institutional heavies who might otherwise get short up the wazoo over the course of a bear market. My hunch is that they will still short like crazy but avoid doing so in individual stocks that could attract dangerous attention.
Keeping Suckers in the Game
Getting short will not be a piece of cake, since a bear market as long overdue as this one is going to attract many players who are all-too-eager to pick tops. We've tried it ourselves recently using Hidden Pivot targets that precisely nailed peaks in several indexes, although not in IWM, a small-cap vehicle that still has a major target outstanding 4% above, at 234.82. Like so many amateurs, we got spooked out of some DIA puts on Wednesday when the Dow rallied nearly 500 points. That's the way it's going to be the whole way down, although it could take an occasional 2000-point short squeeze to ward off bears and keep buy-the-dips mouth-breathers and hopeful suckers in the game. Check out the Rick's Picks Facebook page for a short list of 2x and 3X bear bets you should avoid. You'll have better odds of growing your nest egg buying scratch-off lotto tickets and betting on 70-to-1 horses.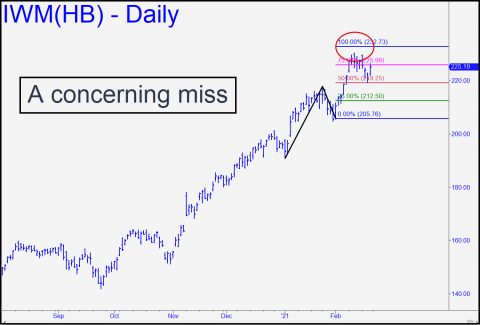 IWM's recent failure to achieve either of two rally targets I'd drum-rolled is curious, given that it has been the vehicle of choice for portfolio chimps paid to throw other people's money at superficially appealing 'themes'. The more important of the targets is 234.82, derived from a pattern that stretches back to the beginning of the bull market in 2009.  The other is the 232.72 target shown in the inset.  It's possible the chimps, abetted by their unwitting slaves, short-covering bears, will lay waste to the two Hidden Pivot obstacles in the week(s) ahead. For now, though, we can infer
Read More »
All in all, HP is the best method I have found so far, after spending so much $$$ on systems, courses. I wish you were my first "encounter" and I would be spared of the numerous past frustrations ! All in all, HP is the best method I have found so far, after spending so much $$$ on systems, courses. I wish you were my first "encounter" and I would be spared of the numerous past frustrations !
Rick, in over 30 years of trading, investing, equities, futures, options, etc., as a pro in the business, I have never seen anyone taking such responsibility and interest in their clients.
You have found the best site available to traders, I have been trading for 15 years and have never come across any site even close to Rick's.
If you're a trader, you can't find a better place on the planet than Rick's. Once you learn from him how to read a chart, you can trade anything. Speaking as an old student, it's the best money spent ever! PLUS you get to entertain and learn in this forum.
Rick's Picks Subscription
If you are looking for trade recommendations and forecasts that are precise, detailed and easy to follow, look no further
$59
$
33
A month if paid Annually
'Uncannily accurate' daily trading forecasts

Timely commentary on the predictions of other top gurus

Timely links to the world's top financial analysts and advisors

Detailed coverage of stocks, cryptos, bullion,
index futures and ETFs

A 24/7 chat room where veteran traders from around the world share opportunities and actionable ideas in real time
The Hidden Pivot Course
Learn to trade and reduce risk and stress to a minimum with Rick's simple, proprietary system.
Learn the basics in a few hours in a live class

Hone your skills with weekly tutorials in real time

Review all material using our recorded library

Train your eye with 7000 opportune chart patterns

Perfect your knowledge with a full year's
access to Rick's Picks