Here's what subscribers look at before they trade
Click the button below to get started today with your 14-Day Trial of Rick's Picks
Rick's work has been featured in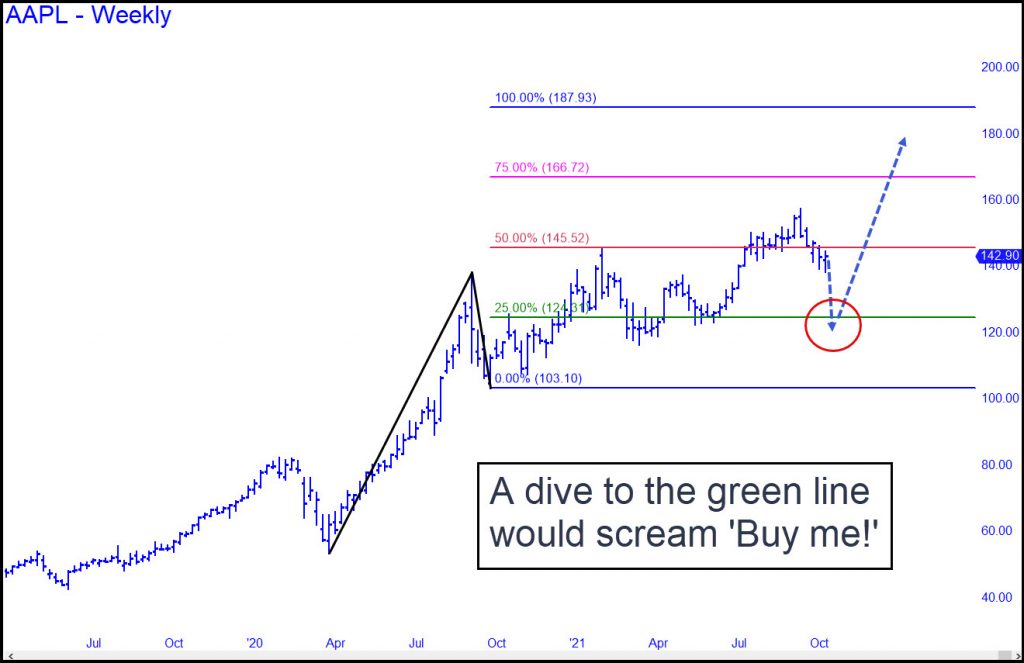 If I had to pick one chart that shows why the bull market is probably not over, it would be the one above. To be sure, the 157.26 peak recorded by Apple shares a month ago was a great place for an important top to have occurred; this chart shows why. But THE top? I have my doubts. For if this were so, it would rank as one of the most visually boring summits ever achieved. For permabears who have waited patiently for a fitting climax to the most most insane bull market of them all, it would be like finding a WaWa Market at the top of a Himalayan peak they'd almost died scaling.
Setting the Hook
A few forecasters had precisely predicted a potentially important top at or very near $157, including your editor. Some of us even profited from put butterfly spreads purchased a month earlier that more than quintupled in value with AAPL's 12% drop so far. But it could be pressing one's luck to hold out for more, since the downtrend seems to be struggling increasingly and made no progress at all last week. Perhaps the selloff will turn nasty in the week ahead. But if so, keep in mind that a plunge to the green line would actually be bullish, tripping a 'mechanical' buy signal based on Rick's Picks' proprietary Hidden Pivot Method.  It would also imply an eventual rally to as high as 187.93.
This scenario is congruent with one I raised here last week — i.e., that the stock market will rally to yet one more record high, setting the hook in bulls and short-covering bears alike. A steep plunge in the weeks ahead would make a reversal to new highs even more persuasive, and therefore more deadly. Whatever happens, AAPL is still the 300-pound diva whose final aria will signal the end of the bull market begun nearly 13 years ago.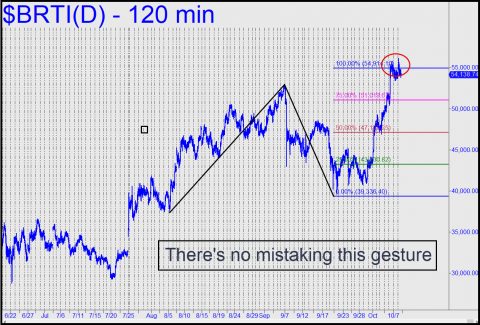 Bertie's brutish poke through the 54,914 Hidden Pivot resistance shown here left little doubt about where its fat-cat sponsors are taking it next.  Shifting to a bullish ABCD pattern of higher degree yields a 64,871 target that should be used as a minimum upside projection for the near term. The nasty C-D leg has yet to gift bulls with a 'mechanical' buying opportunity, so we won't count on one. Trading interest has all but vanished from the chat room lately, but I'll be around as always if you want to bounce a timely idea off me.
Read More »
All in all, HP is the best method I have found so far, after spending so much $$$ on systems, courses. I wish you were my first "encounter" and I would be spared of the numerous past frustrations ! All in all, HP is the best method I have found so far, after spending so much $$$ on systems, courses. I wish you were my first "encounter" and I would be spared of the numerous past frustrations !
Rick, in over 30 years of trading, investing, equities, futures, options, etc., as a pro in the business, I have never seen anyone taking such responsibility and interest in their clients.
You have found the best site available to traders, I have been trading for 15 years and have never come across any site even close to Rick's.
If you're a trader, you can't find a better place on the planet than Rick's. Once you learn from him how to read a chart, you can trade anything. Speaking as an old student, it's the best money spent ever! PLUS you get to entertain and learn in this forum.
Rick's Picks Subscription
If you are looking for trade recommendations and forecasts that are precise, detailed and easy to follow, look no further
$
33
A month if paid Annually
'Uncannily accurate' daily trading forecasts

Timely commentary on the predictions of other top gurus

Timely links to the world's top financial analysts and advisors

Detailed coverage of stocks, cryptos, bullion,
index futures and ETFs

A 24/7 chat room where veteran traders from around the world share opportunities and actionable ideas in real time
The Hidden Pivot Course
Learn to trade and reduce risk and stress to a minimum with Rick's simple, proprietary system.
Learn the basics in a few hours in a live class

Hone your skills with weekly tutorials in real time

Review all material using our recorded library

Train your eye with 7000 opportune chart patterns

Perfect your knowledge with a full year's
access to Rick's Picks