Here's what subscribers look at before they trade
Click the button below to get started today with your 14-Day Trial of Rick's Picks
Rick's work has been featured in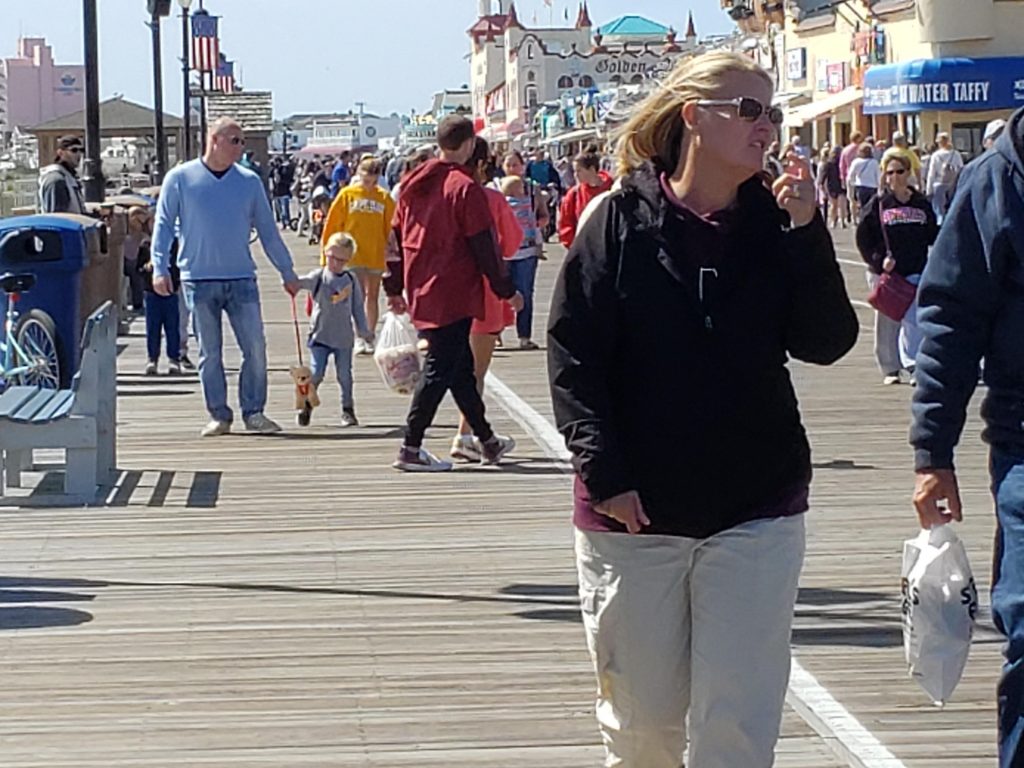 There was not a mask in sight Saturday afternoon on the Ocean City NJ boardwalk even though it was packed with strollers, including your editor. Although it's not possible to tell from the picture which are political liberals and which are conservatives, it's probably safe to say that voters of both persuasions were well represented in the dense throng. The beaches and boardwalks in South Jersey and elsewhere are among the relatively few places where no one seems to give a damn about Covid-19. In such locales, the disease seems as powerless as the Wicked Witch of the East in Munchkinville. We know this because nearly everyone in America would be infected by now if it were otherwise.
What about indoor spaces?  Popular wisdom has it that if you share a poorly ventilated room with someone who has the disease, and you breathe the same air for an hour or two, you are likely to become contaminated yourself (although not necessarily symptomatic). However, there is at least one bar in nearby Margate, NJ, where drinkers often stand two or three deep because all of the stools are taken. Three-way conversations are happening with faces separated not by the state-mandated six feet, but by 10-15 inches. On a recent weekend when I had dinner there — outside — the bar resembled a scene from a Heironymous Bosch painting, where earthly pleasures are celebrated with wicked abandon. If they turn out to be superspreaders, we should know by Halloween.
Pancake Risk
I had a mask-less breakfast Saturday morning with two friends, both physicians, in a restaurant that is famous for blueberry pancakes and which has been doing brisk business since 1946. The place has barely missed a beat during New Jersey's lockdown.  One of these friends has treated dozens of Covid-19 patients, only one of whom got seriously ill. The patient, a mutual friend who stays in good shape by surfing year-round, was the only one of the bunch who did not start taking hydroxychloroquine, zinc and zithromax soon after becoming symptomatic.
Some of my oldest friends have banned me from their homes merely because they know I've dined out — done so inside a couple of times. Maybe I've been lucky, or maybe I've had Covid-19 without even knowing it. I keep meaning to get tested, and I probably will one of these days. In the meantime, I will continue to wear a mask wherever required, and to respect the quarantine protocols of my friends, but also of strangers with whom I come in contact. Despite Trump's promise of a vaccine by November, we all know it's going to be a very long and difficult winter.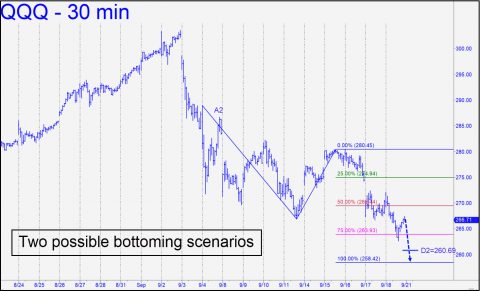 The chart shows two Hidden Pivot 'D' supports, either of which is capable of generating a tradeable bottom.  Subscribers reported success using SQQQ, an ultrashort ETF, to play the move. The downside targets lie, respectively, at 260.69 and 258.42. However, sliding 'A' up to the marquee high at 303.50 recorded on Sep 2 would produce a downside target as low as 243.85. Friday's bounce precisely from p=262.15 of that pattern has validated this target and the pattern associated with it while also providing a rationale for bottom-fishing at 243.85 with a very tight stop loss. ______ UPDATE (Sep 21, 8:42
Read More »
All in all, HP is the best method I have found so far, after spending so much $$$ on systems, courses. I wish you were my first "encounter" and I would be spared of the numerous past frustrations ! All in all, HP is the best method I have found so far, after spending so much $$$ on systems, courses. I wish you were my first "encounter" and I would be spared of the numerous past frustrations !
Rick, in over 30 years of trading, investing, equities, futures, options, etc., as a pro in the business, I have never seen anyone taking such responsibility and interest in their clients.
You have found the best site available to traders, I have been trading for 15 years and have never come across any site even close to Rick's.
If you're a trader, you can't find a better place on the planet than Rick's. Once you learn from him how to read a chart, you can trade anything. Speaking as an old student, it's the best money spent ever! PLUS you get to entertain and learn in this forum.
Rick's Picks Subscription
If you are looking for trade recommendations and forecasts that are precise, detailed and easy to follow, look no further
$59
$
33
A month if paid Annually
'Uncannily accurate' daily trading forecasts

Timely commentary on the predictions of other top gurus

Timely links to the world's top financial analysts and advisors

Detailed coverage of stocks, cryptos, bullion,
index futures and ETFs

A 24/7 chat room where veteran traders from around the world share opportunities and actionable ideas in real time
The Hidden Pivot Course
Learn to trade and reduce risk and stress to a minimum with Rick's simple, proprietary system.
Learn the basics in a few hours in a live class

Hone your skills with weekly tutorials in real time

Review all material using our recorded library

Train your eye with 7000 opportune chart patterns

Perfect your knowledge with a full year's
access to Rick's Picks