Here's what subscribers look at before they trade
Click the button below to get started today with your 14-Day Trial of Rick's Picks
Rick's work has been featured in
Bulls are straining to hold shares aloft, but we haven't seen sufficient weakness to infer that the stock market smells a Biden victory. That would be a catastrophe for Wall Street, even if some pundits insist investors might actually prefer him. We now have fake opinions, it would seem, to supplement fake news intended to support Biden. Investors needn't worry in any event, since there is no credible logic to support polls that show Biden leading comfortably.  It evaporates when you factor in millions of Trump supporters who'd rather not talk about it with Gallup, Quinnipiac et al. Why risk having a fiery jack-o-lantern heaved through your living room window, or getting 'keyed' by some Biden partisan who doesn't agree with your MAGA bumper sticker? The so-called low-propensity voters may not be very visible, but there are assuredly plenty of them out there. They will put Trump comfortably enough over the top to moot the inevitable post-election recounts.
Reasons for a Trump Landslide
In the meantime, the supposed experts have been combing through election data precinct-by-precinct in a half-dozen populous states, trying to discern a predictive pattern.  Most of these guys couldn't find a pattern in an Amish quilt. It's not that hard, guys. Really. Just a few simple assumptions support not merely the prospect of a Trump win, but a Trump landslide. To wit: 1) virtually everyone who voted for Trump in 2016 is going to vote for him again; 2) many millions who didn't will this time because Trump's accomplishments have benefited them materially. Most are better off financially than they were under Obama, even with Covid depressing the economy. Aren't you? 3)  Joe is much more congenial than Hillary, and this will count for something at the ballot box; but 4) it will be more than offset by mounting evidence that he is a crooked politician, that his brain has holes in it, and that he is absolutely bereft of ideas that might improve America. His running mate, Kamala Harris, surely does not lack for ideas. Unfortunately for the Democrats, however, it is Marxists who hear her dog whistle most clearly. Bottom line: It's still Trump by a landslide. _______ UPDATE (Oct 22, 4:57 p.m. ET): Few expect the debate to move the stock market on Friday, but it can't hurt to speculate on a possible surprise — especially when the odds are right. We've got a bet down with some put options on IWM, a proxy for the Russell 2000.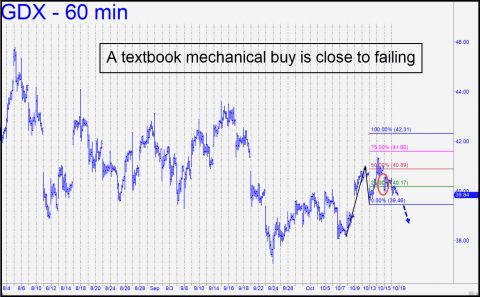 GDX has been regularly disappointing us for more than two months and is close to doing it again. Although the stock tripped a 'textbook' mechanical buy on Thursday when it pulled back to the green line, it pulled back even more on Friday and ended the week just inches from breaching the point 'C' low of the bullish pattern. I hadn't recommended the trade to begin with because my recent updates placed the burden of proof on bulls. And so it shall remain until such time as buyers can push this cinder block above the 42.54 'external peak recorded September
Read More »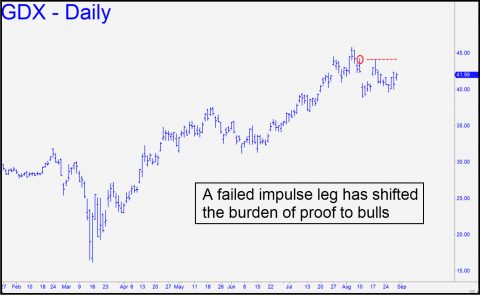 The burden of proof rests with bulls for the time being, since the rally from Aug 11-18 failed to surpass a distinctive 'external' peak at 44.18 (see inset). If the corresponding ABC downtrend were to play out, a touch at 42.48 would trigger a 'mechanical' short with a 37.64 price objective.  This is blandly objective analysis, but I must tell you that I'm not thrilled with the prospect of shorting GDX, given the difficulties sellers have had pushing gold lower over the last two weeks. I'll recommend watching from the sidelines for a couple of days, although there are always
Read More »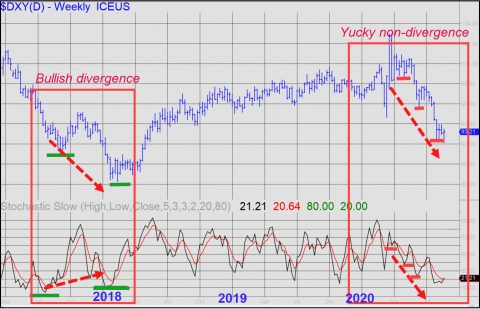 I've been a hard-core deflationist and dollar bull for decades, and so I've been eager to see technical evidence that the dollar's wrenching correction since March is at an end.  Alas, although there are faint stirrings in the greenback that hint of a short-to-intermediate-term rally, I doubt that it heralds the resumption of the dollar's long-term bull market. My expectation is that this will occur in conjunction with a deflationary implosion that will usher in a global economic depression. For the time being, though, the money spigot is wide open, fiscal stimulus is at unprecedented levels and few are worried
Read More »
All in all, HP is the best method I have found so far, after spending so much $$$ on systems, courses. I wish you were my first "encounter" and I would be spared of the numerous past frustrations ! All in all, HP is the best method I have found so far, after spending so much $$$ on systems, courses. I wish you were my first "encounter" and I would be spared of the numerous past frustrations !
Rick, in over 30 years of trading, investing, equities, futures, options, etc., as a pro in the business, I have never seen anyone taking such responsibility and interest in their clients.
You have found the best site available to traders, I have been trading for 15 years and have never come across any site even close to Rick's.
If you're a trader, you can't find a better place on the planet than Rick's. Once you learn from him how to read a chart, you can trade anything. Speaking as an old student, it's the best money spent ever! PLUS you get to entertain and learn in this forum.
Rick's Picks Subscription
If you are looking for trade recommendations and forecasts that are precise, detailed and easy to follow, look no further
$59
$
33
A month if paid Annually
'Uncannily accurate' daily trading forecasts

Timely commentary on the predictions of other top gurus

Timely links to the world's top financial analysts and advisors

Detailed coverage of stocks, cryptos, bullion,
index futures and ETFs

A 24/7 chat room where veteran traders from around the world share opportunities and actionable ideas in real time
The Hidden Pivot Course
Learn to trade and reduce risk and stress to a minimum with Rick's simple, proprietary system.
Learn the basics in a few hours in a live class

Hone your skills with weekly tutorials in real time

Review all material using our recorded library

Train your eye with 7000 opportune chart patterns

Perfect your knowledge with a full year's
access to Rick's Picks