The Dow Industrials lurched 256 points higher yesterday, but a trader looking for action might have found himself bored to tears nonetheless. Indeed, anyone who failed to go home long the day before would have been left twiddling his thumbs Wednesday morning, since stocks bolted for the wild blue yonder on the opening bell. Like nearly all powerful rallies, the move began with a short-covering panic. However, this one was quite unusual in that it had begun on a gap at the start of after-hours trading the evening before. We can't remember the last time this sequence of events occurred, but the effect was to put bears under serious pressure when Wednesday's session began.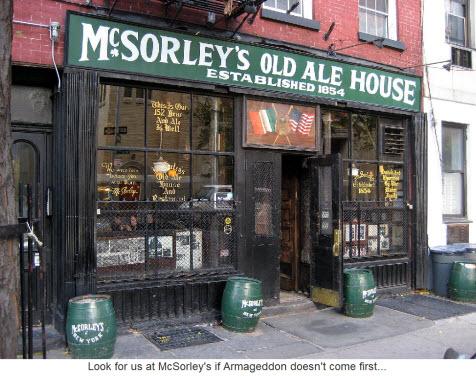 The catalyst for the short-squeeze was an upbeat earnings forecast from Intel. The company actually lost money in the second quarter, but the red ink apparently wasn't as bad as the usual dolts, pinheads and Civil Service rejects on The Street supposedly were expecting. The news from Intel followed strong earnings from the invincible Goldman Sachs. Some readers may recall our prediction that Goldman shares, then trading for around $45, eventually would fall to $29 or lower. So certain were we of this this that we promised to don a grass skirt and dance the hula in Times Square in the middle of winter if we were wrong. Well, it looks like we were wrong. And although we still think Goldman's financial empire will end up a smoldering ruin by the time the Second Great Depression has run its course, we'd have to concede at this point that it could take a while longer than we'd anticipated.
Barring Armageddon…
Quite a while, actually. Goldman shares are up nearly 20 percent in the last week alone, to $155, and they look like a good bet to hit a Hidden Pivot target at 158.34 before taking a breather. In any event, we're pretty much resigned to cavorting half-naked in Times Square next winter, probably around Valentine's Day. With any luck, sometime before then we'll catch the $100 downdraft in Goldman that is surely coming. If it doesn't coincide with Armageddon, the drinks will be on us, post-hula, at McSorley's.
If you'd like to have Rick's Picks commentary delivered free each day to your e-mail box, click here.