(We've heard from our friend Chuck Cohen again, and he's as bullish as ever on the junior and exploration gold shares.  Two stocks he likes look too overextended now to jump on, but there are many others that have yet to leave the launching pad.  RA)
A seismic change is rapidly approaching in the junior and exploration gold shares. Many companies that appeared primed for liquidation just last November will be soon be ratcheting up in an unimaginable way. There remains an unusual amount of doubt and anxiety, as we saw in Friday's air pocket in gold and silver. So why do I still feel so strongly about an explosive rise in the metal and shares? It's a chart thing, specifically the recent price movements in two junior gold stocks, Romarco Minerals and Terrane Metals. Here's what their charts look like: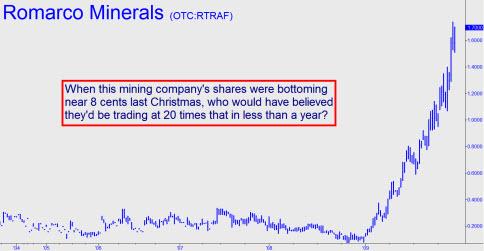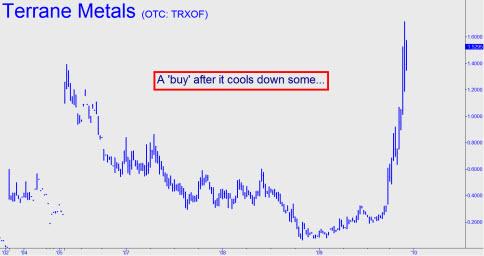 The swagger of many gold investors just a couple of years ago has almost evaporated, as the gold shares sold mercilessly down last year. And from my correspondence and the gold blogs I follow, even with record prices, caution and disbelief, not confidence, still permeate this market. But the cavalry is on its way. We are starting to see the first fruits of a massive bull market in the shares. I don't wish to get into the fundamentals for this trend  reversal except to say that I believe the financial world is about to be awash in an incredible flood of liquidity that will soon drive up all market – stocks and commodities, but especially silver and gold shares.
What to Look For…
First, the prices of the desolate junior shares will lift above the top of last November's selloff. Remember how, at their bottoms, it seemed as though most of the exploration companies might have to shut their doors? To think that a massive bull market was just ahead seemed crazy. But for most juniors and exploration stocks, almost without any recognition, this first step has already begun.
Second, following this initial rise, shares will begin to show short sharp bursts, accompanied by unusually heavy volume. In the past, this pattern usually proved to be a negative as selling drove back the advance. But more recently it has been a sign that strong hands are entering the market.
Parabolic Stage
Third, shares will start to pick up strength and extend their moves. At this point most will have risen 100% or 200% off their bottoms. And finally, when it looks as though the ultimate top was reached and a scary reversal was at hand, instead of breaking down as in the past, the stocks will break out again, this  time parabolically.
I have included the charts of two stocks–Romarco Minerals and Terrane Metals — to show this pattern as it has unfolded. (Since this was written last week, I want to add that Terrane has pulled back as I had originally thought, but I wanted to still include it, warts and all.) I have held both and done well in them. But also, I sold them prematurely because I thought that the old pattern might still apply. But as Dylan has written "Things have changed." And this change portends big things ahead in the junior share market. Please note that although these two companies still have terrific prospects, I am not recommending them at current levels because their huge rise has made them less attractive for the moment. There are many junior and exploration companies that haven't yet left the launching pad that will soon follow these patterns.
Below are the two year charts of Romarco and Terrane along with some observations about each.
Romarco Minerals
Romarco has had a prospective property in South Carolina since 2007. At first, its drilling results were good — not spectacular, but very encouraging. Plus, it has two very high-profile holders, Frank Holmes and Sprott Resources. But even with all of that going for it, the stock lagged, dropping from $.35 down to under $.10 late last year. If you held this stock, what would your expectations have been back in November of 2008: Just another junior loser, or would you still expect it to move as it has?
The obvious answer would be that Romarco might be just another candidate for a 2008 tax loss. But look at this chart!  As of Friday November 20, Romarco was still ascending parabolically, up almost 20 times from that low. Do you see what I mean?
Terrane Metals
Terrane is a different situation, since it is heading towards production in British Columbia. But its fundamentals were almost as compelling two or three months ago as they are now and yet you could have bought it at $0.25 just two months ago. Looking at the chart, would you have anticipated that it would go up over five times in just a couple of months? It's as though someone lit a fuse under the stock. Two weeks  ago, thinking Terrane had exhausted its run, I exited the stock. But when it started to dig in last Thursday, I began to doubt my decision. On Friday it moved up to a new high, and I have no idea where it is going. Unfortunately, it will be without me. It was this mistake that prompted me to write this piece.
If you want to look at two other potentially parabolic charts in the exploration sector, look at Pelangio (PGXPF) and Moneta Porcupine (MPUCF).  I suspect that the next breakout from their current consolidation could morph into a parabolic curve.
Learning from Mistakes
It is strange to consider in an investment-crazed culture, where every advisory service  promises certain success, that your best teacher is the mistakes you make. There is nothing like them — that is, if you can figure out what went wrong, and if you are honest with yourself. Richard Russell always brings up his investment in Berkshire way back, and then happily scalping a 100% profit, but eventually missing out on its legendary run over the years. It's instructive that he strongly reminds his readers not to sell gold in this move. This advice probably traces back to that Berkshire lesson. A wise man!
Here is my conclusion: We have been constantly disappointed in our gold shares because of past fake-outs. Many thought: I won't be fooled next time. But things have changed — in a big way — and many of the underachieving juniors are about to replicate what Romarco and Terrane have done this year. I urge you to do your own homework. Go to excellent chart sites such as Bigcharts.com and check out a large sample of the smaller gold shares to see what is now unfolding. I haven't included Pelangio, which I recommended a couple of months ago, but look at its current pattern.
Mine Accident
Finally, for those who have bought Metanor Resources and have been concerned about the mine accident, Jay Taylor has an interview with the company this week at his site.
I believe that blow-outs and, ultimately, blow-offs will be commonplace in the junior gold share market in the years to come. If you wish to receive my help on a professional basis which includes some new recommendations of these smaller gold stocks that could soon be joining Terrane and Romarco in these moves, please get in touch with me at [email protected] Also, if you wish me to send you a six-part series on gold, please request it. Thank you. CHUCK.
(If you'd like to have Rick's Picks commentary delivered free each day to your e-mail box, click here.)