With a grave threat to world peace and stability emerging in yesterday's news, there was the Dow Average, up 72 points at the time, as oblivious to reality as a swami who's been in a trance for a week. Concerning the magnitude of the threat, don't take our word for it.  Here's a link to an article that makes clear how serious Iran is about running Israel's blockade. Ahmadinejad has pledged warships and submarines to back up Turkey's fleet, which at this moment is steaming toward Gaza.  The impending showdown, the Iranian president vowed, "will change many issues in the world and mark the final countdown for Israel's existence. It shows that it has no room in the region and no one is ready to live alongside it."  Does that sound like a bluff?  Contrast the palpable menace of his words with the whimsical sound bite from Hillary Clinton earlier this week when she predicted "Iran would pull some sort of stunt in the next couple of days" to divert attention from the unity with the Security Council. Are we actually supposed to believe that the U.N., which sat by idly as the mullahs went nuclear, has the will, let alone the ability, to prevent a deadly showdown between Israel and its enemies?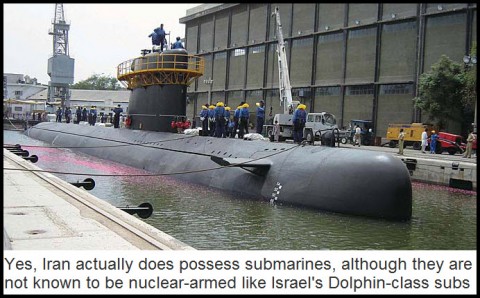 And where is NATO when you need it? Turkey is a member, albeit one whose good standing may have been fatally compromised when the country almost overnight became a blood enemy of Israel (and therefore, of America).  One surmises that strategic alliances have shifted so rapidly in the post-American vacuum ushered in by Mr. Obama, that NATO doesn't know where it stands. There really is no NATO any more, as this incident makes clear, and so it will be up to our President alone to put the kibosh on Iran's brazen declaration of war on a nuclear-armed country.
Turkey's Transformation
Almost as scary is the Jekyll-and-Hyde transformation of Turkey, with a well-equipped army that has been trained to NATO standards. It seems odd that the Turks should try to project power through a seaborne flotilla, since they cannot send in the troops to back up their warships. But it needn't come to that, since picking a fight might entail merely sinking a ship, or torpedoing a submarine, to set in motion the larger war that Ahmadinejad evidently thinks is needed to settle old scores. For some brilliant insights into Turkey's alarming turn against secularity, we urge you to read the remarkable essay by Spengler, Fetullah Guilen's Cave of Wonders.
In the meantime, the stock market's failure to reef the sails ahead of a possible military confrontation between Israel and two implacable enemies suggests the threat is not being taken seriously by investors.  As much could be said of bullion's failure yesterday to extend the previous day's promising rally.  In fairness to investors, however, we should concede that we don't know how, exactly, they might go about discounting the worst possibility of all – that the Gulf oil spill will eventually turn the Atlantic Ocean into a dead zone.
Is the Dow not trading 6000 points lower simply because it is incapable of interpreting events that have the potential to end civilization as we know it?