In a rebuke to the Republican Party, Tea Party co-founder Mark Meckler issued a stern reminder yesterday that last month's GOP landslide was not supposed to usher in a period of pork-laden compromises on Capitol Hill. "If the Republicans choose to go down the wrong path," Meckler told Fox's Neil Cavuto, "they're going to get punished at the ballot box in two years."  He said the Republicans' back-room deal with President Obama to extend Bush-era tax breaks is already proving far too costly, since it is being greased with budget-busting earmarks and other costly political goodies. Cavuto himself estimated that when the wrangling was done the deal would hit a trillion dollars, most of it in tax breaks, but he called the proposal beneficial overall.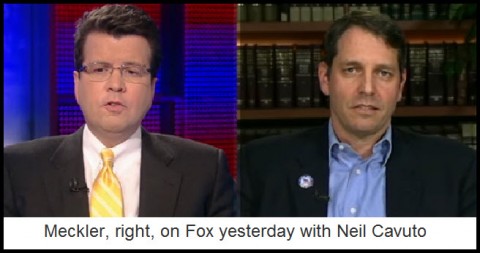 Would Meckler himself vote for it if it were stripped of all spending provisions except for the 13-month extension of unemployment benefits?  Cavuto asked. "Absolutely not," Meckler insisted. He told Cavuto that he could never look his kids in the eye if he had voted to burden them with billions of dollars of new debt. The only solution – the one voters resoundingly endorsed in November – is to go "cold turkey," said Meckler. "It's time for hard remedies. To [pretend] otherwise is not fair to our children and grandchildren."
GOP's 'Prince of Pork'
Although there are provisions in the deal that would somewhat soften the blow of estate taxes, Meckler said the tax should be eliminated entirely. "I'm just a simple guy," he said, "and a death tax is wrong."  He also was critical of the Republicans' decision to put Kentucky Rep. Hal Rogers in charge of the House Appropriations Committee.  Meckler has called Rogers "the prince of pork," and he regards the Congressman's new committee assignment as a sign that nothing has really changed in Washington.  Roger's appointment is "unbelievable," Meckler said. "It's a direct message from the Republican leadership that they don't give a darn about what the American public thinks, and that they are not serious about change." Meckler said Rogers has been personally responsible for pork allocations amounting to hundreds of millions of dollars.
(If you'd like to have Rick's Picks commentary delivered free each day to your e-mail box, click here.)