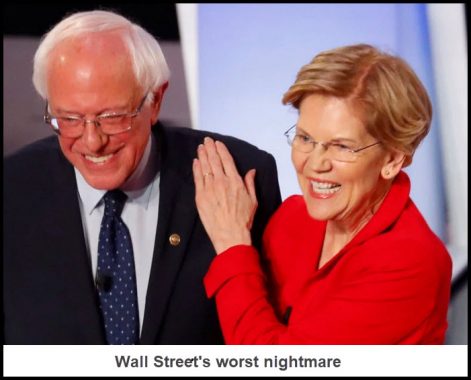 Stocks plunged Friday for a third straight day, supposedly because of some Trump tweets calculated to goad China into a face-saving trade deal. There was good news on the jobs front, but it apparently wasn't good enough to counteract investors' nascent zeal for dumping shares. Gurus who routinely tune out the headlines in order to pay closer attention to technical indicators know better. For it is not "the news" that drives the markets, but the opposite — i.e., the cyclically ordained ups and downs of stocks color our interpretation of the news. Indeed, no one would have cared much about Trump's latest trade-war salvo on Twitter if stocks had been moving higher last week. But they weren't. The broad averages were falling hard after cresting an inch from some technically derived targets that had been well disseminated in the trading world.
Cycles master Peter Eliades' target, for one. We published a chart from him weeks ago, and again last week, that has been magically calling important tops and bottoms in the New York Composite Index since the bull market began in 2009. Here's a year's worth if you're skeptical. We put out a corresponding target of our own on July 23 that came within three ticks of nailing the recent 3029.50 top of the E-Mini S&Ps' 115-point dive last week. Although no guru can claim to understand the mysterious forces that make these targets work, work they do, often with amazing accuracy.
Babson's Break
Now watch what happens in the weeks and months ahead as stocks continue to fall. This will not merely color the news, but impel it. Specifically, it will force the hand of the Open Market Committee, which has tried to mask its spinelessness with faint protests of reluctance. This clumsy kabuki — a literal enactment of the old saw, "Whip me, beat me, make me write bad checks" — has fooled no one, least of all investors. They know the banksters will give in if stocks fall far enough. But with Europe and China sliding deeper into recession, monetary easing will have only a muted effect, not only on stocks, but on economic growth.
As for the trade war, it is already starting to suck the oxygen from the global economy. Shares will rally from time to time nonetheless, ostensibly because of progress on the tariff front but in reality because of cyclical moods swings. The larger trend, however, will be down. The still-unspeakable prospect is that the bull market's death will scuttle Trump's re-election. Comes the day when investors start visualizing Elizabeth Warren or Bernie in the White House, there will be no bottom for the stock market and no end to its bad days. In the meantime, enjoy whatever last-gasp rallies may remain before the selling turns ugly. It could begin with a shot across the bow such as occurred when Babson's break sent stocks plummeting one memorable day in September 1929, seven weeks before Black Monday. Perhaps last week's selloff was the beginning of our Babson's Break?