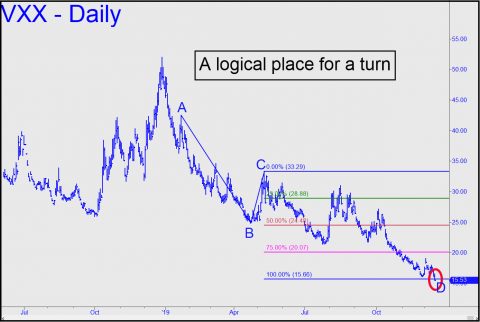 Now comes yet another investable idea to drive the bull market in the months ahead: Donald Trump's reelection bid looks stronger than ever. His odds jumped following last week's election in Great Britain. So decisively did voters rebuke Labor's hard-left candidate for prime minister, Jeremy Corbyn, that it can be safely assumed that neither of his socialist comrades in the U.S. — Bernie Sanders and Elizabeth Warren — has a prayer of becoming president. And because America is not quite ready for a gay couple in the White House, Pete Buttigieg, another a man of the far left whose track record as mayor of South Bend, Indiana, stinks, will not win either. That leaves Joe Biden, a white male whom party activists find deeply offensive;  and another white male, Michael Bloomberg, a multibillionaire who is even less likely to get nominated by the wack-jobs currently in charge of the Democratic party. Cue up Hillary, an increasingly likely hail-Mary nominee who will be no more appealing to the average voter come November than she was in 2016.
Dow 30,000 Ahead!
Last week's shift in election odds will be all that bulls need to push the Dow above 30,000. It stood at 28,136 on the close Friday, up just a few points. This was more impressive than it seemed, since the stock market was bucking heavy 'buy the rumor, sell the news' headwinds. The news was that the U.S. and China had concluded the initial phase of a trade deal and that they would start working on phase two right away. (There was no immediate confirmation from China, but that seemed not to concern bulls or, for that matter, short-covering bears.) It is logical to assume that the stock market will not get nearly as much boost from Trump tweets concerning nebulous phase-two talks as it did from 2019's trade-tweet mania. But this will be more than offset by the very bullish perception that Corbyn's devastating loss has all but killed for the foreseeable future the prospect of a socialist U.S. president.
Looking at stocks from a technical standpoint, the most potent ammo I'd possessed to throw at bulls last week was a longstanding target at 15.66 in VXX (see chart, above), a trading vehicle that tracks short-term S&P volatility. The target was hit on Friday after a horrific slide from 27 begun just two months ago. VXX moves lower when stocks rally, and both trends stood to reverse when VXX hit a major low. Although I'd be surprised if a tradeable reversal fails to materialize, I now expect it to be muted. I'm not quite ready to throw in the towel, though, and it's possible Friday's 15.51 low will turn out to have signaled a major top for the stock market. We'll wait and see how things develop in the days ahead, but we shouldn't count too heavily on making money on the VXX calls we bought Friday. _______ UPDATE (Dec 16, 10:33 a.m. EST): I have in fact thrown in the towel. The next target seems surreal: 9.92. Here's the chart. If it's achieved, the Dow will be trading w-a-a-a-y above 30,000. There's an illuminating discussion in the Trading Room at the moment concerning how this popular trading vehicle is run as a quasi-criminal enterprise.