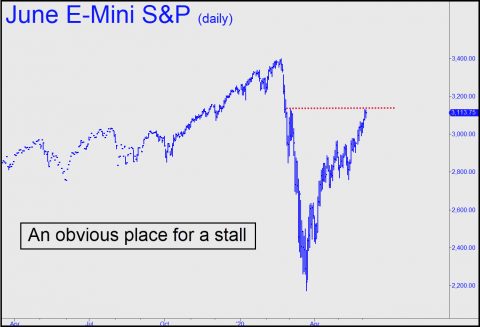 The shockingly powerful rally from March's bombed-out low has stalled in a very unshocking place, three ticks beneath a secondary top recorded just before stocks really fell apart.  So far, the pullback has been shallow, implying bulls are sizing up the challenge presented by all-time highs achieved in mid-February.  Getting there would be quite a feat, considering the global economy is probably no better than a 50-50 shot to avoid a full-blown depression. We're more interested in the technical aspects of the rally, however, since an 'impulsive' thrust exceeding the peak by even a penny would refresh the bullish energy of the daily chart.
How Not to Be Fooled
If this happens it could always be a fake-out, not that that would necessarily fool us as long as we diligently monitor the strength of corrective abcd patterns on the intraday charts. My gut feeling is that the maniacs driving this epic short-covering rally have come too far to leave the offending secondary peak unbloodied, and that's why we ought not be too aggressive betting it will hold. Once the futures are decisively above it, however, a dose of skepticism will be warranted, given the obvious challenge of all-time highs that Wall Street's wack-jobs will see as a dare. Mr. Market will be watching, of course, presumably wanting the sunniest optimists to make his day.