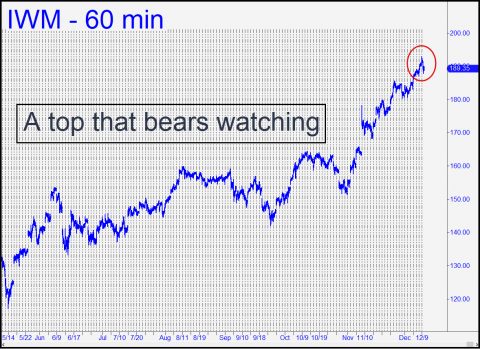 The yellow flag is out now that the obsessively owned Russell 2000 Index has topped 14 cents from a long-term Hidden Pivot target.  IWM, an ETF proxy for the small-cap-heavy Russell index, has rolled down from 192.81, slightly beneath a 192.95 Hidden Pivot resistance I'd drum-rolled in the Rick's Picks chat room Wednesday morning and on Facebook and YouTube a day earlier. Some subscribers were able to leverage the potentially important high by buying Jan 22 140/150/160 put butterfly spreads for around 0.20 as advised. Please report any fills in the chat room, but don't chase the trade.
IWM plunged nearly $5.00 after coming within pennies of the target. Although it rebounded modestly toward the end of the session, the burden of proof will remain on bulls until such time as IWM closes above 192.95 for two consecutive days. We will try to get short again if this happens, since there is another target between current levels and 200 that looks capable of delivering another enticing longshot bet. I'd characterized the trade as speculative but still worth a look. We are getting theoretical odds of 50-to-1 against a collapse in the Russell index by late January, and the most we can lose is around $20 per butterfly. Theoretical upside potential is $1000, although in practice exiting for $700 or so would be a pretty good trick. Note that that would still be getting 35-to-one — not bad in a market as vulnerable as this one.
Chimp Geniuses
We have focused increasingly on the Russell idex in recent months because it has turned white-hot. The heat was applied by chimp geniuses paid absurd sums to throw Other People's Money at a handful of stocks they've all agreed on. They realized one morning that they were immersed in insanely overvalued mega-cap 'lunatic stocks' up to their eyeballs and decided to gratuitously change their investment 'theme' as they so often do.  The resulting stampede into something else…anything else has made many small-cap stocks almost as overvalued as the tech-glutted Nasdaq 100. Now, sing the 192.85 target, we could know soon whether bulls have run out of gas. Please note that the record-high cash hoard companies reportedly are sitting on is entirely offset by money they have borrowed.