Because securities markets sometimes do crazy things for stretches of days, weeks or even months, Rick's Picks seldom attempts to reconcile seemingly contradictory forecasts for trading vehicles that are related, such as crude oil and gold (more on these two in a moment).  Nor do we seek to explain the ups and downs of stocks, bonds and commodities by connecting their frequently nutty behavior to events in the even nuttier world.  That futile task we leave to The New York Times, The Wall Street Journal and their ilk, since they are in the business of selling news as something that matters greatly, particularly to investors. It is with the foregoing in mind that we came to contemplate a seeming fork in the road for crude oil and gold. On the charts, the former looks like it's about to blast off, while the latter seems bent on screwing the pooch for the remainder of 2011. We said as much in the headline that topped yesterday's commentary:  Doomed Rally in Stocks Could Cap Gold's Surge. Doomed may have been too strong a word – we did write a column for a Hearst paper for a few years, remember – but bulls could hardly have been encouraged by the egg the broad averages laid yesterday after having rallied nearly 300 points the day before.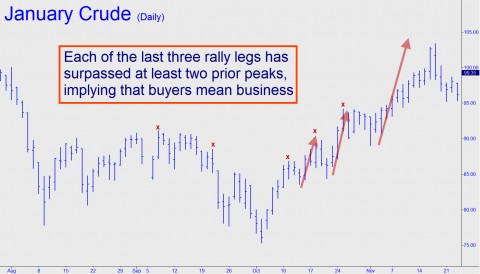 A few denizens of the Rick's Picks forum (click here for a free seven-day pass that will also give you access to our detailed daily forecasts and trading recommendations) thought that stocks were simply taking a rest, but we saw them as relapsing into the quagmire of global problems. The most bullish story out there at the moment – bullish, that is, for everything but the U.S. dollar and Treasury paper – is that Helicopter Ben is about to announce QE3. This is the kind of claptrap that the aforementioned newspapers like to serve up, and we don't doubt that it would send risk assets into a parabolic rise, at least for a day or two. But who actually believes QE2 ever ended? It's not as though the U.S. embarked on an austerity program after "official" easing went into eclipse. The other bullish story is that Europe is going to somehow get its act together…yeah, sure. Although this may soon appear to have occurred in the headline on some New York Times story, or in The International Herald Tribune, we would caution congenital optimists that there will be only devilish details to be found on the runover page.
If We Were Laying Odds…
So what about that technical divergence between crude and gold?  Rick's Picks has been calling for a gold correction down to at least $1627, basis the December Comex contract. That's $40 beneath the so-far cycle low of $1667 achieved on November 22.  However, our forecast for March Crude is bullish, calling for a rally to at least 109.65, a little more than $6 above the so-far recovery high achieved earlier this month.  How will we reconcile the two? If we were to lay odds – and that is implicitly what we do every time we trade – we'd bet on crude to pull bullion higher in the days and weeks ahead, and then for bullion to repay the favor by aggressively taking the lead into year's end. Stocks would simply meander sideways or waft higher, eventually losing their lock-step hold on precious metals. In any event, it would be quite bullish for gold to turn "impulsively" higher on the daily chart without having corrected down to $1627, the Hidden Pivot support noted above.  If that were to occur – officially, with a print $106 above, at $1733 — a big-picture target at $1977 would then be in play.  Click here if you would like to learn how to find and use these targets yourself, and to never, ever need to ask some guru what he or she thinks about the market.
***
(If you'd like to have Rick's Picks commentary delivered free each day to your e-mail box, click here.)