[Fifty years of inflation has been tough on households, but for millions of college grads unable to find work paying more than $10 an hour, it can be defeating. In the guest essay below, Rick's Picks forum regular John Skerencack (aka John Jay) explains how an  economic tragedy that has trapped young people took shape without anyone much noticing. Until now. RA]
A good way to work a scam is to put a microscope on a short-term trend and pretend it is a reversal of the main trend. "Global Warming," for example. About 15,000 years ago there was a sheet of ice 5,000 feet thick over New England. As the ice age ended it melted away, and as a result sea levels rose about 390 feet. So you can say with confidence, the long-term trend is melting ice, and rising sea levels. All this happened without any human input at all — a mile of ice melts, sea levels rise 390 feet. Now, in the past 140 years, more ice has melted, and sea levels have risen about a foot.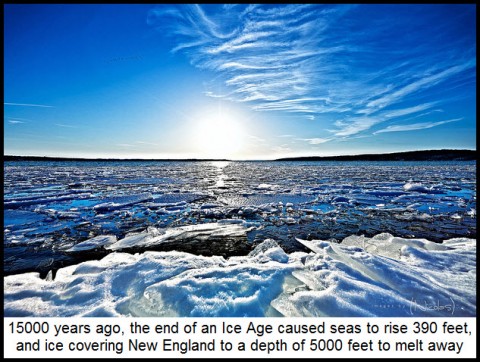 OMG! Quick, let's create a global tax expressed through carbon credits to stop it before it gets out of hand and we all drown! Al Gore and the CME have a plan to save us! Cue the one minute chart of sea level rise! You get the picture? There is no new trend of rising sea levels, just the last gasp of the main trend, most likely.
Rising Seas = Inflation
Turning to the "Dismal Science," the rising sea levels of the past 50 years or so is Inflation. So ceteris paribus, let 50 years be equal to the 15,000 years of melting ice and rising sea levels. For the sake of argument assume the price of everything has gone up 1,000% since 1963. Further assume that wages over the same time have gone up 400% These are very rough numbers, but brevity is essential to keep your attention, and I am excluding government workers who are getting raises unknown in the private sector. And I am assuming the wages are for an average guy or gal, not an MD or physicist. So I won't even bring up college tuition increases in the past 50 years.
So a young guy or gal in 1963 would be making $5,000 a year and paying $20,000 for a nice house and $2,000 for a nice car. And a postage stamp was 5 cents. I am using $5,000 a year because I remember as a freshman in high school a teacher telling me he was leaving teaching to sell insurance because he could not make it on $5,000 a year. In 2013 a young guy or gal is making $20,000 a year, and a house is $200,000 and a car is $20,000. And a postage stamp is 46 cents. (And no one is quitting a teacher's job to sell insurance:  see "Government Workers" above.)
Wages Failed to Keep Up
Can you see the problem the young people are facing? They are haunted by the "Ghost of Inflation Past" because they are living in an economy ravaged by 50 years of inflation, in an economy of $10 an hour jobs thanks to open borders and off shored jobs. Wages never kept up with inflation in the private sector, not even close. So when Ben says Inflation is contained at 2%, he is pointing to a one-minute chart where gas prices just went down 20 cents gallon.
Don't believe it. Believe the rattling chains, and chilling moans of the Ghost of Inflation Past!
"Unquestionably, there is progress. The average American now pays twice as much in taxes as he formerly got in wages." H.L. Mencken
***
[Click here for a free trial subscription to Rick's Picks that includes access to a 24/7 chat room and timely trading touts.]
Please note that the next Hidden Pivot Seminar is on March 6th and 7th.
Use Coupon Code 7D5269 for the $50 savings