Hard to say what has touched off the buying spree on Wall Street, but it surely couldn't have been the sight of Obamacare's dreadnought bearing down on the U.S. economy.  Have you kept up with the news?  The details that have emerged concerning the Orwellian, badly misnamed Affordable Care Act suggest that it could easily crush the life from our already dying economy. There's the matter of Medicaid, for one. Half of the states have taken the bait, opting to expand coverage with "free" money from Washington. And why not?  Enlarging the program will cost them nothing extra until 2016, at which point The Guvvamint will cut back on reimbursements by about 10%. So then, why have half the states opted out?  For starters, it will cost them a bundle just to administer the program – money they don't have even if the care itself will be paid for, at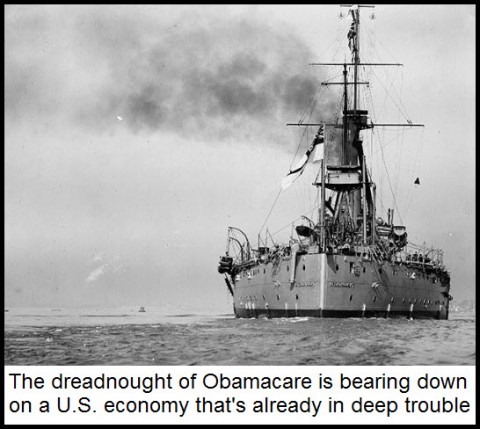 least initially, with OPM.  However, an even bigger reason for saying no is that existing Medicaid programs are already pushing many states toward bankruptcy. Just ask Massachusetts, the home of Romneycare, where runaway healthcare costs are threatening to consume outlays in all other categories, including education, transportation, police, fire and judicial.
Opting out would seem to be a no-brainer, but it's not that simple. Any state that does so will effectively be shifting the financial burden of Obamacare's Medicaid expansion onto beleaguered employers. That's because workers are guaranteed some kind of coverage, and if the states themselves are not providing it via Medicaid, businesses will have to pick up the entire tab.  Can't they simply pay a $2000 fine instead?  Yes, they can.  But it won't be tax deductible like corporate dollars spent on actual care, and so the decision will be fraught for firms both big and small that have struggled to survive the aftermath of The Great Recession.
The Big Lie
In fact, the economy may have relapsed into recession, notwithstanding Reuters and FactSet reports that S&P 500 earnings grew 3% in the fourth quarter.  Our colleague Michael Belkin, editor of The Belkin Report, says the data are flat-out wrong according to Standard and Poor's itself, which says Q4 operating earnings fell 2% sequentially and 1% year over year. Under the circumstances, the stock market's steep rise so far in 2013 feels like an historical bull trap in the making. Stocks can't go down, the thinking goes, as long as the central banks continue to flood the financial system with interest-free money. We shall see. In the meantime, although we're not inclined to fight the tape, we are telling subscribers to initiate tightly stopped short positions at promising "Hidden Pivot" targets in the Diamonds, E-Mini S&Ps and some other trading vehicles. At the same time, we've bought some cheap upside exposure via March butterfly spreads in GOOG. For a more detailed look at our strategies, click here to receive a free trial subscription.