[Update: Comex April Gold bounced $30 on Thursday after making a marginal new low at 1554.30.  Bulls are not yet out of the woods, but they should take encouragement from this bear-trap price action. If the short-squeeze does persist for a second day, generating a weekly close above 1594.50, bulls will be back in business if not yet back in the driver's seat. RA]
Is it Katie-bar-the-door-time in gold?  We seriously doubt it, although we wouldn't blame bulls for feeling despondent after yesterday's sharp decline, the second in a week. The April Comex contract plummeted to an intraday low of 1558 on Wednesday before reflexive buying provided a modest bounce in after-hours trading.  The good news is that the low was pretty close to a trendline that just about every gold trader on earth must have been watching. With such a devoted following, it's hardly surprising that this technical support was breached marginally, presumably to put the fear of the lord in wanton speculators.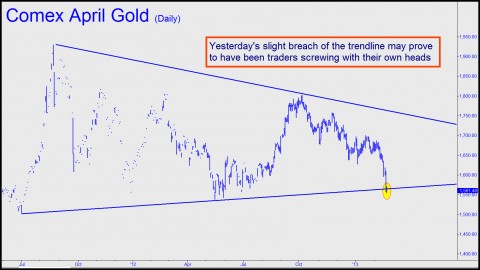 But there are some troubling facts as well. For one, considering how many bulls probably got stopped out when the trendline was penetrated, the futures should have shown more pluck on the rebound. This is just simple physics, since, once gold's fair-weather friends and perhaps more than a few true believers had been shaken loose, profit-taking on the subsequent rally should have been greatly reduced, lightening the ascent. Oh well. Perhaps spirited bargain-hunting will commence on Thursday, driving gold back above $1600 and out of the danger zone.
Reason for Caution
Even if that were to occur, however, there would still be reason for caution. That's because at $1558 the futures were trading $12 beneath a Hidden Pivot correction target we disseminated to subscribers a while back. It kept us on the right side of the trend, even when gold feinted higher on Tuesday to 1619. We called that rally "gratuitous" in an intraday update, and so it was. But the relapse to below the 1569.90 target we'd drum-rolled is problematical, since these proprietary supports tend to work very precisely. The fact that this one did not work doesn't mean we miscalculated or that Hidden Pivots are valueless, however; rather, it suggests that the selling was strong enough to muscle past the support and that it is not yet spent.  The picture would turn still uglier with the creation of a bearish "impulse leg" on the long-term charts. That would happen if the lows labeled #1 and #2 are exceeded in the days ahead.
We won't presume to know the future, since that can only distract from keeping an open mind. For what it's worth, though, our proprietary forecast for certain mining stocks suggests the bloodbath is not yet over. Specifically, we still have an outstanding target at 13.15 for GDXJ, the Junior Gold Miner ETF.  That would represent a 16% drop from yesterday's fearful low and, probably, corresponding weakness in gold itself.  Click here for a free trial subscription to Rick's Picks, You'll also gain access to a 24/7 chat room that draws veteran traders from around the world, and to all of our current forecasts and archives.