With the dog days of summer fast approaching, we wondered whether every small-town newspaper in America is entertaining readers these days with the same sort of lurid stories that fill the Boulder (Colorado) Camera. Boulder is not exactly the kind of place where you'd expect to find luridness in newsworthy quantities. Half the people who live here are trust-fund babies who, one would surmise, spend their days hiking the local trails, writing letters to the editor, or working diligently to protect the rights of prairie dogs. Since these folks mostly lead quiet, unexceptionable lives, it must be the other half of the population that keeps turning up on the police blotter — or still worse, in the local morgue.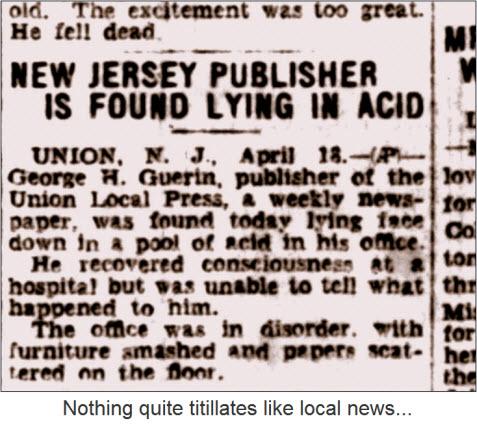 Today's dead-man story concerned a 19-year-old graduate of Fairview High School (my wife's alma mater) who OD'd on something called – if you haven't heard – poppy pod tea.  This ultra-hip beverage contains opium, and although it is sold via mail order and over-the-counter, there is evidently enough opium in poppy pod tea to kill someone who drinks too much of it, especially when it has steeped for a long time.
 Death by Tea
 This was the second poppy-pod tea fatality in Boulder this year, the first having failed, apparently, to convince at least a few dopers hereabouts that the risk of death outweighs the pleasure of a good high. In both cases, the victims drank the tea, fell asleep, and never woke up. Yesterday's incident was deemed sufficiently newsworthy (i.e., lurid) to go out on the Associated Press A-wire, so you may have read about it in your own local paper. 
In other Boulder-area sordidness, a six-car wreck on Highway 36 was reported after a few barrels fell off a truck and the driver tried to retrieve them. What made this otherwise mundane traffic story sordid was that the driver didn't stick around to commiserate with the victims. He is now a hit-and-run suspect, his capture and incarceration an event eagerly anticipated by reporters and readers both. Ironically, the most lurid item in the paper was good news, reported as follows: "An 11-year-old boy was spared from giving excruciating testimony at a court hearing Tuesday when the man charged with sexually assaulting him two years ago suddenly decided to plead guilty in the case."
If this is the kind of stuff that fills the news quota in Boulder, Colorado, for Pete's sake, then what are they reading about in places like Newark, Detroit, Los Angeles and Miami?  
If you'd like to have Rick's Picks commentary delivered free each day to your e-mail box, click here.