I've harped endlessly on the point that stagnant-to-falling incomes, soaring joblessness, imploding credit and collapsing asset values make inflation nearly impossible at this time. Here's our friend Senor Cuidado once again, explaining this more lucidly than I have.  He is responding to statements (in boldface) posed in the Rick's Picks forum by "Edward," who is needlessly concerned about $9-a-gallon gasoline and other supposed inflation threats:
Gas will be 8 or 9 bucks a gallon — and people will pay for it, because they will have no choice, just as they don't in Europe already.
"Edward, the U.S. is not Europe. Our geography requires a lower gas price in order to keep our transportation grid flowing. Our economy would experience a devastating deflationary shock from $8-9 gas. I suppose the people might 'pay for it,' but then they won't have any money to go to restaurants, or buy any clothes, or go to the dentist. A quick tripling of the gas price from the current level would cause an extreme unemployment spike when discretionary income retailers are simply wiped out. Or prices will collapse along with demand for other items and services.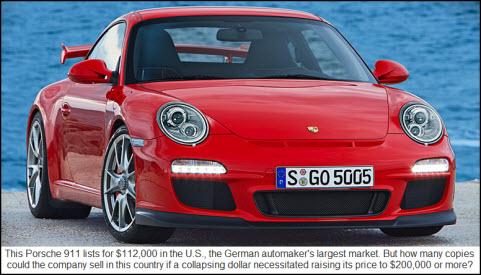 "But I say the $9 price is not even possible because domestic gas demand will fall rapidly in response in any climb above $4. We were in the red zone at $4 gas last year. Even a $6 gas price probably means total defeat for most sitting politicians in the U.S., and radical new political pressures on the Saudis/OPEC. And $8 gas is radical: It probably means an outright military takeover of the Saudi Oil fields or the sudden end of new car sales in America.
 Groceries and Gas
"The price of oil is also the basis of the price of food. If Americans will be spending all of their money on gas and groceries…then that means a nasty deflationary outcome for every other sector of the economy. Debtor nation status, de-industrialization and off-shoring (global wage arbitrage) preclude a 1970's outcome here for the U.S.
I suggest you read Jim Sinclair to understand that the dollar is on its way to a devaluation and what that means. Also, you aren't up to date on your Denninger, because he is changing his tune about the prospects for hyper-inflation.
"I read Sinclair and Denninger regularly. A dollar devaluation does not necessarily equal hyper-inflation. We hit Peak Credit as per the Mish Shedlock thesis, and we are nowhere near a reversion to a corrective level of credit. Consider that the coming vote of no confidence in the American finance sector is going to collapse credit much further from this level of August 2009. That trend will be hyper-deflationary. The dollar will take the haircut, and balance things out a bit, but the credit collapse prevents inflation of the total money supply.
Credit Is Key
"The credit collapse is the key to the inflation-deflation debate. Best to believe the Mish maxim which states there is no inflating out of the backside of a real estate bubble. So it is possible to take a massive hit to the currency yet still have deflation within the rules of our system…because of the collapse in credit. Think: Since 2006, we've already taken a big hit to the dollar, right alongside a huge deflation in asset prices (equity markets, houses, cars, boats etc)…because of the contraction in credit. I am simply saying that this dynamic continues to wind its course, which is much further from here.
"Notice Sinclair passes off any higher gold price prediction than $1650 to Alf, or whomever. I think he's smart to do so. Volatility will be extreme, and Sinclair's pegged the $1600 area as the new future fixed-gold price. OK, fine. But credit will be in a state of complete collapse by his target date of early 2011 (very few businesses or persons will have credit lines aka we have a cash economy). Meanwhile the oil price will face huge demand-drop pressure and huge geopolitical pressure and not go through the stratosphere, and imported foods will face drastically lower demand and mostly disappear from shelves.
 Strong Gold, Weak Stocks
"It's all going to be extremely chaotic…and deflationary. I will stick with a prediction of a strong gold price in the neighborhood of Sinclair's target in response to the credit collapse, plus an equity market collapse as a response to the credit collapse, plus a substantially weaker dollar (as foreign investors respond to our credit collapse). That will be the new status quo. And, yes, the sum total situation will be deflation as defined by: Deflation = Reduced Supply of Money AND Credit.
"At some point the oil price might reach, say, $5, but it can't stay that high for long. And the dollar can briefly rally again in the panic…but it's going to take the big haircut and then stabilize at a lower "new normal." It's not the 1970's all over again, but it's not the 1930's exactly either. The dollar would have gone to the moon if this was the 1930's and we were a manufacturing/ producer/ creditor nation. And, paradoxically, glossing over the differences between today and the 1970s is also a big mistake. Mish's deflationary real estate maxim is in play for the foreseeable future, and that card was not on the table during the 1970's, and neither was our current insane level of debt and dependence on foreign creditors.
"Also, some will argue that future high interest rates will boost the dollar back up to the levels of the past decade — but remember that the dollar never returned to its pre-1970s level. Even after the Volcker era the dollar was dropped to a much lower 'new normal' and stayed there for about three decades as measured in gold. Sinclair is smart to predict the higher 'new normal' for gold."
(If you'd like to have Rick's Picks commentary delivered free each day to your e-mail box, click here.)