Hi-ho, Silver, awaaaay!  We told subscribers to look for a 25-cent rally in the May Comex contract, but by day's end it had surpassed our wildest expectations, closing with a 43-cent gain on the day.  Here's the forecast as it went out to subscribers the night before: "The futures looked poised for a 25-cent pop, based on a Hidden Pivot target at 18.370.  First, however, they'll need to get past…[a Hidden Pivot resistance] at 18.210 that lies just beneath yesterday's spike top. My gut feeling is that once the [resistance] is out of the way, the move through the spike top, which lies at 18.235, will be a piece of cake."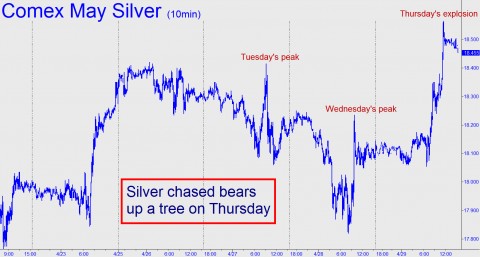 If you want to see what a piece of cake looks like, check out the chart above. After blowing past Wednesday's high as the morning began, the May futures needed barely and hour's rest to take out an equally daunting peak recorded on Tuesday. And as if that weren't impressive enough, the May contract was holding onto most of the gains in after-hours trading.  Note in the chart that as of around 6:30 p.m. EDT, the correction of Thursday's surge had yet to come down, even, to the level of this week's previous high.
What to Look For
All of this bodes well for Silver's performance in the weeks ahead, and if the rally goes just a little further today, exceeding the 18.900 high recorded in early January, we'd infer that buyer will have little trouble punching through the 2008 high at 19.823. Moreover, and to be precise, a breakout above last year's high would all but clinch a move to at least 20.21, or to 21.53 if any higher.
For our part, we'll be looking for ways to get aboard with as little risk as possible as Silver moves higher. The technique we employ to do so is called camouflage, and there is a good example of it in the detailed trading recommendation that went out to subscribers Thursday night.  If you'd like to sample Rick's Picks, signup for my newsletter, where you'll receive one of my forecasts free each day; or consider taking a risk-free trial of the full service, which includes all of my forecasts and access to my chat room.
(If you'd like to have Rick's Picks commentary delivered free each day to your e-mail box, click here.)