(Today's commentary, on the pernicious influence of the mainstream media, is from Wayne Razzi —  aka "Red Will" in the Rick's Picks forum. We only think we are changing this world for the better when we throw the rascals out on election day, says Wayne.  In reality…well, there may be no reality for those who see the world through the eyes of TV news, pop magazines and newspapers.  If we are to escape from the illusion that has imprisoned us like a maze, says Wayne, we're going to simply have to free our minds from the illusion itself and walk away from it.  RA)
***
Before the season of the witch recedes from memory, let's have a little fun. You're having a dream.  You dream that you're a family man who's awakened on the Saturday morning before Halloween.  You find yourself at the breakfast table and it isn't long before your wife, whispering to you of course so as to not tip off the kids, suggests that you fit some "agri-tainment" into your plans.  You immediately take to the idea with visions of your wife suddenly bearing a strong resemblance to one of the gals from Petticoat Junction.  Your wife, knowing you only too well, quickly reminds you that what she actually meant was for you to take the family to the local farm for some pumpkin-picking, hay rides and of course some time spent in the Corn Maze.  The visions of Billie Jo, Bobbie Jo and Ellie May, while we're on the genre, all quickly dissipate.

Now you're at the farm having a good old time.  You save the best for last and thus you all enter the corn maze in the afternoon.  It's much larger and more sophisticated in its design than you expected and it's not simply rows and columns of corn stalks either.  You find that there are "rooms" within it that contain all sorts of fun diversions.  Though they are simple, they still provide a good deal of amusement mainly because they were so unexpected.  You've always striven to be practical and pragmatic, so you attempt to bring the focus back onto navigating the maze so that you can get back home to take care of a little home maintenance before relaxing for the night.  Your wife's response: "But honey, the kids are having so much fun.  What's the rush?  Worry about the maintenance next weekend."  You acquiesce.
Trapped in a Maze
Some time passes and you notice the sun descending in the sky.  The weather is still pleasant but it occurs to you that you've remained distracted for too long and you're not quite sure from which direction you entered the maze let alone the point at which you'll exit it.  You decide to back-track a little to get your bearings and in the process of doing so you notice many other moms and dads roaming about with a similar expression to the one you currently carry.  Having no luck on the back-tracking expedition, you decide to head back to meet up with your family.  You arrive and see that your wife is involved in a group discussion with many of the other adults that have recently passed by you.  The discussion concludes with an agreement that the families involved will work in coordination to locate the exit to the maze.  The pace of the effort quickens as the sun seems to accelerate its descent.  Dusk brings a chill to the air and makes identification of your search partners more difficult.  You decide to head back to the agreed central meeting place to see if anyone has found a solution.  Many think as you do apparently as upon your return you see most of the searchers and hear them relating the fruitless results of their efforts.  A common thread runs through their accounts.  They all thought they'd found the solution but the dead ends were well disguised.  The tone begins to rapidly change and you can see that panic is about to set in.  It's at that time you spot the farm hands off on a hill in the distance and they seem to be able to see you and your compatriots but they're unwilling to disengage from the banquet table that they share with the farm owners.   You can discern by viewing their interactions who owns the farm and who works it.  The farm owners look much different than you imagined that they would and it dawns on you that they look little like the people that you work and live around.  You try to remain calm and patient as you figure that they'll certainly return to the maze to assist everyone back to their vehicles.  Much to your dismay, the moonlight allows you to watch as they conclude their meal and as a group walk off together in the direction opposite of yours.  You're left astonished and bewildered as you think:  "How could they be so irresponsible and uncaring?  They were so nice and helpful when we interacted with them earlier in the day."
Easy for a Child
The frustration spreads and eventually morphs into anger.  You attempt to intercede to calm people down but even your well-intended comments seem to upset several others trapped within the maze.  Your wife then grabs you and asks you where your youngest, Ray, is.  You respond as do a few others that they saw him about the area only five minutes ago.  A frantic search effort launches.  The maze is searched from end to end.  Again you have no luck.  You return to what's been the general meeting area and you're joyfully relieved because your son has returned, although something is different about him.  You hug him and ask "Son where were you?  We were all so worried about you?"  He responds with "I just went to the car to get my jacket, I started to feel cold."  Again you're amazed and relieved!  You ask him to lead you to the exit that he used on his way to retrieve his jacket.  He informs you that he didn't use one.  You pause and take a deep breath before saying "Look, buddy, this is really important.  I really need you to tell us or show us where the exit to this maze is at right now.  There are a lot of people that have been looking for it for a while now and it's getting late.  We need to solve this problem and you can help us do it. OK?"  He says that he'll help but he can't show you the exit because he didn't use one.  He also says "I just did like those guys did in that movie we watched about baseball, Dad."  Your recall fails you for what feels like minutes before you regain your composure and quizzically ask him "Baseball – Ray?"  Your voice booms as you utter those two words and you're shocked as to how much you just sounded like James Earl Jones, so much so that you awaken yourself.
I'm sure that regular readers saw this imperfectly contrived allegory for what it is many, many paragraphs ago.  I realized that my meager writing abilities and current time constraints wouldn't produce anything extraordinary but I pressed on regardless.  I did so because I believe that this will help to frame things for us here and now.
Tea Party's Ascent
There's a lot of discussion online and within the mass media regarding the Tea Party's ascent and the "taking back" of the reins of power from the Democrats.  Many people seem to be genuinely excited and inspired by these developments.  Which is why I decided that I had to do my little part to act as a "wet blanket" to be draped over the collective ebullience.  I'm cognizant of the fact that this will be read by a highly intelligent, well-informed, and well-read audience.  My main concern with even this readership is that it isn't willing to "go the distance," mainly because it's not cynical enough and at the same time too pragmatic from my perspective.  I'll say no more of this but will let this graphic "speak" for me: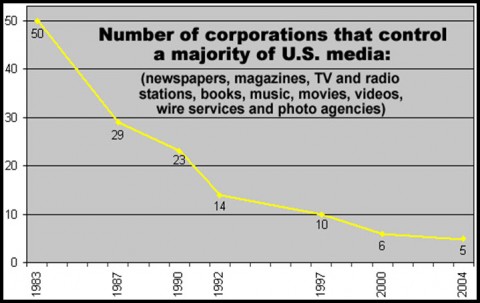 I found it on www.corportations.org, so it's only as good as their data and bias.  However, there does seem to be a consensus that the control of mass media has been dramatically centralized over the past few decades.  That's why I treat it largely as disinformation.  So, like most of you, I do quite a bit of online reading instead.  Other than the classics, I can't recall reading much, if any, modern fiction.  I have always spent most of my reading time attempting to decipher what's actually going on, what may be planned, and what it all could portend for our future.  This natural drive to cover and uncover real news and analysis has frequently helped me to be prepared for the next wave.  As has been noted by many, the best indication that you may be onto something is the almost universal rejection of a solidly developed thesis.    This is one of the key reasons why I'm disheartened by the almost universally positive reactions to the Tea Party coming from most of those I know that are interested in the political process.  This anecdotal feedback and my ongoing research efforts have recently resulted in little besides an increase in my sense of dismay.  In a naturally flowing contrarian way, the excitement over the potential "change" that the recent elections will purportedly bring has left me feeling more frustrated and exasperated than at any other time in my adult life.  It would be extremely difficult and incredibly long-winded if I were to attempt to fully explain why I feel this way, so I elected to spend more time winnowing than anything else to arrive at as few kernels as possible.
Obviously the Manipulation Cartels have finally pushed a substantial percentage of the population too far.  They've finally awoken and begun to take action.  However, this is where it gets discouraging for me because they've likely taken the exact action that was expected of them by The Powers That Be ("TPTB").  If we immediately proceed from here to the "cut to the chase" we must ask: "To what end?"  Pick your preferred movie reference from the Matrix movies or War Games:  MM: "just another system of control" ; or, WG:  "A strange game. The only winning move is not to play."
The Same Sick Bastards
Hopefully you'll soon realize why I believe that both of these lines actually apply here.  We'll need to leave the movie theater to collect some thoughts so that these references can be better appreciated.  The substantial yet still-a-minority-in-their-numbers Tea Party types have finally awakened but they're playing right into hands of the same sick bastards that frustrated the "other" side's motivated minority over the past two years.  It's well-recognized now that many of the most energetic Obama Zombies have quickly become disillusioned.  It is as if they were cut down with an invisible buzz saw.  It all happened so quickly and it's left them and their lower-level propagandistic Mainstream Media (MSM) shills stunned.  The Obama Zombies believe, with good reason, that they were greatly deceived by the MSM and their chosen candidate.  Any objective viewer of the past two or so years couldn't possibly argue otherwise.  Almost without any extra exertion, the system crushed what was seemingly a juggernaut.  Arguments can be made that circumstances, poor decision making and the "process" itself all contributed to this outcome.  But what can't be argued is that the same power structure that dominated us pre-faux Populist/Narcissist, only dominates us more now.  I could produce literally hundreds if not thousands of pages of news headlines and stories that would prove that the rate of our deterioration and debasement continue to increase at a geometric rate.  Yet, with this being the case, Obama still has the support of nearly 40% of our voting population, if national polls are to be believed.  For me, and despite GWB having only departed less than two years ago, it's hard to imagine a President who could be worse than Obama and a Congress that could be headed by even more loathsome "leaders" than Reid, Pelosi, Frank, Dodd, Boxer, Schumer, et al.  I'm sure the Tea Partiers feel much the same way.  I'm equally sure that the Obama Zombies felt nearly the same way regarding GWB and the Republicorp. leaders.  For the record, I find them all revolting.  My point is that there's simply too stark of a divide even if you accept the surface level authenticities of our "systems" for the country to be governed and function properly to satisfy an overwhelming majority of country's governed.  For the "B" side of the record, I do not accept the surface level of any of this nonsense, as some of you are well aware.
If Not Now, When?
Although I can't see them, I can hear the buzz saw's blades being sharpened as I type.  The game has been "locked down".  TPTB are more effective at this game than the Alien face-huggers from the movie of the same name.  At least with cutting lasers there was a chance that they could be removed and the patient saved.  That's not the case with regards to Washington, D.C.  Cross certain lines and you literally do return home in a body bag.  "Anyone can be gotten to." It is said.  It resonates because on some level we know it's true.  I could drop 10 or 20 pages of references here that would strike even the mildest of skeptics as odd occurrences.  However, I'm content to simply suggest that folks investigate the support pre-vote for auditing the FED and what the actual tally came in at in the end.  Ask yourself if you can recall another time when anti-FED sentiment has had the breadth that it's amassed now?  If there isn't enough Congressional and executive support at the end of one the most corrupt decades in US history, when will there be?  Exactly.
If you're starting to feel that this line of speculation is too outlandish, then consider the following instead.  Why should we believe that the Tea Party-backed politicians will be any more immune to the affects of long-term exposure to the whore of Babylon's vacation spot?  I've been truthful and faithful to my wife through 16 years of marriage and for four years prior to that, but I'd have to reasonably concede that I may be tempted to more than "read the articles" if I were placed and held within the bubble of the Playboy Mansion term after term.  Although I can't see it, I can hear the buzz saw's blades being sharpened as I type.  The MSM will continue to demonize the Tea Party in an attempt to split the Republicorp common shareholder voting blocks.  A betting person would wager that they will succeed in doing so well before any similar type of split would occur within Democorp.  The MSM's game plan will turn to the "gridlock" play and use it to frustrate the fickle electorate.  Before long, Democorp could be "right back on top," enjoying a comfortable plurality for as far as the eye can see.  A just reward for two of the worst years of governance in the history of elected government.
Ancient Rome
I'd guess that some readers have probably been left a little frustrated by the fact that I haven't attacked the FED or traced the decline and thus our predicament back to 1913, or Kennedy's assassination, or Nixon and the gold standard etc.  There's importance and validity to all of them in terms of how they've assisted in making possible our wretched present.  Some, I'm sure, are thinking ancient Rome ("bread and circuses") or of our plight in comparison to that of early 20th Century England.  Of course, many comparisons can be drawn and can provide insight to what's unfolding before us now.  However, I've opted to spotlight something that I believe is a little more appropriate for what I'm about to suggest.  This comes from principled abolitionist Lysander Spooner: "No principle, that is possible to be named, can be more self-evidently false than this; or more self-evidently fatal to all political freedom. Yet it triumphed in the field, and is now assumed to be established. If it really be established, the number of slaves, instead of having been diminished by the war, has been greatly increased; for a man, thus subjected to a government that he does not want, is a slave. And there is no difference, in principle – but only in degree – between political and chattel slavery. The former, no less than the latter, denies a man's ownership of himself and the products of his labor; and asserts that other men may own him, and dispose of him and his property, for their uses, and at their pleasure."
To me, this is not only how we should feel about our circumstances, but it also illuminates perfectly exactly how they see us.  In the reading I do I'll often spend a few moments reading the comments left in response to articles or commentary.  I've noticed that "disengaging" has started to pop up much more frequently than in other recent periods of mass frustration.  It seems to be believed that we "can send them a message", mainly an economic message, and they'll finally get the message and will then modify their behavior sufficiently enough to correct our problems.  I have a succinct counter argument to this: Alien face-hugger.  If you do not possess a few grosses of cutting lasers, don't even think about it.  Do you recall the "heart plugs" from Dune?  They may not have a heart plug in place to control each one of us, but they have something much more effective in controlling all of us:  The just-in-time delivery system.  Typically, it's estimated that it would take only a few days to exhaust existing inventories.  That's it.  What of medicine as well?  What of our local utilities and infrastructure?  Passing on bottles of Coke in favor of drinking chemical-laden "treated" water isn't going to cut it.  I'm afraid that when push comes to shove, the organized few would fare much better than most of the disorganized many are willing to contemplate.
Law Doesn't Matter
If you only read the news that managed to make it to the Internet over the past two months, you'd have all the proof you need to conclude that that law no longer matters.  Corruption isn't the exception to the rule.  It's always been assumed to be more a case of incompetence than corruption, but boy has the pendulum swung!  If the law doesn't matter any more, then what really does?  And who decides on things then?  They do of course.  Anyone that's followed the economic and financial news should know that reality is what they make of it.  The physics of markets, and laws of finance and economics have been suspended.  Hyper-manipulation has produced hyper-reality.  Even when a glitch in the Matrix is identified and documented, there remains no chance for success.  At the web site for the Center for Public Integrity, we read about a CFTC judge, Bruce Levine,  who never once ruled in favor of an investor in 180 cases heard  over eight years. "If You've Got a Beef With a Futures Broker, This Judge Isn't for You," read a Wall Street Journal headline atop a lengthy front-page article about Levine some years ago.
They're beyond brazen at this point.  They've also moved from silently assaulting us to openly mocking and trash-talking to us.  If you think I'm exaggerating, please recall or track down the stories regarding the outraged banksters decrying the loss of the stigma of declaring bankruptcy or being foreclosed on.  I'm sure some would believe that words like "assaulting" are nothing but hyperbole.  To those I'd ask that you consider the well-known and publicized fact that we bailed them out and they're receiving record bonuses courtesy of the FED handing them billion upon billion for nearly free.  Check out the recent story on Barry's buddies at Google and how they won't face a privacy investigation nor will they have to pay their "fair share" of taxes.  In fact, they will reportedly save $60 billion courtesy of tax loopholes, or more aptly, bespoke tax-tailoring.  Now contrast that with the housing and employment nightmares and over 50 Million Americans receiving food stamps.  It's a fact that we've lost over 40,000 factories in this decade alone.  Remember how the MSM and the Sociopols told us that NAFTA would create "millions of new high-tech jobs" to replace the "Industrial Age"-like jobs that we'd likely lose?  Someone, anyone, point those jobs out to me so I can thank my local congressmen.  Will someone please tell those crickets to pipe down!, I'm trying to type here.  Still there?  Take a guess who's taxes are about to go up in almost every way possible.  Unnecessary hint: It won't be the banksters' taxes.  The MSM has recently launched a full-scale PSYOPS assault to soften you up for it.  Pretty soon you'll take in countless interviewees describing how they came to the acceptance stage with regards to higher taxes because, after all, we shouldn't be greedy and want to hold on to the wages we receive for our labor.  "We've gotta get these deficits under control.  It's the right thing to do."
I haven't covered nearly every angle but I do believe I've touched on the ones that we're most likely to see played.  By simply reading the available news from alternative sources we can arrive at no other conclusion than that They are strongly in control.  They know what's coming.  They know how to thwart it.  They've become increasingly successful at it here in what's now the USSA over the past 150 years.  It's futile to directly fight at such a system of control.  That's what it's designed to have us do.  How has doing what they've wanted us to do worked out for us thus far?  I've been challenged on this with charges of "running from our responsibilities", etc.  I don't think that's the case at all.  I believe that the folks that make that type of charge do not appreciate fully exactly where things stand and how late in the game it is.  It is a strange game, a very strange game.  The only way to win this game is to not play their game, and we'd better start not playing it soon, very soon.
I've left enough clumsy references throughout the paragraphs of this piece for this conclusion to make perfect sense to anyone that's managed to stay awake to this point.
The way to leave the corn maze is to leave the corn maze.  Disregard it and leave it.  After carefully preparing for it and when the appropriate time comes, we'll need to peacefully walk straight through the columns and rows of stalks if we truly endeavor to reestablish what we once had and have now nearly completely lost.  Anything short of that will eventually be filed under: "21st Century Popular Delusions and the Perpetual Madness of Controlled Crowds".
(If you'd like to have Rick's Picks commentary delivered free each day to your e-mail box, click here.)