Just when it looked like the alleged economic recovery couldn't get any weaker without extinguishing itself entirely, the municipal bond market has gone to hell. And just like in hell, there is no exit – at least none that we can imagine. Here's why: Municipal and state borrowers who are on the ropes must pay a premium to continue borrowing; this drives their budgets deeper into the red, causing ratings downgrades that in turn raise borrowing costs even more. A vicious cycle, for sure, and it sounds just like much of Europe's predicament doesn't it?  Except that, for strapped U.S. cities and states, there is no IMF to pretend to bail them out.  And while Europe's erstwhile deadbeats, the PIIGS, get plenty of time to work on balancing their budgets through measures of "austerity"  (Merriam-Webster's Word of the Year, by the way),  U.S. cities and states must bring their budgets into at least a fleeting semblance of rectitude before the beginning of each new fiscal year.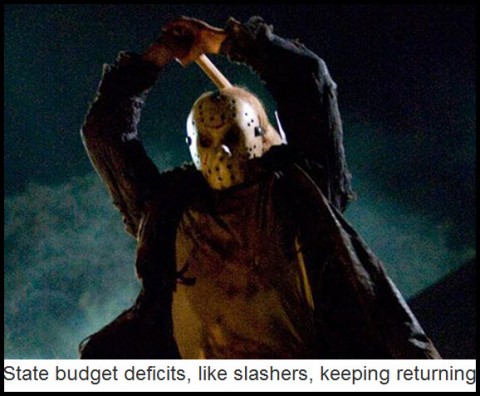 We shouldn't get our hopes too high that this recurring dog-and-pony show will work without eventually causing a taxpayer revolt. If you've been following the sordid bookkeeping tactics of such fiscal n'er-do-wells as California, Illinois and New Jersey, you'll already know that austerity measures that would have been unimaginable just a few years ago have done little to eliminate structural deficits that keep returning like the slasher in a Wes Craven film. The big question is whether the lenders will continue to distinguish "good" borrowers from "bad." At present they are doing so, charging, for one, the State of Illinois — the riskiest borrower of them all, with an A1-negative rating — 1.9 percentage points more than the broader muni market charges for 10-year bonds. For comparison, the borrowing spread for Nevada, which has been blighted by a real estate crash and severely depressed gaming revenues, is 0.80 percentage points, up from 0.50 in early November.
Although we'd like to believe that some miracle awaits to save the municipal bond market from disaster, it only gets worse. According to a report recently issued by the Congressional Budget Office, the revenue side of the equation – i.e., property taxes – is poised to decline because of downward reassessments across the length and breadth of America. Because homes are not reassessed every year, local property-tax revenues tend to lag behind falling home prices by about three years.  "Even small declines in collections could cause fiscal stress when the cost of providing public services is growing," the report said. What this implies is more than mere belt-tightening in the years ahead. Since states and municipalities won't be able to raise taxes much to cover the shortfall, we would predict either a hyperinflationary federal bailout with Funny Money; or, more likely, a deflationary wallow that will make the 1930s Depression look like  Mardi Gras.
(If you'd like to have Rick's Picks commentary delivered free each day to your e-mail box, click here.)