Two stories that were played next to each other recently on the front page of The Wall Street Journal serve to illustrate the news media's schizophrenic reportage on the economy.  On the one hand, there was this chirpy report on employment: "Job Offers Rising as Economy Warms Up".  Never mind that some estimates put current joblessness at nearly 20%  – more than twice as high as the official figure – or that the statistics behind the headline were squishier than a mermaid's bath sponge. But there was also this story, providing a very different picture of a U.S. economy that is likely to be burdened for years by the overly generous pension benefits promised to city employees across the nation: "Pensions Push Taxes Higher". The bland headline dosen't begin to convey the seriousness of the problem.  Some acute examples from Pennsylvania, New York and Illinois were cited in the article.  In Upper Moreland, PA, for instance, annual pension contributions have risen from around $100,000 in 2005 to an estimated $1.1 million in 2011. Spread over a population of just 26,000, that's quite a hit on taxpayers.  Like countless other municipalities, Upper Moreland had assumed that the juicy investment returns of just five years ago would continue indefinitely, lulling the town into underfunding pensions at a time when they should have been stepping up contributions.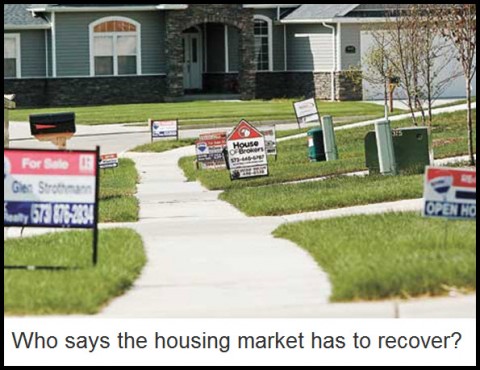 If the Journal and other national newspapers seem not to be making an honest effort to put good news and bad news in proper perspective, it is mainly for two reasons. The first is that the need to sell advertising ultimately trumps the need to report the news honestly. We have reams of evidence to support this assertion, having come from a background in journalism ourselves.  In the 1990-91 recession, a reporter friend who had won a Pulitzer for his pit-bull aggressiveness in digging up dirt was removed from his city hall beat and relocated to exurbia after some big advertisers and the mayor leaned on his publisher. The paper has since continued to soften its coverage in other ways, devoting less ink to scandal and more to style-section puffery.  Unfortunately, the same could be said of nearly every other big-city newspaper in America. If you've got a juicy scandal to report, better take it to Drudge, since even mega-billionaire media barons like Rupert Murdoch, owner of the Wall Street Journal, are not about to bite the hand that feeds them.
Another Creepy Rally
The other reason newspapers unthinkingly run Great Recession  and green-shoots-of-recovery stories side-by-side is that they are too timid and lazy to get the story right.  The housing depression, for instance. The conventional narrative holds that weak real estate markets eventually recover.  While that's true as far as it goes, real estate prices have been so weak for so long that it demands an unconventional explanation.  Fine. Here it is: The Great Recession is not a mere recession, but rather a prelude to full-blown depression. That point of view may be dog-bites-man fare in the newsletter world, but just try selling it to your news editor, much less to his boss's boss's boss, Mr. Murdoch.  In the meantime, forecasters like our colleague Bob Bronson, of Bronson Capital Management, have been getting their housing-market forecasts precisely right since well before the crash.  As such, Bob could not have been surprised earlier in the week when the mainstream news media reported that the housing market had relapsed.  For Bronson and quite a few of us in the not-yet-ready-for-prime-time world who foresaw the initial collapse in real estate, there is good reason to think that things will get much worse before they get better.  CNBC, the New York Times and their ilk are quite clearly committed to telling readers otherwise, even if the evidence rarely amounts to more than an uptick in consumer confidence or yet another gratuitous, creepy rally on Wall Street.
(If you'd like to have Rick's Picks commentary delivered free each day to your e-mail box, click here.)