The savviest financial advisor we know has been buying municipal bonds hand-over-fist, but this time we can't say that we share his confidence. Our friend Doug is a bear's bear, an outside-the-box thinker and a full-throated deflationist who has contributed occasional commentaries to Rick's Picks. Moreover, during the years we've know him he has done exceptionally well for his clients in good times and bad, even when his employer was breathing down his neck for going boldly against the crowd. When we spoke with him last week, he'd just put the finishing touches on a large purchase of tax-free munis with effective yields as high as 7.5%.  Wasn't he worried that such juicy returns implied rather substantial risk? Not at all, he replied. The muni bond markets are so spooked right now, he says, that they are ripe for buying.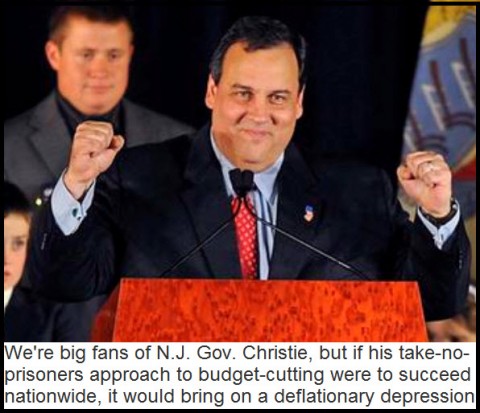 We wouldn't quibble with his description of the markets as "spooked," but we'll side with the fear mongers on this one, including CBS 60 Minutes.  In a recent segment, the weekly news show reported that as many as 100 U.S. cities could default on their municipal bonds. That's because they've spent almost half a trillion dollars more than they've collected in taxes, running up current pension shortfalls of $1 trillion in the process. The scary implications of all this red ink haven't been lost on investors, who have been dumping muni bonds heavily for the last two months. As bond price have fallen in the panic, yields have risen commensurately.
'Rescue' Fallacy
Some say the sellers' fears are overblown and that the actual chance of default by a major city is low. States would come to the rescue before any big cities are allowed to go belly-up, say the bond bulls.  We disagree, since the states themselves are in horrendous financial shape and in no condition to bail out strapped cities and counties.  We also reject the argument that the Federal Government could intervene directly to save the day. While such a bailout by the U.S. is theoretically possible, in practice it would put us on course for hyperinflation, since an open-ended commitment to redeem all pension obligations would require many tens of trillions of dollars. That is the Catch 22 of a Federal bailout of cities, counties and states, by the way – that it could only be done using confetti for money. We needn't even consider what would happen if the bailed out benefits were indexed to inflation.
Doug's bullish arguments avoid the dead end of bailout talk. He says that the cities have it well within their power to bring budgets into balance, and quickly, and that's why muni bonds will pay off on-schedule over the long haul. It's just a matter of cutting benefits and raising taxes, he says, and this has already begun in earnest, most notably in Gov. Chris Christie's New Jersey. We have a few problems with this line of thinking, however. For one, raising taxes can only proceed so far as this Great Recession continues to deepen. Ultimately – and we mean a year or so down the road, not five years – raising taxes will be like trying to squeeze blood from a stone. Bear in mind that property values are still falling and that the reduced assessments that are coming as a result would necessitate implausibly steep increases in tax rates. As for reducing benefits, Doug says a tidal shift is about to occur that, for one, will transform public-employee pensions from fixed-benefit plans into 401(k)s, shifting the savings burden from employer to employee. This is surely going to happen over time, and in a big way, but any attempt to urgently accelerate the process would turn the asphyxiating asset deflation we've endured so far into a full-blown deflationary depression that kills prices, wages and consumption.
(If you'd like to have Rick's Picks commentary delivered free each day to your e-mail box, click here.)