Gold and Silver punished the faithful yet again on Thursday, demolishing the technical supports we'd thought would arrest the decline. The sturdiest of them barely evinced a bounce, a fact that telegraphed the onslaught that was to follow. How many more days of acute pain?  Not many, for sure, since Silver would be trading for under $10 by next mid-week if the collapse were to maintain its current pitch for just another few days. Now, our worst-case target for the July Comex contract is 31.520, although a bullish turn could conceivably come from a lesser support well above it, at 33.615. Both are Hidden Pivots, and the resiliency of the higher may help us to determine how likely the lower is to be reached.  With respect to Gold, we disseminated a 1451.80 target intraday for the June Comex contract. That number is an important Hidden Pivot support, and it looks sufficiently robust to contain the damage.  Although it lies $10.70 beneath Thursday's bottom, it could prove to be just minutes away if sellers greet the day in the same despairing mood they were in yesterday.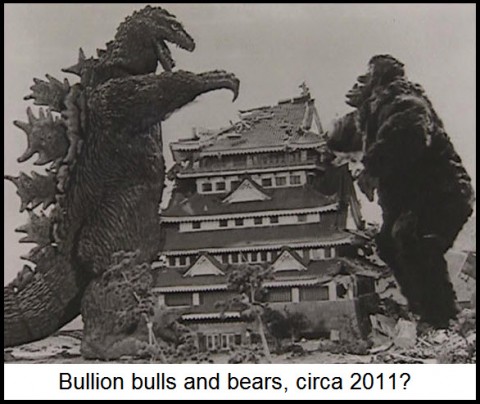 Using our proprietary technical method, we attempt to judge the strength of both major and minor trends by observing their interaction with Hidden Pivot supports and resistances.  It was on that basis that we hung out a yellow flag last Sunday night with this headline: "Comex Gold Closing on a Crucial Target".  As of that evening, the June contract had gotten within a few dollars of a longstanding rally target at 1581.20 that we'd been drum-rolling for weeks.  In the actual event, the high occurred just beneath the Hidden Pivot, at 1577.40, but we were ready for it nonetheless.  Here is what we wrote at the time: "Technically-derived targets have kept us quite bullish the whole way up. But the most immediate such target is not a minor one. Rather, it is a major 'Hidden Pivot' that has been nearly three months in coming, and it sits fully $200 above the 'ideal' price where long-term bulls might have gotten long or augmented an existing stake."
Why Guess?
Although we didn't publish the actual number, we provided a URL link that would have allowed readers to access it by way of a free trial subscription to Rick's Picks.  In the same commentary that night, we came within two points of nailing the so-far high in the E-Mini S&P.  We were projecting a shortable top at 1371.00, but the high in fact occurred at 1373.25 on a gap-up opening Monday morning. Since then the futures have fallen nearly 50 points, or 3.5%, to a low yesterday of 1325.  Will 1373.25 prove to have been the Mother of All Bear Rally Tops?  We wouldn't even hazard a guess, since we can deal quite capably with the unknown as it unfolds, one downside target at a time.  If you would like to delve more deeply into the Hidden Pivot Method, consider taking a free trial subscription to Rick's Picks.  That will get you into our 24/7 chat room, where you ask "pivoteers" how they've fared using the proprietary techniques they learned at the Hidden Pivot webinar.  For detailed information about the next, scheduled for May 25-26, click here.
(If you'd like to have Rick's Picks commentary delivered free each day to your e-mail box, click here.)