Although U.S. stocks eventually did the right thing, plummeting to end the day, they were down only slightly for most of the session – a surreal performance, considering the hellish new tack of Europe's financial crisis. If investors were already jittery about bailout-mania on the Continent, Wall Street bankers should be incontinent with fear over the rise in interest rates that has started to spread outside the high-contagion PIIGs zone. Even ostensibly top-tier borrowers like Holland, Finland and Austria have been getting socked with higher borrowing costs lately as investors have dumped triple-A paper issued by those countries. As for the deadbeats, Italy's bonds pushed above 7% while yields on Spanish debt surged as high as 6.358%. Imagine a country trying to grow its way out of debt when it's paying those kinds of rates on a Matterhorn of existing debts. The allegedly good news is that the technocrats who have replaced top elected leaders in Greece and Italy will come up with a plan to save the day. Yeah, sure. You can bet that Ben Bernanke's got one they can try.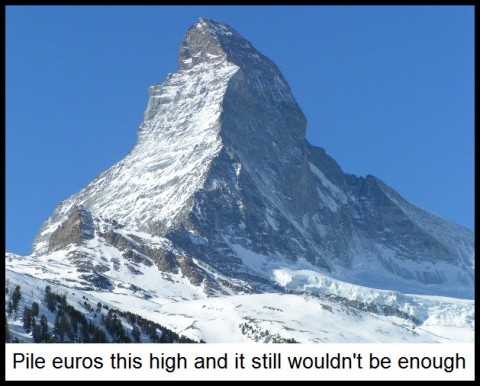 Germany would veto it, for sure, and not because Germans remember the 1920s hyperinflation as though it were yesterday.  No, it is plain common sense that has prevented Germany from acceding to the populist solution of revving up the printing presses. Although Merkel seems eager to patch things up for perhaps another month or two by any means, there is resistance among German bankers to Belgium's Plan A, which would entail selling bonds issued in the name of a federated Europe. This might sound like a great idea to the village idiot, or to Nobel economist Paul Krugman, but to anyone with common sense and no ideological allegiance to Karl Marx, it is simply a hair-brained scheme to remedy a cosmic-size debt problem with a vast new layer of debt.  Ironically, although all of the bailouts attempted so far have relied on increasingly big numbers to wow the public, the numbers game appears to have turned counterproductive above the two trillion-euro mark. It is one thing to pretend that "restructuring" of commercial-bank debt will do the trick, and that the public's confidence can be restored with, say, a 500 million euro bailout package. But at a certain level, the public, if not the news media and university economists, begins to ask, "Where will all that money come from?"
In the meantime, public confidence has continued to erode to the vanishing point. Under the circumstances, the financial collapse that politicians have been attempting for nearly two years to forestall will probably precipitate out within weeks, if not days. With market forces starting to overwhelm political fantasy, the European dream of unity under a single currency is about to fail.
***
(If you'd like to have Rick's Picks commentary delivered free each day to your e-mail box, click here.)