Our forecast for the Dow Industrials calls for a blowoff top at 16810, about 1,700 points above Friday's settlement price.  Using proprietary technical tools, we have identified this "Hidden Pivot" target as one to keep firmly in mind — not only as a major rally target, but as a place to lay out shorts aggressively ahead of a possible avalanche.  As noted here earlier, however, despite the bullish prediction, we're keeping one foot on the fire escape, since the risk of a historical collapse at any time seems inordinate. If and when it comes, conceivably from a level that has fallen shy of our target, it is almost certain to occur with such devastating speed that even those who believe they are ready for it will have no time to escape. More likely is that the financial collapse that ushers in the Second Great Depression will begin in Asia and Europe, and that it will be a fait accompli by the time New York traders arrive at their desks.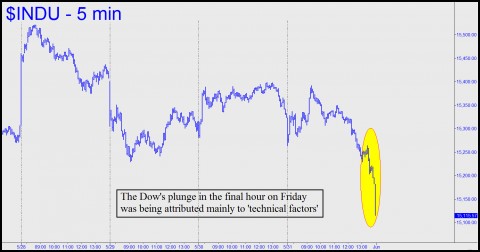 For those who believe themselves prepared for this eventuality, Friday's events should have been more than a little unsettling. In an unaccustomed display of weakness, the Dow fell 208.96 points to close out an otherwise strong month. However, it is not the decline per se that we should find troubling, but subsequent commentary that sought to explain it away. By and large, the selloff was ascribed mainly to "technical factors."  A typical analysis noted that "traders pinned the sharp selloff in the final minutes as technical in nature, rather than related to any particular news or change in views."  Other commentators noted that, even with Friday's decline, May marked the seventh straight month in which the broad averages had achieved a gain. A further explanation was that end-of-quarter selling – absent for nearly a year — had simply taken its toll.  The most ominous quote we could find came from one Alan Gayle, chief strategist at RidgeWorth Investments. He saw the market's gyrations in recent weeks as a sign that investors have been taking a breather. "You don't have to have a significant pullback for the consolidation process to be completed, and that might frustrate a lot of the 'buy the dip' investors," he said.
Babson's Break
Anyone who does not hear an echo of the Summer of 1929 in all of this should bone up on Babson's Break, the 3% plunge in the Dow that occurred on September 5, 1929. That same day, Roger Ward Babson, a well-known entrepreneur and economic theorist, had given a speech in which he asserted that "sooner or later a crash is coming, and it may be terrific." Although Friday's selloff fell well short of the 500 points required to have equaled Babson's Break in percentage terms, the round number "500" should be kept in mind by market-watchers as the summer wears on. Any such swoon would probably be dismissed as readily as Friday's was, especially if, as in 1929, the break were to be quickly recouped.