[The following observations are from my friend and colleague Larry Amernick. He is a former president of the Technical Security Analysts Association of San Francisco, the oldest such group in the United States.  RA]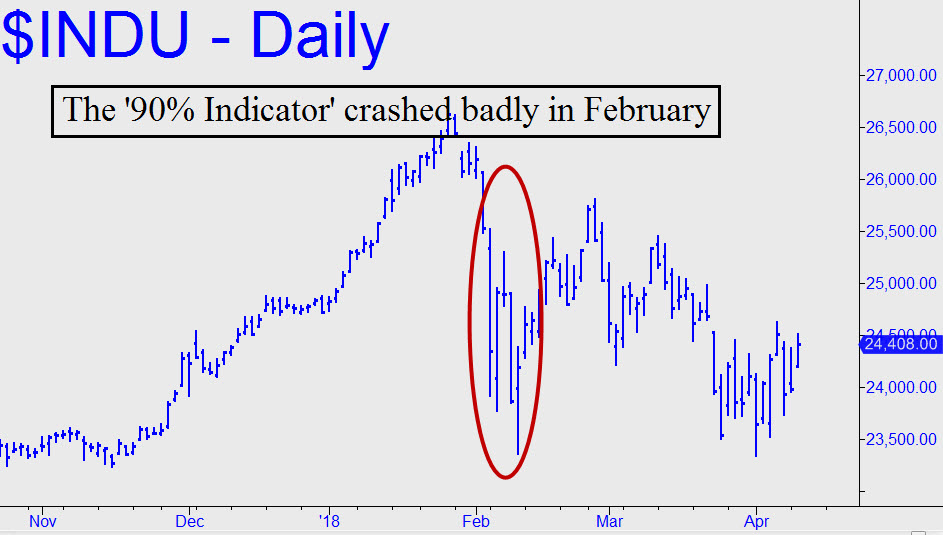 Three 90% down-volume days have occurred in the last eleven trading days. The concept of a 90% day was first described by Marty Zweig in his 1971 bestseller, Winning on Wall Street. Zweig had tested data that went back decades. He saw that market bottoms occurred after one or more 90% down-volume days was followed by two 90% up days within a week or two, forming a v-shaped bottom. Zweig also pointed out that there were an average of four 90% days in one year, with many years having none. Paul Desmond from Lowry's also conducted extensive research on the subject. He examined data going back to 1933 and confirmed Zweig's findings.
The 90% phenomenon, though rare, became a common occurrence during the bear market from the end of 2007 to early 2009. In 2017, there were no 90% up or down days. In early February of 2018, there were three 90% down days in one week. A cluster of these that occur near market tops point to continuing market weakness during the next six months. We now have six such days this year. We have not seen one 90% up day!
Sell the Rallies!
The phenomenon suggests that all rallies should be used to lighten up on long-term holdings and head to the sidelines. Although many market pundits have pointed that the February low has held despite a number of heavy selling days, the 90% phenomenon hints that the February low will indeed be taken out and that point will become an important future resistance level. [Note: I will update if the indicator reverses so that a v-shaped bottom becomes likely.]