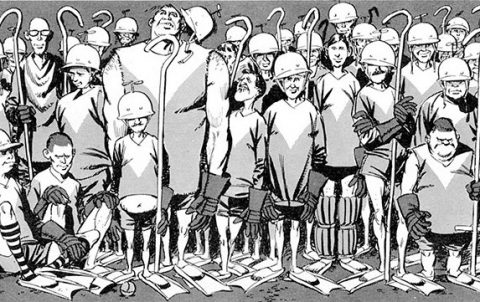 One of the ironies of Wall Street's obsession with the Fed's crackpot policies is that fevered short-squeeze rallies such as the one launched on June 4 weaken the rationale for monetary easing.  Stocks went bonkers after the central bank started dropping hints that economic fallout from the tariff war might warrant a fresh infusion of funny money. Of course, it wasn't the tariff war that concerned the Fed, but rather the stock market's scary reaction in May when trade talks seemed to break down beyond remedy.
Although the banksters pretend to use sophisticated tools to shape monetary policy, their mathematical models have demonstrated time and again that they are about as useful for predicting economic trends as toad entrails. So what is the Fed to do if the stock market swings violently with each teensy policy tweak, and does so in a way that works opposite Fed meddling? Given the brash incautiousness of the current rally, we might expect the FOMC to pull back on the reins when it releases a statement after Wednesday's meeting. Something just a smidgen hawkish, but cryptic enough not to douse the flames entirely. That would be risky, since bulls might be needed in a few weeks if the trade wars take an unexpectedly ugly turn.
Frullips & Frutneys
It's a very delicate balance, but so far we've been lucky that the economy has not tipped into recession-or-worse. The Open Market Committee makes it up as they go along — an epic game of 43-Man Squamish, replete with Pritzes, baggish smashers, a head coxswain, frullips, frutneys and a probate judge. Side bets aggregate into the hundreds of trillions of dollars.  One of these days, we are fated to discover that even though QE money and the rules that govern it are fake, the resulting debt liabilities and consequences are all too real.