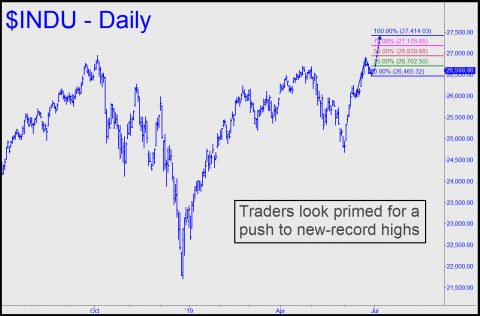 Trump may not get much of a trade deal from China, but you can count on Wall Street to milk a lousy deal for all it's worth. His concession to Huawei in order to get talks started again was a major comedown for the U.S. It will doubtless please the Wall Street Journal and their ilk that the blackball has been lifted against Huawei, a telecom biggie that buys many components from Silicon Valley companies. This is ironic, because the Journal itself has recently done some exposés describing in scary detail how Chinese tech companies like Huawei spy on customers with tiny, embedded microprocessors that collect sensitive data and transmit every salacious detail of it back to Beijing. Some of these devices evidently are so small and cleverly hidden that even cybersleuths poring over compromised motherboards with microscopes cannot detect them. Trump knows this but apparently is willing to overlook the threat in order to have good news to report from the G-20 meeting.  "Hey, we've gotta do business with these a**holes," is probably what he would tweet if he could let it all hang out, which in this instance, dealing with a humorless, implacable enemy, he unfortunately cannot.

Expect 'Quite a Week'

On Friday, U.S. stocks took a prescient leap in the final hour. The Supersmart Money may already have substantially discounted whatever positive news on trade is still to come. Expect the trade-desk-chimps' algorithms to react reflexively when U.S. markets open Sunday night. On the erroneous but convenient and universally agreed-upon conceit that the Trump/Xi deal will jump-start global trade, we should see strength in crude oil and gold, weakness in bond prices, and a short-squeeze on index futures. They seem to rise more on 'good' news than fall on bad news, so it will be a net gain for the Masters of the Universe. They should have quite a week, considering that the Fed has been intimidated by Trump and vox populi into a new round of easing, presumably starting in July. The only wrinkle we could foresee is an unexpectedly fabulous deal with China. Were that to occur, the charlatans and dwarves who run the central bank might be forced to pretend, at least for a few days, that easing has become less likely. Yeah, sure. _______ UPDATE (Jun 30, 7:51 p.m.) The trade-desk chimps and their handlers have opened stocks with an impressive short-squeeze Sunday night. Crude is trading higher and bonds are down, all as foreseen. However, my prediction of a rally in gold missed by a mile, because bullion is getting hammered at the moment. How dumb of me to fail to imagine that the 'risk-off' bozos would rampage now that the global economy has been put back on track for a moon shot and Mr. Xi is once again America's best buddy.