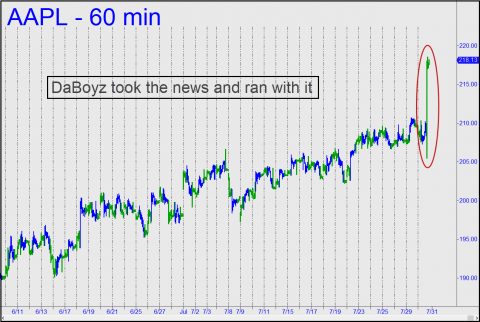 Apple shares took an exuberant leap Tuesday evening, propelled by strong revenue growth announced after the close. DaBoyz were able to trigger off a short-squeeze because revenues increased with iPhone sales in a relative funk. This likely surprised many traders, since they had been hearing about iPhone's slump in the U.S. and China for the last two quarters. However, a look behind the numbers suggests that AAPL's nearly 4% rally may have been undeserved. For one, although it's true that every area of the company's business other than iPhone grew, the 13% rise in revenues for iPad, Mac and services including music and the apps store was the smallest quarterly increase in nearly four years. Also, profits actually declined for the third straight quarter, falling 13% to yield a slightly-higher-than-estimated $2.18 per share.
A Competitor Shows Pluck
There was one more reason to view the after-hours rally as at least mildly heedless: Huawei, an increasingly strong competitor in smartphones, announced very strong revenue growth despite the company's blacklisting in the U.S. Under the circumstances, if Trump strikes a trade deal with China that takes some pressure off Huawei, look for AAPL to give up today's gains in a trice when the news hits the tape.