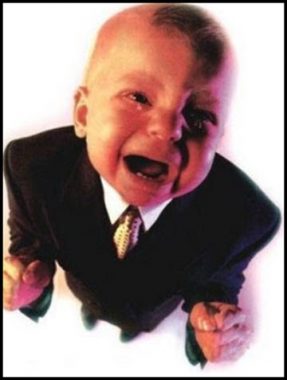 [I will be running this commentary over the weekend so that more people find it. It sounds a bearish theme that I believe will put traders a step ahead of the news for weeks to come. RA]
Powell gives Wall Street a scoop of ice cream, and how do the spoiled little brats react? For starters, by setting the curtains on fire and peeing on the living room carpet. The Dow Industrials plummeted 480 points Wednesday after the Fed announced a 25-basis-point rate cut that had been universally expected. Some gratitude!  It's safe to say this won't be the last time investors act like a five-year-old throwing a tantrum as they try to pry another 50 basis points from the Open Market Committee.
Every parent has been through this and knows the consequences of giving in. The correct reaction is to deny the kid his treat or he'll start demanding one before every meal. The first few times, the kid will stomp his feet, cry, kick and scream. But once a parent gets past the withdrawal stage, things will calm down.
How Far?
Unfortunately, the banksters have done just the opposite, serving up a dollop of ice cream when the stock market is trading at record highs, America is at full employment and GDP growth is stronger than it's been in a generation. It is unprecedented for the central bank to loosen under such circumstances, but by doing it anyway they have created a monster. How far will stocks have to fall to make Powell & Co. cough up another 50 basis points? We're about to find out.