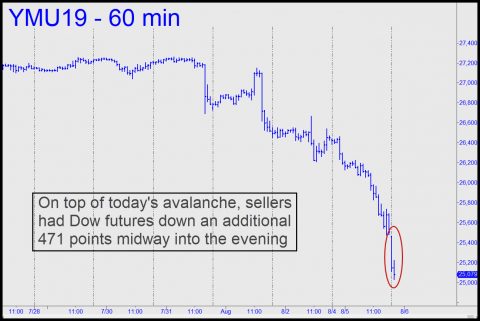 Monday's refreshing 767-point plunge in the Dow has put the Fed on the spot sooner rather than later. Investors, the spoiled little brats, lost no time pricing in a 100% chance of a rate cut next month, but they may be trapping themselves in a lose-lose situation. A lot could happen between now and the Open Market Committee's August meeting. Suppose stocks rally, recovering half or more of what they've lost over the last four days? That might generate a feel-good mood on the surface, but also the deeper worry that a rate cut would be less likely. Since stock-market bulls have become more dependent on rate cuts, or at least the promise of them, than on actual good economic news, the bounce in stocks from these levels or perhaps lower could become self-limiting. Alternatively, if stocks continue to fall and the Dow is trading 2,000 points lower when the FOMC next meets, the mood on Wall Street might be too glum to make hay with a dovish announcement.
Selloff  Was Kinda Lame
For the moment, however, stocks are getting the crap pounded out of them in after-hours trading Monday night. Perhaps bears are embarrassed about their failure earlier in the day to deliver the haymaker to the Dow with a satisfying 1000-point kayo. But 767 points? How lame is that? Anyway, with tonight's promising selloff, they appear to be making amends. Dow Mini-futures have been down as much as 518 points, which if added to the losses they racked up during the regular session comes to a fairly impressive 1,285 points. Apple shares are saying the bottom is still a ways off, however. For an explanation as to why, click here for a Facebook presentation I put out Monday afternoon. You can watch it on Facebook without joining, but here is the same presentation on YouTube if you don't have a Facebook account.