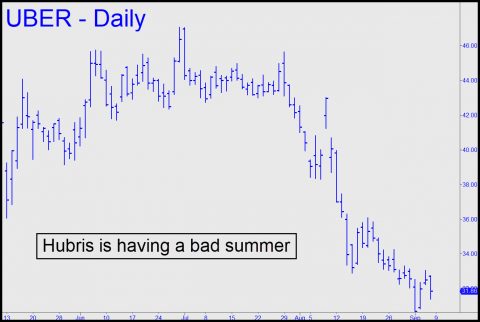 Ordinarily, the growing stench from WeWork's impending IPO would be enough to unnerve Wall Street. Instead, DaBoyz have pushed the Dow to within 2.4% of record highs. This dubious achievement is particularly impressive because China and Europe are sinking into recession, and because the Fed's desperation is starting to show. The Masters of the Universe owe their hydraulic success mainly to cyclical forces and to short-covering that has accompanied every tariff-war tweet that could be construed as remotely bullish. Be skeptical that the stock-market run-up begun in mid-August will persist until October, when trade talks are scheduled to resume. If you treat each upthrust between now and then as stage-managed distribution, you will not likely regret it.
The Manure Sector
In the meantime, it's hard to imagine that the sinking valuation of WeWork's IPO is other than a sign that the party is over. The company, which sublets offices mainly to millennial techies in big cities, has been under close scrutiny for the wheeling and dealing of its CEO, Adam Neumann. Such is his brazenness that it has knocked the stuffing out of a $47 billion valuation achieved last spring in the usual private hands. Now, the keister bandits who manage IPOs are hoping for a $20 billion valuation amidst mounting suspicion that even that may be much too high.
The resulting discouragement has taken a heavy toll on the manure sector, including the very-high-profile shares of Uber and Lyft. With unicorn stocks falling like bricks, can a comeuppance for the FAANGs be far off?