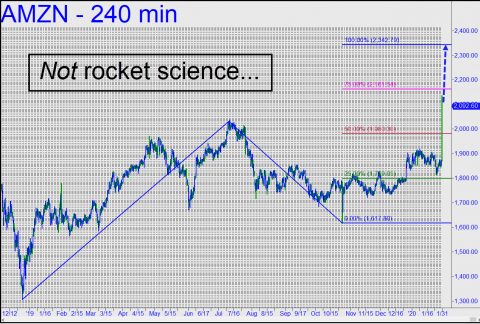 Amazon has taken flight, up $230 at the moment, or a little more than 12%, following earnings announced moments after the close beat analysts' expectations.  The stock looks bound for 2342.79, the Hidden Pivot target in the chart above. You have to wonder who the geniuses are who get paid to do the expecting, since their estimates so often fall a few crucial pennies shy of whatever numbers are released. Do these Wall Street shills perhaps receive bonuses for lowballing their dartboard predictions? This would make sense, since estimates that can be easily beaten have potentially lucrative implications for insiders.
Short-Covering Fools
If  analysts are merely dumb, even dumber are traders who bet against after-hours eruptions that have become the hallmark of this bull market. Ironically, short-covering fools are the only source of buying power strong enough to goose stocks past heavy layers of supply and prior peaks. The more bets the fools pile up against the aging bull, the more spectacular the stock market's leaps. Just look at Tesla.  The biggest winners, of course, are those who hold millions of shares in the small handful of companies worshipped by portfolio managers. The net worth of these zillionaires grows in mere minutes by sums that took a lifetime for robber barons like Carnegie, Astor, Rockefeller and Morgan to accumulate. Rather than treat himself to a good Cuban cigar, Bezos could buy, oh, New Zealand, or Ted Turner, the Sioux Nation or the Rockettes, to celebrate.