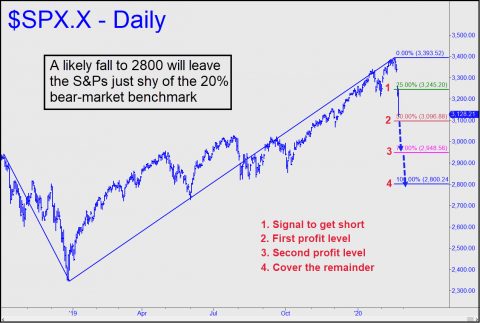 The over/under bet on coronavirus is tough to handicap, given the wide range of opinions about how far and fast the disease will spread.  Some supposed experts evidently think as many as 30 million people could die. President Trump, on the other hand, says everything is under control and not to worry, at least about America. My own expert, a Berkeley-based epidemiologist, says you needn't be concerned about catching it yourself if you don't travel. Airports and airplanes are literally where the virus takes wing, but if you stay put in your own little town/hamlet/city, there is no reason for concern, he says.
A Three-Day Rarity
Unless, perhaps, you own shares in United, American or any other carrier that does a lot of long-haul flying. The stock market has taken quite a hit already, having finally come up against a wall of worry it could not scale in mere hours. Shares fell Tuesday for the third consecutive day, an occurrence so rare that you need to pore over charts with a magnifying class to find another instance of this over the past eighteen months.  The S&P 500 Index tripped a signal to get short on Monday, but in the space of just one day it was closing on the first profit-taking level we'd advised, 3096.
The actual sell signal came at 3245 — exactly 148 points, or 4.3%, below the all-time high at 3393 achieved just a week ago.  If the S&Ps were to fall all the way to the 2800 target shown in the chart, that would amount to a 17.4% drop — 2.6 percentage points shy of bear-market territory. Will this happen? Almost certainly. The bull market has not had a 20% correction in more than a decade, so it is long overdue. No more perfect opportunity to take a breather and haul stocks back down to earth could be imagined than a global pandemic whose consequences are as unpredictable as this one's.