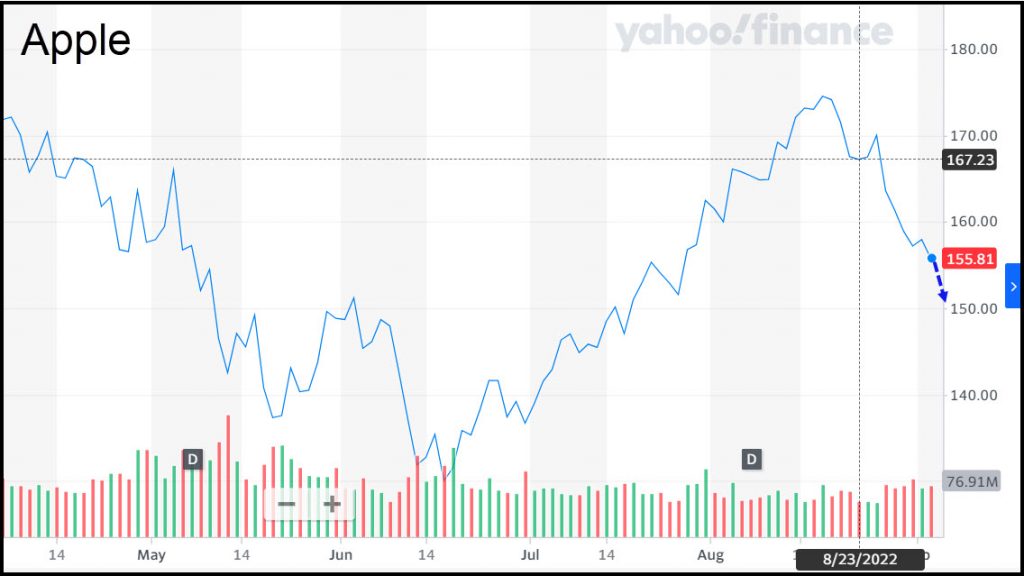 Although I am on a busman's holiday and will not resume publishing The Morning Line until Sep 17, here's a timely note concerning AAPL. We've been using a 151.38 downside target that remains viable, but I expect the stock to go much lower in the months and years ahead — well beneath $100, that is. When the company announced a week ago that iPhone sales were holding up pretty well, it was a clarion call to short the bejeezus out of the stock.
Apple was alway going to be more vulnerable than most retailers to an economic downturn, and that downturn has finally arrived. A key market for the company's pricey, over-camera'd cell phones is Europe, which is headed into deep recession. The one-decision chimps of the portfolio world who have ensured AAPL's steady rise over the years are not going to go quietly into the night, however. They'll have their hands full distributing the biggest-cap stock ever to the rubes in a process that will take years.
AAPL remains the key bellwether for the stock market as a whole, and it is the only stock one need get right to get the market right. The bear market will still be tricky to play, though, since everyone knows by now that we are in one. Wall Street's shameless shills, particularly the clueless, lazy hacks in the news media, will be talking up the resumption of the bull market each and every day until the Dow falls below 10,000. But if you can contrive to tune out their blather, you'll have a better chance of getting through the nation's slide into darkness without losing eveything,  Here's a link to my interview on Friday with Jim Goddard of Howe Street. (Also interviewed  for This Week in Money were Doug Casey and Ross Clark.) I was quite bearish in my chat with Jim, but we never touched on Apple — hence this note.