Last fall, Apple Inc. was on top of the world when its shares reached an all-time high of $705. That made it the most valuable publicly traded company, ranked ahead of Exxon.  Now, with the stock selling for around $460 and AAPL back in second place, it's getting harder and harder to find someone with a kind word for the Cupertino giant. The news media in particular have turned on Apple with a vengeance, perhaps because they're embarrassed at having been five months late diagnosing the firm's declining fortunes. But anyone with half a brain – which perforce excludes mainstream newsmongers – could have seen it coming as early as September, when a whole slew of new Apple products hit the market, including iPhone5 and some iPad models that took display quality to a new level. Trouble was, there were no new products in the pipeline till spring — and even then, no assurances that Apple's next big thing, without the guiding hand of Steve Jobs, would be new and different, let alone revolutionary.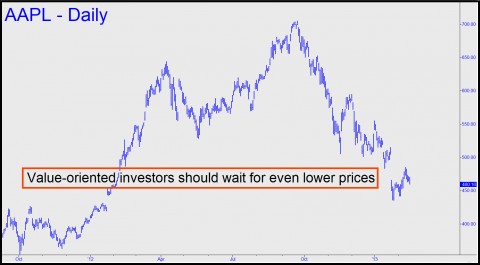 So now Samsung is breathing down Apple's neck, borne aloft by the kind of press that advertising can't buy. A CNN story out yesterday bore the headline, How Samsung Is Out-Innovating Apple. Recall that it was just a few months ago that Apple won a lawsuit against Samsung involving some trivial design issues. We commented at the time that it was bad karma for a supposedly world-beating company to pick a fight with a competitor over such small things. Karma aside, Apple's aggressive patent attornies didn't discourage Samsung from taking the offensive with a few products that were very un-Apple-like. The so-called "phablet," for instance. Essentially a phone combined with the much larger screen of a tablet, it was a product that many critics initially dissed. Phablets have been flying off the shelves, however, creating a huge new winner for Samsung with a device whose appeal had gone entirely unrecognized by the competition.
Software Lead Narrowing
Phone operating software is another area where Apple has been losing ground. Although Apple iOS dominated until recently, Samsung has been rapidly closing the gap with frequent updates to the Android-based operating system.  As Samsung's director of product planning, Shoneel Kolhatkar, noted in an interview with CNN, instead of making users wait a year for new features, Samsung is using constant feedback from subscribers to deliver "incremental innovation that keeps the product alive."  The upshot, noted CNN's Steve Kovach, is that "Apple feels behind. Take a look at its newest fourth-generation iPad. It has a killer processor and other great hardware features, but the operating system doesn't take advantage of any of that. The home screen is still just a grid of static icons that launch apps."
From a technical standpoint, we have predicted a further fall for Apple shares. The target price is below $400, and we'd be keen on buying stock down there ourselves, since they'd represent pretty good value compared to the prices that prevailed last autumn. If you want to know our exact "Hidden Pivot" correction target for the stock, click here for a free tial subscription to Rick's Picks, You'll also gain access to a 24/7 chat room that draws veteran traders from around the world, and to all of our current forecasts and archives.