San Francisco Real Estate Housing Bubble
Home prices are rising at the fastest pace since before the housing bubble and crash, according to the Case-Shiller Index.  Data for January showed a 10-city composite up 7.3% over the last 12 months and a 20-city index gaining 8.1%.  A bullish sign for the housing market?  More like a death rattle, we'd say.  In our estimation, the collapse in residential real estate prices begun in 2007 is only halfway to a bottom, implying that valuations will eventually fall a further 35% from their 2007 housing bubble peaks. Check out the Mountain View, CA home pictured below if you want to know why, even after the real estate collapse of 2007-09, California home prices in particular are still egregiously out of line with incomes. We rented this house from 1995-1999 for about $2400/month before moving to Colorado like so many other Californians seeking twice as much home for half the price.  The three-bedroom rancher was worth about $525,000 at the time, and we wondered who would be so foolish to buy it at that price. With just 1150 square feet of usable space and a small back yard, it had sat unimproved since 1952, when it sold new for around $12,000. The only feature in the house that might be considered an upgrade was the quiet-flush toilet in the half-bathroom. Otherwise, fixtures, carpets and structure were original and well worn. Termites could be heard munching on the garage. Smelling like a San Francisco housing bubble?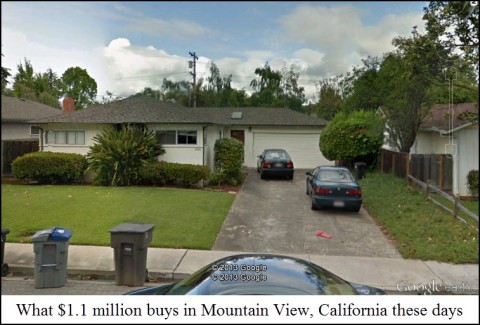 Unbelievably, the home is currently valued at $1.1 million on Zillow. Anyone who buys it at that price would have to be either crazy, extremely desperate, or confident that a greater fool would eventually appear when it's time to trade up.  In 1952, before the San Francisco housing bubble, this was a blue-collar neighborhood. By the time we arrived in 1995, however, nearly all of our neighbors worked in high-tech jobs in Mountain View (today the home of Google), Los Altos, Menlo Park and Palo Alto.  A typical couple had a Honda Civic with an MIT decal on the back window and a hefty loan from their parents, who themselves had borrowed against homes that had been bought and paid for. Software engineers in the area were making $80,000 to $150,000, but even workers at the high end of that range, especially couples with children, wouldn't have much left over for frills. Our kids went to a highly rated elementary school across the street, in the Los Altos District whose close proximity supposedly added $100,000 to the value of nearby homes. Los Altos proper, just up the hill, was out of reach for mere software engineers, since basic 3BR homes went for around $1.8 million in the late 1990s.
A Little Dumpy
There are of course high-tech hot-shots living in the San Francisco Bay Area and on the Peninsula who can easily handle a $5,000 monthly mortgage payment or rental. At the southern edge of San Francisco, an easy commute down the Peninsula, they've bid up real estate prices to New York City levels. But for most Bay Area workers, even those in the $150,000-$250,000 range, the best housing they can afford would be considered dumpy in just about any other region of the U.S.  As a consequence, renters and buyers alike stretch affordability not only until no discretionary income remains, but until there is no savings cushion for emergencies or unforeseen expenses.  This is living on the edge, and when it describes as many lives as it does in the Bay Area, the implication is that even a small downturn in the economy – never mind a recessionary bust or an uptick in Fed-suppressed mortgage rates – could cause a collapse in real estate prices that would ripple across the country. Beware of situations similar to the San Francisco housing bubble.
***
Trading stocks, options and commodities in these treacherous times calls for great patience and skill. Click below if you'd like to see how Rick's Picks approaches the challenge.