This week Rick is traveling in Mexico. This commentary was written by Douglas McLagan.
The December 2009 COMEX Gold futures contract recently completed a rally that lifted its price by more than 75% in less than fourteen months' time. This is easily forgotten by gold bulls who spend too much time watching bullion bank sell-bots run rampant on trading screens, but it is a fact. The rally took gold through an important resistance level and out of a large consolidation phase, confirming to many observers that the bull market is alive and well and perhaps ready to accelerate. Intrepid longer-term traders can hope to capitalize on a leveraged basis through the futures, but will the exchanges, specifically COMEX, continue to provide the opportunity?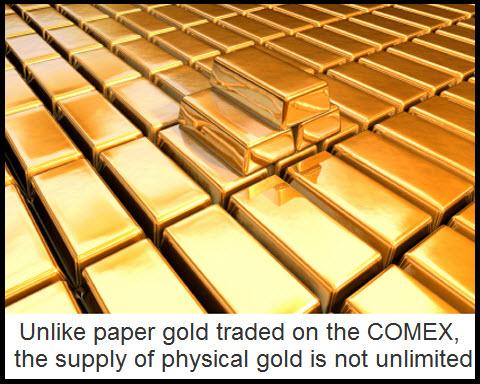 Put another way, the question is whether COMEX gold prices will continue to track prevailing prices for physical gold in a strong bull market, or will COMEX prices lag behind those for bars and coins? A wide enough gap between the two could easily precipitate a crisis of confidence in the COMEX which would endanger its legitimacy and proper functioning.
Health, or Failure?
Opinions as to whether this will happen cover the full spectrum. One view is that the recent 75% rally and the subsequent 15% correction couldn't be healthier bull-market action. The opposite view, argued forcefully in certain quarters, is that the entire "paper gold" complex, COMEX included, is certain to fail completely, and probably soon.
$20 billion of gold futures can trade on an ordinary COMEX day, while maybe $50 million worth of gold is "delivered" that same day, much of it making the rounds among a small number of financial institutions and very little of it entering or leaving COMEX warehouses. What exactly keeps the COMEX price "anchored" to physical gold?
London's Role
An answer might be that the COMEX price evidently inspires the level chosen by the London Bullion Market Association, or LBMA, for its two daily gold fixings, prices which are used as benchmarks for physical gold transactions in that city. Information on the London market is difficult to come by, but it seems that much of the gold traded in London remains within the "London Good Delivery" circuit. How much physical gold can be purchased in London to be transported to another part of the world? I don't know, but something tells me that London cannot, or will not, provide enough gold to the Chinese government to make the Chinese feel very much better about their national reserve portfolio.
In this view, the COMEX-LBMA nexus sets the gold price but does not offer nearly as much gold as various governments and central banks would be happy to purchase at that price. This is because there really are no large holders of gold willing to sell at that price, meaning that it is in reality a suppressed, bogus price. For the moment, the largest would-be buyers of gold don't seem to want to disrupt the charade, because there is at least a small amount of gold for sale at the official price, and they'll take what they can get.
A Dilemma
This state of affairs is why everyone is well advised to buy whatever amount of physical gold they can reasonably afford. But it also explains the dilemma facing the anxious, leveraged bulls in the futures markets. They believe that the value of gold is much higher than the price, but they need the COMEX to continue to function properly in order to achieve their goals.
The mechanics of a "paper gold" failure could be well examined in a thick book, but not in the remainder of this short essay. I would like to point out, though, that the corporate history of COMEX does not inspire confidence in at least one key respect. In 1994 it merged with NYMEX, and in 2008 the combined companies were acquired by the CME Group. This might cut both ways: the COMEX is now part of a gigantic company that is presumably better able to support the gold futures market in a pinch, to absorb the shock waves of any turbulence or disruption that might occur.
But maybe the CME Group is now a too-big-to-fail entity that can more easily afford the failure of one or two of its markets, especially if the government bails it out afterward. A crisis in the paper gold market might well be "resolved" by government action. Recent financial history suggests the plausibility of a scenario in which the government pulls the plug on the paper gold market and compensates the exchange for the lost business. Some of the market participants might also be assisted, but the full cohort of gold longs? Not likely.