As usual, the stock market was vexatiously out of step with reality last week, soaring on word that the ECB plans to do "whatever it takes" to preserve the euro and the political union that it binds. For U.S. investors, especially those who believe in hope and change (and, presumably, the Easter Bunny), there was also the invaluable news that the U.S. economy is once again verging on recession – a development which is widely believed to portend yet more Fed easing. Completing the delusional vision that good times are soon to return nonetheless, crude oil finished the week with a gain of about $4 per barrel.  Of course, no one actually believes that so strong a recovery impends as to squeeze current supplies of crude that are more than adequate. Even so, the news media, feigning ignorance of forces that have been pushing the global economy toward an abyss, and abetted by the stock market's steroid-addled lunge, were only too happy to report events in a way that did not challenge officialdom's cynically crafted, positive spin.  The Establishment's most useful memes were dutifully trumpeted by The Wall Street Journal in two headlines that ran above the fold on Friday:  Weak Economy Heads Lower, said the topmost, in a heavy font; and, immediately below it, in italics, the implicitly good news:  Markets Jump as European Leaders Vow to Protect Euro; Flagging U.S. Recovery Could Spur Fed.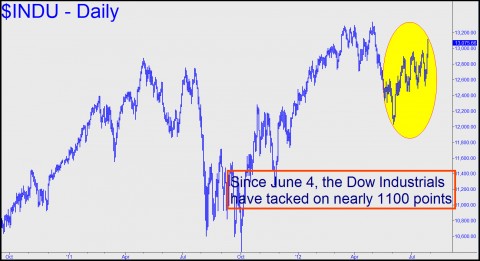 Such headlines have the seeming heft of history-in-the-making. Notice, however, that it is not facts that have borne this weight, but mere hope and speculation. To say the markets have responded positively to some banker's speech is hardly an assurance that the ECB's latest nostrums will work.  As for the Fed's supposed ability to revive the economy with yet another monetary nudge, it is only on Wall Street where the cynicism such speculation evokes could produce an ostensibly positive outcome – i.e., last week's 600-point surge in the Dow.  Despite such effusions, however, there is growing tension between the stock market's ebullient leaps on the one hand and mounting perceptions on the other that the global economy is poised to collapse.  Under the circumstances, we imbibe headlines like the ones above with a growing sense of foreboding. The reassurances that our leaders seem increasingly desperate to promote are perforce muted by the echo of headlines from the past. Below are a few to ponder as we bear witness to the stock market's inscrutable rise. All appeared on the front page of The New York Times during the summer of 1929.   While a few of them suggest that little has changed, others seem ominous in hindsight:
Leaders Assure President Senate Will Cut Tariff to Protect the Consumer
Stocks Set Record as Money Drops to 6%
London Suffers Record Heat; British Drought Most Serious
Britain Won't  Join Neighbors in Tariff War with America
Red Army Reported Massing on Frontier of Manchuria
Three Banks Closed by State In Passaic; Quick Sale Forecast
Heat of 91 Kills 3; Squalls Sweep City
U.S. Steel Profit at Peace-Time Peak
Baby Auto for Two to Be Sold by Mail
Mercury Drops to 56 Degrees in Coldest Aug. 5 Here
Farms Ship Wheat in Record Volume
Capone Shifted to Another Prison Because Fellow Inmates Threatened Him
Stock Prices Break as Rise in Bank Rate Starts Selling Rush
Stocks Regain Half of Friday's Losses
Bank of England to Get $250M [from Fed] if Necessary
China Says Soviet Is Trying to Start World-Wide Revolt
Stock Market Goes Up, Surprising Wall Street; Brokers' Loans at Peak Had Indicated a Drop
Arabs Invade Palestine from Three Directions
Turks Threaten to Seize Synagogue in Tax Dispute
Heat at 94 Again; Wave Nation-Wide
Stock Prices Break on Dark Prophecy; Follows 19-Day Advance [September 6]
[Professor] Finds Nation Lacks Direction Because Teaching Is in Hands of Women
Senate Foes Attack Tariff Bill
Boy Held in Theft of $512,000 Bonds
Stock Leaders Sag in Liquidation [September 25]
Toppling Markets Rallied by Bankers [September 26]
Maniac Kills Man by Push on Elevated
Hoover Defeated on Flexible Tariff
$1,253,702,357 Rise in Taxable Realty on City's Rolls
Year's Worst Break Hits Stock Market [October 4]
Brisk Rally Checks Long Market Drop [October 6]
Radio Carries Cheer to Byrd in Antarctic
Hoover to Attend World Series Game Today
Stocks Driven Down as Wave of Selling Engulfs the Market [October 20]
Stocks Gain Sharply but Slip near Close [October 23]
And we all know the rest.  If there's a lesson in this sequence of headlines, it is that we should batten the hatches if and when the stock market's daily gyrations become front-page news in the The New York Times.  Of course, the worst conceivable outcome would be a market that fails to gyrate, instead collapsing in a flash crash so devastating as to crush all speculation about a recovery.
***
Trading stocks, options and commodities in these treacherous times calls for great patience and skill. Click here if you'd like to see how Rick's Picks approaches the challenge.